Apple peels are rich in nutrients and fiber. Many people love to use them to make tea or garnish salads with them. Some people remove the peels to make apple snacks for their children or even bake their grandmother's apple pie. A kitchen knife can work, but an apple peeler will do the job faster and more efficiently. These tools can also be used to remove the apple skin without causing any harm to your fingers.
Also, the machine must be able to handle non-symmetrical produce and not remove too much flesh. We want to preserve as many nutrients as possible in and around the skin.
Apple peelers that are the best will remove the outer skin from apples in a short time and with minimal effort. Your best apple peeler might also be used to core and slice the apples. This tool is great for peeling tomatoes, potatoes, eggplants, as well as other fruits and veggies.
List Of 14 Best Apple Peeler Reviews
1. Stainless Steel Apple Corer Slicer Peeler
The COOAK Apple Peeler manual tabletop model can peel, core, and slice apples in just seconds. The adjustable peeling blade makes it possible to adjust the size of the slices. It is made of a mixture of cast iron and rust-resistant stainless steel and is extremely durable.
This manual model is lightweight at just over 1 pound despite its solid construction. The device's retro-inspired look is due to the frame's red enamel coating. The device attaches securely to tabletops or countertops with a suction base. Use warm soapy water to clean.
2. Starfrit Rotato Express, Electric Peeler
An electric apple peeler is a great tool for busy kitchens and fruit bars. Although manual peelers are fast and can do the job well, they may not be the best option if you have several dozen apples or pears to prepare.
You don't want to spend too much time rotating handles while you have other tasks. StarFrit takes care of the peeling, so you don't have to do anything. It comes with a lightweight, compact, but strong body. It features a thick base with a column where produce holders and the cutting arms, as Starfrit refers to them, are located.
When you place your apple between the holders, press the button at the base. The cutting arm will slowly move down, with its blade doing the actual peeling. Its small, flexible blade allows it to handle asymmetrical areas of the fruit. It can move in and out of the fruit's surface as it changes. The blade can also peel large and small parts of the fruit without cutting into the flesh. This precision and flexibility would not be possible with a larger blade!
However, the machine can peel sweet potatoes and oranges, but you might not find the results satisfying. It is perfect for thin-skinned fruits and vegetables, such as cucumbers, potatoes, zucchinis, and zucchinis. You will notice a bit of peel at the bottom and top, where the holders are. This can be removed with a quick cut. The spare blades are kept in the base and can be used if you don't know how to sharpen them. This space can also be used to store the batteries – the machine is able to use AA batteries which makes it more portable.
3. KitchenAid Spiralizer Attachment
This apple peeler attachment can be used with your KitchenAid hand mixer to save money and space. This multifunctional tool can be used to peel potatoes, carrots, and cucumbers. This tool can also be used to core apples.
The attachment's spiralizer is made from strong materials like stainless steel, which helps protect the item against rust and corrosion. The item is also more durable and lasts longer thanks to its stainless steel construction. This item can be attached to your hand mixer with just a few steps. The instructions are clear and easy to follow.
There are four types of blades available: a fine spiralizer, medium spiralizer, spiral slice, and spiral peeling. There are two sizes of the spiral slice blade: one large and one smaller. The large blade works best when it is used at 6 speed, while the smaller one works well when it is used at 4.
4. CAST IRON APPLE PEELER by Purelite
Similar to the first, our second pick packs a lot for such a small tool. This exceptional little apple peeler was designed by Perlite with simplicity in mind. Similar to the Gold Pick, Silver Pick cores, cuts, and peels are also available. Purelite also made this kitchen tool easy to use. In less than 30 seconds, anyone can easily peel, core, and cut an apple into spiral slices. You can eat, bake, or use the apple as a garnish without worrying about any mealy skins or inedible seeds.
This apple corer slicer is very similar to an old-fashioned hand-wringer. The device has an orange-colored wooden handle, which you can crank to control. The crank has a chrome-plated winding rod attached to it. This rod is located above the springs and main chassis of your peeler. The attachment's tip has a three-pronged handle that can be used to grasp the fruit. The bright red body is question mark-shaped and made of heavy-weighted cast iron metal. This device's weight is what makes it different from our Gold Pick. It is much heavier than our Gold Pick.
The disc-shaped suction cup is hidden beneath the body. When pressure is applied and the attached measure is pushed, it adheres to any kitchen surface. The clamps used in older apple peelers can cause damage to your surfaces. However, the suction cups included with these types are powerful enough to remove this problem.
The cranking motion spins and propels the apple forward to where a central cutting circle cores it. A side blade peels the apples in a thin spiral. The attached blade makes spiral-like lattice-like treats by cutting deeply into the apple while both these cuts are taking place. This is a simple process that even children can master. These apple slices are perfect for baking or snacking.
5. Prepworks by Progressive 16-Slice Thin Apple Slicer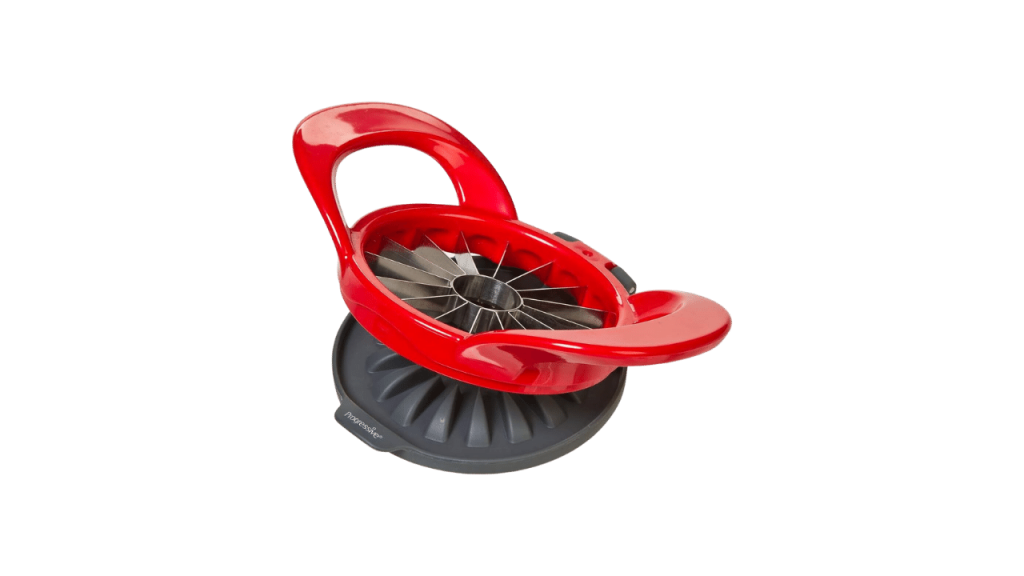 To prepare different recipes with apples, you need to cut the apple perfectly. This is difficult unless you are an expert in this skill. This is no longer an issue, as there are many apple slicers on the market. Prepworks by Progressive Thin Apple Slicer & Corer is one to note. Let's find out why it is one of the best Apple Corers.
Every time you buy something for yourself, you look at the brand. A brand is more than a name. It's a trusted source of quality services at an affordable price. Prepworks by Progressive is the same.
This company has been producing and marketing quality kitchen products for over 40 years. Prepworks by Progressive Thin Apple Slicer & Corer is a top-quality kitchen appliance that will allow you to cut fruits with ease.
6. Cast Magnesium Apple/Potato Peeler Corer by Spiralizer
The most problematic thing about the vacuum base is its inability to hold it. The base holds well, but it slips if the surface becomes wet. It can't be suctioned to wooden surfaces. This is a problem because Cooking Olympics has only wooden tables. This apple peeler is also easy to use and set up. The apple peeler is small so it should be easy to pack and store.
Although the peeling blade can be adjusted, I feel that it still wastes more apple flesh than it should. You want to preserve as much fruit meat as possible, no matter if you're fruit carving or pie-making.
You'll receive a quality product for the price of money. There are some flaws, but you can return them for a full refund. You could get better products for the same amount or less money, in my opinion.
7. Vremi Apple Peeler Corer Slicer Machine with Vacuum Suction Base
Vremi sets out to work, and works hard, to make sure that the products reach your kitchen quickly and are delivered well. Vremi is the best place to get customer service. Vremi is a brand that stands behind customers and shows commitment to helping them with any problem, from purchase to after-sales.
It's cast iron so it is very sturdy. It is easy to maintain and can withstand any abuse, no matter how long. It also has a vacuum suction base that ensures that the peeler stays firmly on any surface it is placed on. This allows you to work comfortably and with no risk of it sliding off or causing an accident.
The easy-rotating handle makes it quick and effortless. This will make your job much easier. You can make enough apple slices to feed a nation, depending on how many you have.
It doesn't come with any instructions but it is very easy to use. Simply place the apple on the prongs, then crank the machine. You'll be peeling, coring, and slicing in no time. You can even adjust the pressure to control how much you want to peel: little or a lot.
8. OXO Good Grips Swivel Peeler
This OXO Good Grips manual peeler is our favorite. It is easy to use, clean, and store. It's a great piece of equipment that will help you save time when cooking. This peeler's smart ergonomic design is the best part. It is made of a non-slip, soft material that feels great on the hands and provides a firm grip.
Also, the blade is of the best quality. The stainless steel is rustproof, which allows it to last longer. The swivel twin, extra-sharp stainless-metal blades are flexible and can adapt to the shape of your food. This allows you to remove more skin without wasting any of your fruit's goodness.
The built-in potato eye cleaner is another clever feature. It is easy to get rid of unwanted growth points and other blemishes, without needing to remove a larger amount of potato. Clean-up is easy as well. The blade is rustproof and the handle is strong, so you can place the peeler in your dishwasher after you're done with it.
9. VKP Brands VKP1010 Johnny Apple Peeler
This peeler is the perfect product for you if you enjoy peeling fruit in a simple or traditional way. This peeler has a lot of versatility and can do everything. This peeler can do everything, including removing the apple cores, cutting, peeling, and dicing.
The peeler's high level of toughness makes it able to withstand constant use and not suffer any adverse effects. To instill confidence, the warranty covers any unforeseen problems. A wooden handle gives you a smooth, relaxed feeling peeler.
Other than apples, you can also peel many other fruits and veggies in no time. A blade that can be adjusted allows users to choose the depth they want for cutting. Remember that vegetables and fruits must have a crisp texture so they can be easily peeled.
You may need to be taught how to use a peeler if you're not an expert. It will be worth the effort if you have the patience to learn. After the training is completed, you will be able to cut and remove the apple cores.
10. Y-Shaped and I-Shaped Peeler
The two-piece set from FUHUY is of great value and provides two different methods of peeling. This set includes a straight-edge and Y-peeler, which allows two cooks to work simultaneously to speed up food preparation.
Each device comes with a potato eyer and swiveling blades. The peelers have carbon steel blades and a zinc-alloy body. Non-slip rubber handles provide comfort and dishwasher-safe components make it easy.
11. Starfrit 93013 Pro-Apple Peeler
Starfrit's apple peeler is the ideal tool for anyone who wants to make their apple peel-free and enjoy them in the shortest amount of time. It does exactly what it was designed to do. The device removes the peel from the fruit when it is placed on the pole. It does its job flawlessly.
This peeler has a fine blade that quickly and easily removes the skin from an apple. The spring-loaded arm attaches to the blade and can be adjusted to remove small or large apples. You will also receive an alternate blade. It will take you a while to replace the blade, but it is possible if you properly care for it. This means that you should clean it after each use and cover it with the provided cover.
Starfrit's plastic construction makes it very light. The base has four suction cups that clamp securely to the countertop or table surface. This ensures stability. The machine's transparent shell makes it easy to see what is happening. You can hand the machine over to your guests if you have them over.
The package also includes a hand-held apple corer and slicer to complete the apple preparation. Once the apple has been peeled, use the corer and slicer to cut it. You should be able to have the fruit ready for use in no more than 30 seconds.
12. Apple Peeler and Corer by Cucina Pro
This apple corer and peeler is a one-of-a-kind, high-quality product. It is well-built and can peel the skins of apples. It can also core the apples simultaneously. You don't need to trim the apples before you place them in the skewer.
To peel and core an apple, all you have to do is turn the handle in a continuous movement. In a matter of minutes, you can peel and core many apples. The apple peeler will do it all. This item can also be used to peel potatoes.
This apple peeler is entirely white, with steel and black parts. It looks great and performs well. It has a retro-inspired look thanks to the enamel coating.
The item's high-quality construction allows you to use it for long periods of time. Chrome cast iron is used to make the apple peeler. It can withstand extreme conditions. It is easy to turn the handle by using the black knob. The parts are also easy to assemble or disassemble.
The stainless steel blades can keep their sharp edges for a long time because they are durable. The stainless steel construction also prevents the blades easily from being bent, warped, or damaged. The blades are sharp enough for just the right amount of skin removal. This item is also not very bulky, which means it doesn't take up much space. It is easy to disassemble the pieces to make them fit into tight spaces.
13. Precision Kitchenware – Stainless Steel Apple Peeler
It is strong and durable. It's made from stainless steel, so we know this. Steelworks are tough, durable, and resistant to rust. It will continue to serve you for as long you need it. This peeler has a rotating handle that makes it easy to peel and coring apples quickly. You can quickly peel, core, and slice dozens of apples with just a crank. That's pretty impressive.
Different recipes have different requirements. Sometimes you can just peel without any coring or slicing. This peeler is a great tool as it allows you to remove the coring/slicing knife and just peel. This peeler also has a suction base, which allows it to stick to any surface without sliding off or skidding off.
14. Spring Chef Premium Swivel Vegetable Peeler
Spring Chef Premium Swivel Vegetable Peeler has a similar design, and it is just as useful. However, it comes at a lower price. This model also features twin swivel blades. They are not fixed and can move slightly from one side to another. They are not weak or poorly made. You can remove most of the skin with less effort by using a twin-swivel blade.
It is extremely sturdy and (unsurprisingly) ergonomic. The handle is made from hard plastic but the rivets at the sides allow for your fingers to move freely, giving you a good grip. This is great for peeling potatoes or apples in one go.
We love the extra-smooth, sharp stainless steel blade. This allows the skins to slide off the blade more easily, which will prevent any clogging and save you time over the long term.
The Spring Chef Peeler is compact and minimalistic, so it can be placed almost anywhere in your kitchen. It can be stored in a drawer in your kitchen or hung on a hook rack.
How to use Apple Peeler
Buying Guide for the Best Apple Peeler
Although all apple peelers can be used for the same purpose, there are a few factors that affect their performance. These include type, material, ease of use, as well as whether they are manual or electrical. Continue reading to find out about the top features you should consider when selecting the best apple peeler.
Material
Depending on the type of apple peeler, the materials used to make them vary. For sturdy countertop models, cast iron is a common choice. The lightweight body of handheld peelers can be made from plastic, metal, or zinc alloy. The blade's material is a primary concern. You can choose from stainless steel or carbon steel as well as ceramic.
Stainless steel is corrosion and rust-resistant and can be easily maintained. You can also easily sharpen stainless steel blades.
Although carbon steel blades are sharper than stainless steel counterparts they are also more susceptible to rusting. To prevent rust, hand wash carbon steel and dry it immediately.
Ceramic blades can be extremely sharp at first, but over time they may wear down and need professional sharpening. Ceramic blades can break or chip if dropped and are more fragile than other types.
Peeling Style
There are many types of apple peelers, but the most common is the handheld model. The two most common styles of handheld peelers are straight or Y-shaped.
Straight peelers are also known as swivel or swivel. They have a vertical blade that runs parallel with the handle. These handheld peelers can be used either to remove the skin from your body or towards it. Straight peelers have a metal eyer at their tip that is used to remove bruised areas. The classic French peeler is a straight peeler that has a fixed blade and doesn't swivel.
Like straight peelers but smaller, Y-peelers are small, handheld tools. The horizontal blade runs parallel to the handle.
There are also countertop peelers and corers that can core and slice apples in seconds, as well as the traditional handheld peelers.
Manual vs Electric
Consider whether an electric or manual model is better suited to your needs. The majority of handheld peelers are manual while countertop peelers can either be manual or electrical.
Manual peelers are portable and don't need a power source. Countertop models are easy to use. Apples are placed on a skewer, and the crank or handle is used to peel them. Although a countertop manual model works faster than an electric one, it is slower than an electric handheld manual peeler. A manual peeler can be used for many generations if it is well-made.
An electric peeler works by placing the apple in a specific place. The device then does the rest. These peelers are ideal for large batches of apples as they only require one button to operate. Some electric peelers require that they be plugged into an electrical outlet. Others can be used on the move with battery packs. The downside to electric peelers is that they are more expensive and less durable than their manual counterparts.
Blade Features
There are many other factors to consider when choosing peeler blades.
Many blades can be sharpened but some peelers have additional blades that can be replaced over time.
Handheld peelers are available in a variety of sharpening options.
The adjustable peeling blade lets you control the size of your peels. You can make thinner or thicker strips.
Straight or Y-shaped models can have a swiveling knife. You can peel towards or away from yourself with the swivel. The immobile blades of classic French peelers, however, are more difficult to use because they must be held at a certain angle.
Some peelers come with blade protectors to protect the blades when they are stored in a drawer.
Handheld vs. Countertop
Apple peelers come in two versions: countertop and handheld. There are many other differences between these tools, aside from the size and location.
The handheld peelers are lightweight, small, and affordable. These are much more versatile than countertop models and can be used to peel a wide range of fruits and veggies. You can use a handheld peeler to cut carrots, potatoes, and cucumbers. Some models can be washed in the dishwasher, others need to be washed by hand. While handheld peelers can be useful for removing a few apples at once, they don't work well when you have to peel several pounds of fruit or vegetables.
Countertop peelers can be used to prepare large quantities of apples, such as for making applesauce or cider. They are between 10 and 15 inches long, so they can take up more space in a kitchen cabinet than a counter. Because of the many moving parts, they are also more difficult to clean. The countertop peeler's body can be cleaned by wiping it down. However, the blades must be taken out and washed separately.
Ease of Use
There are many types of peelers that offer additional features to simplify the job. Many countertop apple peelers include stability elements such as suction cups or vice-style clamps that attach the device to a countertop or table.
The majority of handheld peelers are light and ergonomically designed. They have a soft grip and slip-resistant handle that increases their usability. Users are divided on whether straight peelers or Y-shaped ones are more user-friendly, so make sure you choose the model that is most comfortable.
Frequently Asked Questions
1. Do I need a model that has a suction cup?
It is up to you to decide if you want a model that has a suction cup. A suction cup will allow your apple corer/peeler/slicer to stick to your counter if you're new to the process. This will provide stability and reduce the number of things you have to worry about when you are working. It also adds safety to your time using this tool. This is a huge relief if you have small hands.
2. Is it worth buying an apple peeler?
An apple peeler can be used to remove the skin from one apple per day. An apple peeler is a great investment, especially if you need to peel many apples in order to make a recipe or get juice. A peeler can also be useful for people with arthritis.
3. Can an apple peeler slice and core apples?
Some apple peelers can peel, core, and slice apples, as well as other vegetables, in one motion. This is not the case with all apple peelers. Make sure to read the description before you order so that you know exactly what each peeler can do.
4. I am left-handed, can I use an ordinary apple peeler?
Many handheld peelers are now left-handed friendly. Most manufacturers sharpen the blades on both sides.
5. Can I make/peel other foods with an apple peeler?
You can use your apple peeler as a spiralizer. Spiralizing vegetables such as squashes, zucchini, or onions with an apple peeler can be a great way to get creative. Then you can make zoodles for dinner! Make mashed potatoes for large groups.
Use your apple peeler to quickly and evenly grate the potatoes. The apple peeler can be used on other fruits as well. To save time, you can peel and slice your pears next time you use an apple slicer.
6. Which electric apple peeler is best?
Starfrit Electric Rotato express is the best electric apple peeler on the market.
Conclusion
You now have an idea of the types of apple peelers available and what factors you should consider. All you need is to evaluate your needs and find the right apple peeler for you. This will help you save time and make your life easier.
This article will explain the differences between apple corers and peelers. It is clear that they are an essential part of any kitchen. This will make your cooking easier, and your life more beautiful. You can now buy any of these items for your kitchen, and share the wonderful opportunity with others who have this one.