15 Best Cities To Visit In Portugal for An Amazing Trip
16 July, 22
Portugal is a small country set on the Iberian Peninsula overlooking the Atlantic ocean. Although it borders Spain to the East, it is its strategic position on the Atlantic Ocean that makes this European country a must-visit tourist destination.
Packed with diverse cultures, sandy beaches, beautiful cities, and scenic landscapes, not forgetting the breathtaking national parks, Portugal has so much art, beauty, and history to offer.
It's not surprising that this country boasts many UNESCO world heritage sites, given its rich history.
Have we raved about Traditional Portuguese food and the famous Pastel de Nata?
There are lots of bucket-list-worthy experiences to enjoy in Portugal. From the stunning beaches and bustling touristy cities like Lisbon and Porto. However, there are many small towns and cities in mainland Portugal that will make your trip one for the books.
With so many incredible cities and activities to tour and participate in, planning a trip to Portugal may be nerve-racking. So, below are the best cities to visit in Portugal for a rich, historic, and unforgettable experience.
Lisbon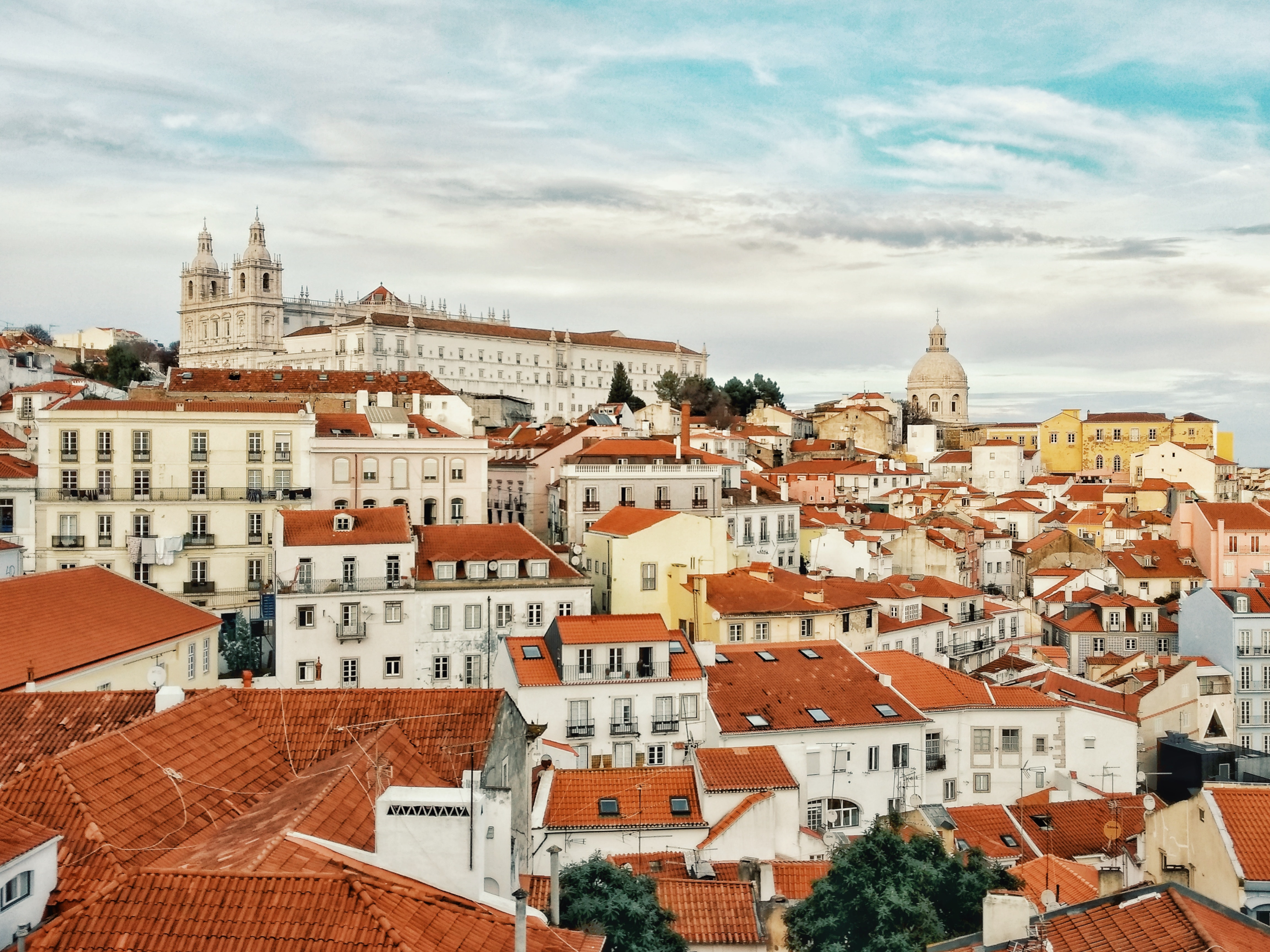 Lisbon is the capital city and the largest city of Portugal. This historic city boasts amazing weather thanks to its strategic setting on the banks of River Tagus. In addition, Lisbon has incredible views since it is set on beautiful hills.
Fast becoming a popular tourist destination in Europe, Lisbon has so much to offer from amazing Portuguese food, historical buildings, and museums. In addition, you can enjoy the city's breathtaking architecture as you wander through the cobbled streets.
Although it is a big city, Lisbon has a small-town charm that makes it feel calm, unlike other major cities. Some of the popular tourist attraction sites to explore in this bustling city center include the Belem Tower and the Mosteiro dos Jeronimos, both UNESCO world heritage sites.
Don't forget to pass by Pastéis de Belém bakery to get a taste of the famous Pastel De Nata!
Other must-visit sites in Lisbon include St. George's Castle, which sits on a hill overlooking the entire city. In addition, there's Alfama, a great historic center in the heart of the city, and other great spots like The Se Cathedral.
Visiting the food market is a great way to try out different Portuguese food and cuisines at an affordable rate. Despite its rising popularity, the capital city is relatively affordable with free and even some unusual activities to participate in.
Porto
Located in Northern Portugal, Porto (Oporto) is the second largest city in the country. It is set on the Douro river and boasts beautiful sights, like the Ribeira - a UNESCO world heritage site.
Porto is often overlooked by many in favor of Lisbon. That said, this major city will give you a different experience from the capital.
Some of the experiences you can indulge in Porto include the amazing architecture and the vibrant buildings gracing the city. In addition, the Baroque churches and cathedrals make walking around the city a sight.
Porto is also famous for its spectacular bridges that give the historical city a contemporary and edgy feel. Apart from the historic streets with white and blue tiles, a trip to this city is not complete without visiting a Port wine cellar in Vila Nova de Gaia.
Sintra
Sintra is known for its beautiful and picturesque castles, straight out of a Disney movie. The castles and royal residences in the city make up an astounding and captivating sight for visitors.
Some of the must-see castles in Sintra include the Palácio Nacional de Sintra, used by the royal family, and Palácio da Pena (colorful Pena Palace), which features vibrant colors and a surrounding lush green forest.
There's also the Moorish castle surrounded by beautiful mountains and Quinta de Regaleira, which has alluring gardens. In addition, you can hike up the trails of Sintra's UNESCO-recognized beautiful and enchanting landscapes.
Finally, before leaving this historic city, take a minute and relax on the beautiful beaches while admiring the stunning coastline.
Evora
Evora is a small city in the center of the Antelejo region filled with a lot of history and tradition. This little hidden gem, an hour and a half away from Lisbon, is less touristy and easy to explore.
This medieval city is home to churches, temples, historic buildings, and preserved monuments. The Chapel of Bones( Capela dos Ossos), the town square, and the Roman temple ruins are among the most interesting sights in the city.
Besides its history, Evora is known for its cork plantations and world-class wine. Other things to enjoy in the walled city include walking down the cobbled streets, going up the Cathedral's roof for the gorgeous views, visiting museums, and dining in the local restaurants.
Coimbra
Set along the Mondego River, Coimbra is the largest city in Central Portugal and was once its capital city. The city is home to the world's oldest but still active universities.
The campus boasts the famous Biblioteca Joanina, one of the most beautiful Baroque-style libraries in the world. Harry Potter fans will marvel at this library as it's said to have inspired J.K Rowling during her time in Portugal.
Coimbra is strategically on the train line between Lisbon and Porto, making it a perfect stop-over, even for a day trip. Thanks to the beautiful botanical gardens, museums, cathedrals, and churches, you can walk around the city center to immerse yourself in nature and history.
Obidos
Obidos is a beautiful walled city characterized by Medieval history and white-washed houses with red roofs and colorful flowers. Once a gift from King Dinis I to his Queen, Isabel, this fairy-tale-like city just an hour away from Lisbon is a must-have in your Portugal itinerary.
The cobblestone streets are welcoming with lots of tourists and activities to do in the town. There are cafés, vintage bookshops, and handicraft stores to explore down the ancient streets.
Obidos is also famous for its annual events, such as the Christmas Market, Chocolate Festival, and Medieval Fair, so keep this in mind while planning your trip.
Guimaraes
Guimaraes is known as the origin of Portugal and the country's first capital city. This is because the city has so much history, such as the Battle of São Mamede fought nearby to establish Portugal as an independent kingdom.
It's also believed that King Afonso Henriques was born in Guimaraes.
Guimaraes is among cities in Portugal with a rich political history and, as such, many historical sites to tour. These include the castle, the Palace of the Dukes of Braganza, the royal palace, and the main town square.
Aveiro
Frequently referred to as the "Venice of Portugal," Aveiro is a picturesque city with beautifully colored boats and houses. The city's setting along crisscrossed canals is hands down one of the reasons why tourists flock here.
Besides the colorful boats plying the river and lagoons with tourists, Aveiro is also hailed for its Art Nouveau architecture. You can spend a day admiring shops, houses, and restaurants along the waterfront.
The Museu Arte Nova is a great stop for artists and Architecture lovers yearning to see more of the Art Nouveau style. However, if you're looking to explore the deep culture and heritage of Aveiro, Museu de Aveiro is the place to be.
Other popular sights in Aveiro include the cathedral and the Convento de Jesus. You will also find the Vista Alegre museum, palace, and outlet shop to buy discounted items. Also, Aveiro has many stunning beaches to relax on and different watersports to participate in.
Braga
Braga is among the largest cities in Portugal. It is also one of the oldest cities in the country, making it a highly traveled historic center.
The city, located in Northern Portugal, is also considered a religious destination, with popular attractions like the Braga Cathedral, which is the oldest in the country. Bom Jesus do Monte Basilica is yet another famous tourist site and a pilgrimage for many devout Christians.
Besides its religious history, the bustling city has a lot to offer, including a mix of its old and modern styles. There are also cafés, bars, restaurants, and museums to explore in the city center.
Elvas
Elvas city is a declared UNESCO world heritage site that sits atop a hill in the Alentejo region of Portugal. The well-preserved star-shaped walls surrounding the city represent the military architecture and history in Europe.
Things to do in Elvas include exploring deep moats and sight-seeing the city ramparts. In addition, you can enjoy a lazy walk down the cobbled streets to discover interesting attractions like the Aqueduto da Amoreira, built in the 16th Century.
There's also a castle set in the North of the city if you wish to catch great views of the area!
Tavira
Tavira is a must-visit city on your Portugal bucket list, especially if you're looking for a less touristy city to relax and walk around. This historic center is perfect for a day trip and showcases Roman and Moors culture throughout Portuguese architecture.
This small city in the Algarve region has a Roman footbridge connecting the two sides of the town. Additionally, there's the Núcleo Islâmico museum in the city if you're looking to uncover the history and the Igreja de Santa Maria do Castelo church built in the 13th Century.
A fun day in Tavira is not complete without visiting the nearby beaches with some of the white sands in the region. Although small and quite laidback, this city's colorful waterfront streets and buildings are worth visiting.
Lagos
Tourists visiting the South of Portugal often prefer premier resort towns like Lagos. This is all thanks to the stunning beaches, caves, and coastline.
Activities to do in Lagos include learning the history, relaxing in the lively beach resorts, and delighting in the local cuisine in one of the many restaurants.
Faro
Faro is among the largest cities in Portugal and the capital of the Algarve region. It boasts an international airport, many tourist spots, shopping malls, and modern architecture. However, there's more than what meets the eye.
Outside Faro's urban center, you will be greeted by the traditional Portuguese style and charm. The old Faro town is surrounded partly by Roman walls that ooze a lot of history. There are museums and natural attractions to visit in the city.
For example, Parque Natural da Ria Formosa is a natural attraction where you can spot flamingoes and other wading birds. Faro also boasts great cafes, restaurants, and bars where you can enjoy the local cuisine and great music.
Costa Nova
This beautiful city with colorful striped houses is hands down one of the best cities in Portugal. Costa Nova is a summer destination favored by tourists and Portuguese residents for its atmosphere and beautiful beaches.
The local fish market is worth a tour, especially if you love seafood. Every little corner of this candy-striped city is picturesque. If you're touring Aveiro, don't shy from taking a little detour to Costa Nova for its unique colorful views.
Funchal
Unlike other cities in Southern and Central Portugal, Funchal is located on Madeira island. Being the capital of the Island, the city has a lot to offer, including natural wonders and several botanical gardens.
There's also a stunning view of the Atlantic coastline, which makes you appreciate the city even more. Funchal is also home to Mercado dos Lavradores and the Colegio Church, known for its beautiful interior.
Other things to enjoy in this city include hiking and wine tasting, so bring your hiking shoes with you on this trip.
Close (esc)
Popup
Use this popup to embed a mailing list sign up form. Alternatively use it as a simple call to action with a link to a product or a page.
Age verification
By clicking enter you are verifying that you are old enough to consume alcohol.