Nowadays, investing in top-of-the-range cookware and kitchen gadgets is necessary to ensure your food tastes good and the presentation is welcoming. Another major factor that was often undermined is what we eat with, but with Instagram life, everyone wants their dining table to look attractive in every aspect. So if you are currently shopping for the best cutlery sets in the UK, read on.
Having the best cutlery set is just the ticket to a great arrangement for your dining table setting. However, whether you are shopping for your upgrade or a special occasion, there are so many models to choose from, and therefore choosing the best cutlery set can be more hectic than expected. Therefore, we have reviewed the best cutlery collection with pros and cons to help you make the best choice for your needs.
What is a Cutlery Set?
A cutlery set is a combination of cutlery where the cutlery included is sold as a uniform set. However, depending on the size, there are different sets, and they all contain different pieces of cutlery, which are used for different purposes.
Since a cutlery set has coordinated pieces and comes from a single manufacturer, the individual pieces fit well in functionality and design. A cutlery set will give you the complete basics of cutlery and will be a perfect complement to your dinnerware sets.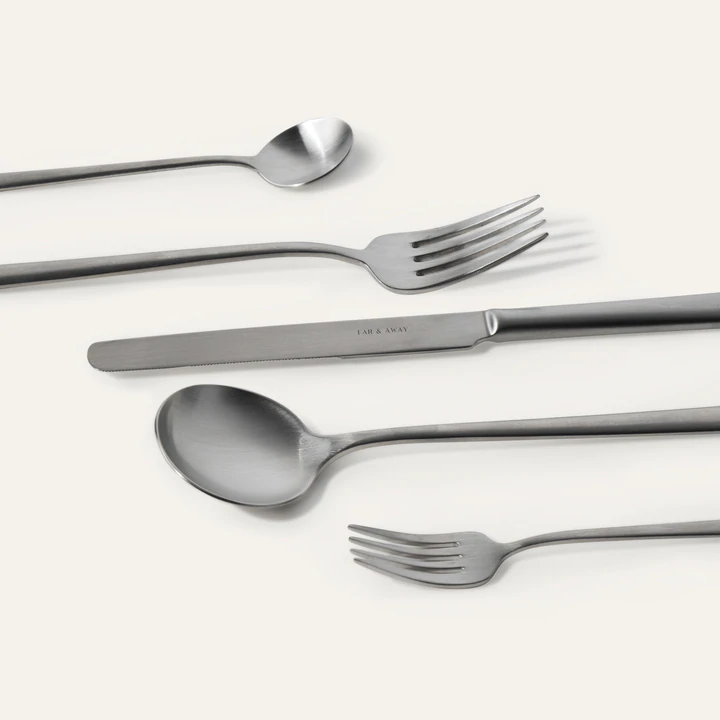 Far & Away is a 20-piece cutlery set made from 18/10 premium European stainless steel and thus gives you maximum durability. It comes with a semi-matte brushed finish which was hand-finished by artisans in Northern Portugal. The cutlery set features an elegant contemporary design as it combines premium raw materials with sleek curved lines to give a modern aesthetic.
Far & Away's eye-catching cutlery set is made of timeless pieces that will last you a lifetime being anti-corrosive and extremely rust-free. In addition, the pieces are dishwasher safe, meaning they will be easy to clean and should be dried immediately to minimize watermarks.
Far & Away cutlery set is a four-person set that includes four dessert forks, four teaspoons, four knives and four tablespoons. Each piece is well-balanced and has an ergonomic handle to improve your overall dining experience.
Pros
100% dishwasher safe
Made from 18/10 premium European stainless steel
It features a semi-matte brushed finish
Hand-finished by artisans from Northern Portugal
Rust-free and resistant to marking your ceramics
Cons
If not dried immediately, it could form watermarks.
BEWOS is a classic shape cutlery set that features a unique laser pattern that gives luxurious and elegant vibes to give you a good dining experience. With a matte black design and unique pattern handles, the silverware set is a good cutlery set to use in most environments to enjoy a meal.
BEWOS is crafted with durable, high-quality material, and the stylish laser-pattern does not fade even after cleaning the set many times. Furthermore, since the flatware is a stainless steel cutlery set, it has gone through an improved process to guarantee a better rust-free ability.
BEWOS cutlery consists of four forks, four dinner spoons, four dinner knives, four dessert spoons, and the number of pieces makes it the perfect accompaniment for most families. In addition, the flatware set is suitable even for kids since it has no rough spots that could hurt your mouth and the weight and balance is great.
Pros
Dishwasher safe
A unique pattern and design that makes it super stylish
The laser pattern does not fade after wash
Well balanced in thickness and weight
Ergonomic handle that fits your hand shape
Perfect for all occasions, including everyday use
Better anti-rust ability
The number of pieces makes the flatware set great for four place settings
Relatively affordable
Cons
Some users complain that the dinner spoons are too big.
Exzact Elite Forged cutlery set is a 4-person set is crafted with high-quality stainless steel and has a shining mirror-polished finish. The flatware set is suitable for everyday use and will easily fit any style of kitchen tableware.
Exzact cutlery set consists of four folks, four dinner spoons, four teaspoons and four dinner knives, making it a personal favourite for most people in a family of four. It perfectly serves even kids thanks to the ergonomic design that will help them learn to eat effortlessly and quicker.
Pros
Mirror polished finish and premium quality
East to hold as its well-balanced
Modern design gives a table a presentable look
Dishwasher-safe
Two-year guarantee
Cons
The material conducts heat and may get too hot even when left inside a cup of tea.
Arthur Price Classic Rattail is crafted with an exceptional design, and it is a smart choice if you are looking for a set with a timeless classic design and patterns. The set is the hallmark of the Arthur Price Classic Stainless Steel cutlery set, where four generations have created every piece of cutlery.
Arthur Price Rattail's cutlery set includes eight table knives, eight dessert spoons, eight dessert forks, eight teaspoons, eight table forks, eight soup spoons, eight dessert knives and two other serving spoons. The set is perfect for special occasions where you are hosting your family or a big group of friends, and you want to speak elegance through your dining table.
Pros
Well-balanced
Dishwasher safe
Mirror polished 18/10 stainless steel
50-year Guarantee
Cons
Only suitable for large families or special occasions
Robert Welch is the best cutlery set if you are a fan of Robert Welch pieces and also since it comes with timeless pieces that look new even after being used for years. The set is made of mirror-polished stainless steel are. They are enjoyable to use, but they still boast a tactile texture that creates a light-reflecting yet glistening statement at your dinner table setting.
With the stainless steel design, the eye-catching Robert Welch cutlery set is made with the highest quality of stainless steel where the forks are made from 18/10 stainless steel, and the knives are made from grade 420 to give the best cutting edge. In addition, the stainless steel cutlery set is dishwasher safe, making it easy to clean.
Robert Welch is a cutlery set that includes six table forks, six side forks, six side knives, six dessert spoons, six Honeybourne bright table knives, six soup spoons and six English teaspoons. In addition, Robert Welch's stainless steel cutlery set includes a lifetime guarantee against manufacturing defects.
Pros
Made from high-quality stainless steel
Timeless style and classic design
Smart choice for a big family
Additional pieces are available, including kids cutlery sets, pastry forks, serving sets and other individual items.
Dishwasher safe
Lifetime Guarantee
Cons
The price is on the higher side, but it's a worthy investment to create picture-perfect place settings.
Factors to Consider Before Purchasing the Best Cutlery Sets in the UK
To ensure you get the best cutlery set, you need to know what to look for in any cutlery set. Some of the considerations include:
1. Material
You cannot go wrong with stainless steel cutlery sets, and it's popular for a reason. Check for cutlery that references 18/10 stainless steel, the amount of nickel and chromium found in every piece. The first figure is the percentage of chromium and the second one represents nickel. Therefore, if you have a nickel allergy, you should look for 18/0 and 13/0 in your cutlery sets.
In addition, it is an indicator of high-quality stainless steel material, and if you are shopping for daily use, it is the most durable choice. A stainless steel cutlery set is also popular for longevity as they are easy to care for.
2. Weight and Balance
The rule of thumb for cutlery is that the heavier the set, the better it's quality. However, you need to choose a cutlery set weighted evenly that you shouldn't notice a good set in your hand because it will be comfortable.
There should be an equal distribution between the blade and the handle for balance because if your cutlery set is too heavy on the blade, you will find it hard to use. It is the same case if the grip is also the heavy part. You won't use it at its full potential.
3. Use
What you are buying the cutlery set for should be one of the first questions you ask yourself to make the right decision. Is the cutlery set for everyday use, or are you looking for something fancy for special occasions and dinner parties? When considering the use factor, it's important to add a few utensils to ensure you cater to additional guests if most of your cutlery is in the dishwasher.
4. Number of Pieces
All sets don't have the same items where some come with more pieces than others, making it essential to check what each cutlery set includes. Some basic sets only come with table forks and knives, teaspoons and dessert spoons. Alternatively, some sets will have a butter knife, cake forks and spoons, but this shouldn't be your choice unless you often enjoy cakes at home.
If you are shopping for a daily use set, you should opt to purchase additional items separately and one that suits your preferred dining experience. For example, if you live alone, a 16-piece set may be enough as it can accommodate four people unless you like hosting plenty of get-togethers and dinner parties.
It would be beneficial for families with children or a large group of friends to opt for a 24-piece set as it will come with the basic cutlery for six people. This will include dessert spoons, teaspoons, knives and forks, and 6 of each.
Notably, a cutlery set with the extra cutlery pieces is the best for a formal dinner table setting, and this could include a formal dinner fork, dessert forks, steak knife, and soup spoon. This could be a great cutlery set if you often cook multi-course meals but otherwise, a 24-piece set will be enough.
5. Colour and Style
For colour and style, a gold finish or rose-gold finish design is very popular and sometimes black or blue from John Lewis for people looking to make an impact. Apart from colour change, you may want to choose a different cutlery style, such as a traditional Kings pattern or a minimalist set with an angular handle. In addition, you may want to choose a style and colour that matches your decor or table linen and compliment your plates to enjoy a meal.
There are plenty of designs and styles out there, so you should spend time looking at the different designs before making your final decision. In addition, it may help to look at product reviews to see if anyone has struggled with the style and shape of the cutlery set you are considering.
6. Dishwasher Safe
Dishwasher-safe cutlery sets will save you a lot of time, and it's advisable to purchase an affordable and yet dishwasher-safe set. While you can easily hand wash cutlery sets for special occasions, you will need something that can be washed with your other utensils for daily use.
Some manufacturers state that some cutlery sets are dishwasher safe but recommend hand washing for extended longevity. If this is the case and you want a cutlery set that you can put in the dishwasher daily, then it would be better to opt for another model.
How Do I Store my Cutlery Set?
There are two ways you can store to care for your cutlery set: One, you can store the cutlery set in its case or packaging, or you can store it in a cutlery box or a cutlery tray for your cutlery drawer. Each storage method has its advantages and disadvantages.
Storing your cutlery set in a cutlery case means your cutlery won't get scratched so that it can be safely stored. However, you may need to create space to store the case and also, getting your cutlery from a case may look awkward.
On the other hand, storing your cutlery in the drawer can be the best cutlery storage since it keeps your cutlery tidy and it saves time and space. However, it has a risk of scratching your cutlery.
Generally, always ensure you store your cutlery set in a dry place, and if cutlery is damp, it can easily rust and will not meet your hygiene requirements anymore.