Cutting meat may seem like an easy task, especially if you have the right cutting board. However, apart from cutting meat, you would want to chop your vegetables, fruits or even serve your meat using that cutting board. That is why you need to choose the best cutting board for meat to kill two birds with one stone!
But how will you know you have the right cutting board for all these tasks? This article provides you with the best cutting boards in the market and the factors you should consider to get the most out of your cutting board. But before we get into discussing these cutting boards, let us brief you on what a cutting board is for a better understanding of the review.
What Is A Cutting Board?
A cutting board, or in other terms, a chopping board, is a durable single-ply surface where you place any material for cutting. The surface could be made of plastic, wood, glass or vinyl. Now let us get into the product review.
What Is The Best Cutting Board For Meat?
1. Best Overall Cutting Board: OXO Good Grips 2-Piece Cutting Board Set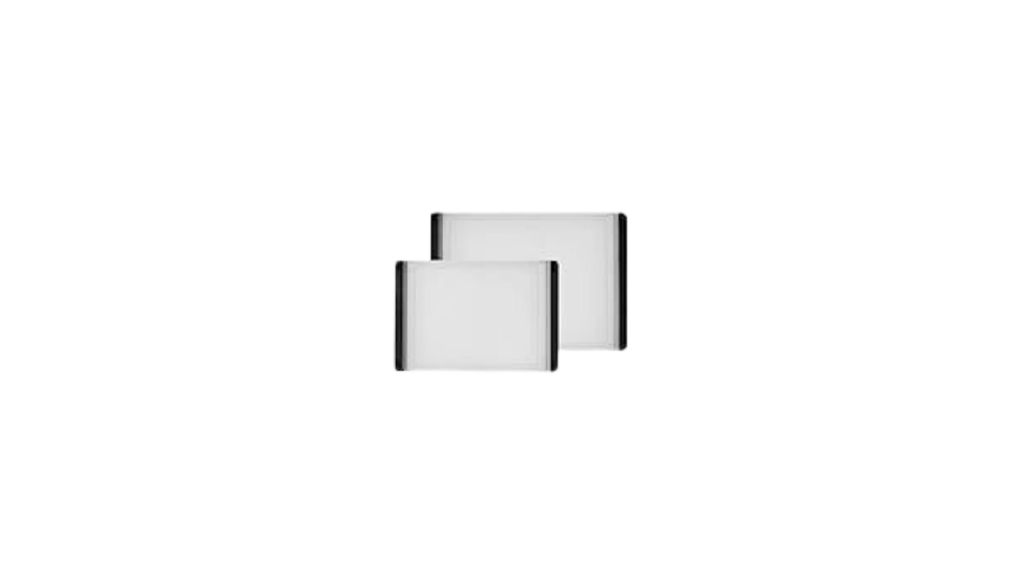 If you are looking for a cutting board that will give you performance, then the OXO good grips are the one. It might not be as beautiful and chunky as other cutting boards, but you will love its service. It has a wide surface, measuring 21.1 by 14.34 inches, making it up for any task. You can even carve a slice of entire pork or a whole fish on it.
It has a shallow drip on one of its sides that runs up to the board's perimeter to hold as much meat juices while cutting. Although the depth of these juice grooves is not deep enough thus can allow the juice to overflow if they don't have a chance to spread out along the indentation. It also has grippy sides that hold the cutting board into place without budging even on a wet surface.
The surface of this countertop is not that smooth, but the texture makes it easy for greasy foods not to skid. According to the OXO manufacturers, the material is designed not to dull knife blades. It is also a reversible board, so you can use both sides to avoid cross-contamination or switch the other side only for chopping veggies. The OXO cutting board is dishwasher safe, but it might not fit well in standard dishwashers because of its size. Although it does not fit into your dishwasher, you can easily hand wash it with soap and water. It's light enough while hand washing it in the sink that you can compare it to cleaning a baking sheet.
If you are spoilt for choices on which plastic board you should have in your kitchen, this should be your priority since it is one of the best cutting boards for raw or cooked meat, chopping veggies or even rolling your pastry dough.
PROS
It is dishwasher safe
Has a nub foot that keeps it off the countertop
Has both flat and grooved surfaces
CONS
Has a plain design
Its grooved design is lightly shallow
2. Best Bamboo Cutting Board: Royal Craft Wood Extra Large Bamboo Cutting Board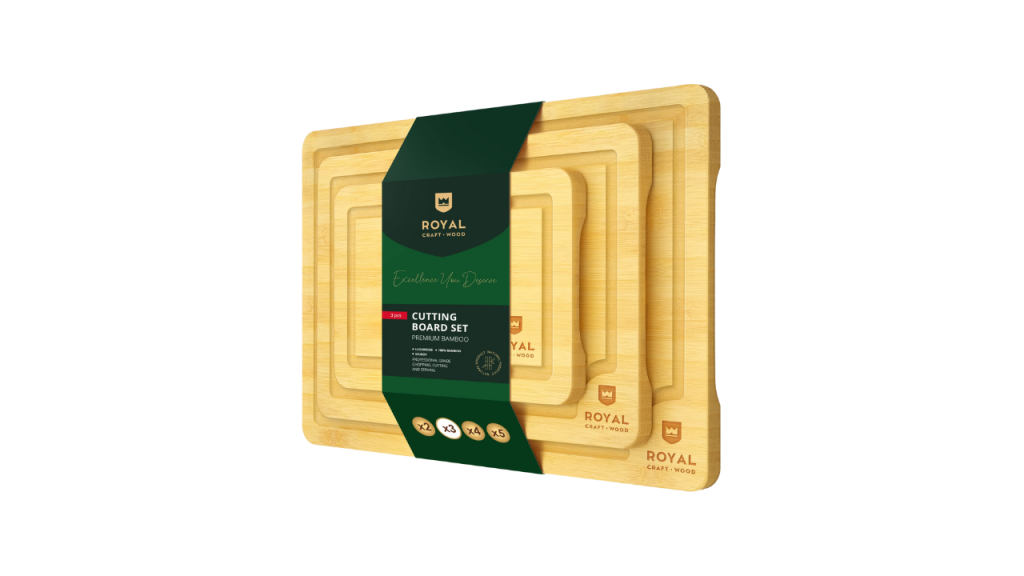 If you are a lover of bamboo designs, this Royal craft wood will undoubtedly catch your attention. It is the best bamboo cutting board that is knife-friendly and brings style and functionality. It is made from durable, tough bamboo fibers to prevent knife marks from being scored on the surface.
They are also so soft that your knives will not be dulled or damaged in the process. Bamboo boards are the unique material of cutting boards apart from wooden ones. Bamboo cutting boards also possess anti-bacterial properties and are eco-friendly. The 10 inch by 15-inch reversible board is the right size for any counter space. It has side handles and a deep juice groove containing meat juices. It also works well in chopping veggies, cutting bread, or serving trays.
PROS
Has an extra-large size and is extremely versatile.
Its surface is knife friendly
Made from high-quality bamboo material.
CONS
Its grooves are slightly shallow.
3. Best Wood Cutting Board: John Boos Chop-N-Slice Cutting Board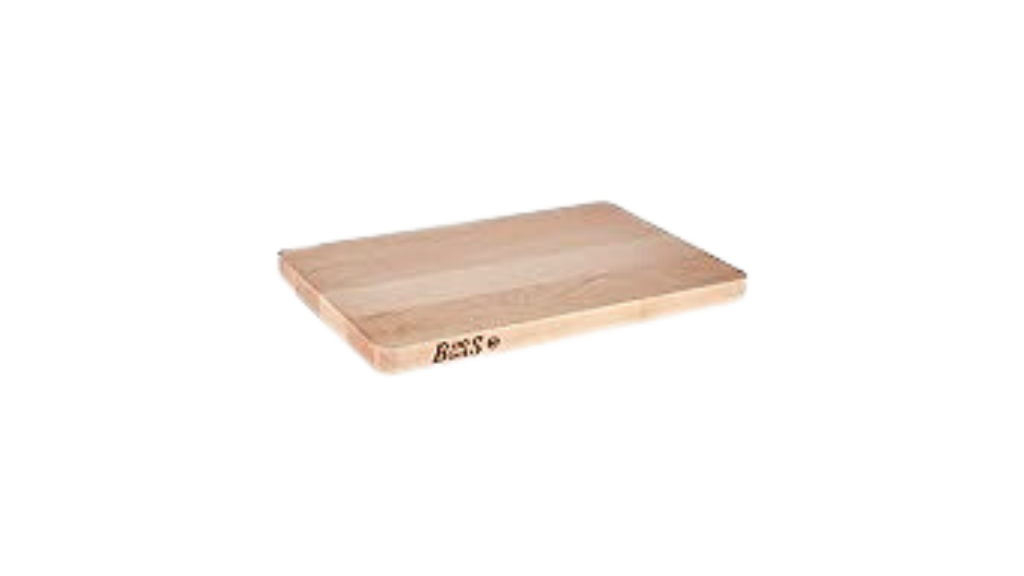 The John Boos cutting board is one of the best wooden cutting boards that is lightweight but has a heavy grip on your countertop, so you won't feel like it's sliding. This wood cutting board is elegant enough to serve meat and other food such as cheeses. It has a reversible design making it usable twice. You can flip the other side and get a new cutting surface. On buying this wood cutting board, you get a one-year warranty. However, it requires extra maintenance because of its wooden nature, it is not dishwasher safe, and it should never be left wet. Before using it, you will have to pre-treat it. The wooden cutting board is designed to last you a lifetime if you maintain it properly.
PROS
Very sturdy
Gives you a wide working space
You can also use it for chopping
CONS
Requires seasoning before use
Must be hand washed
4. Best Plastic Cutting Board: Joseph Joseph Cut & Curve Plus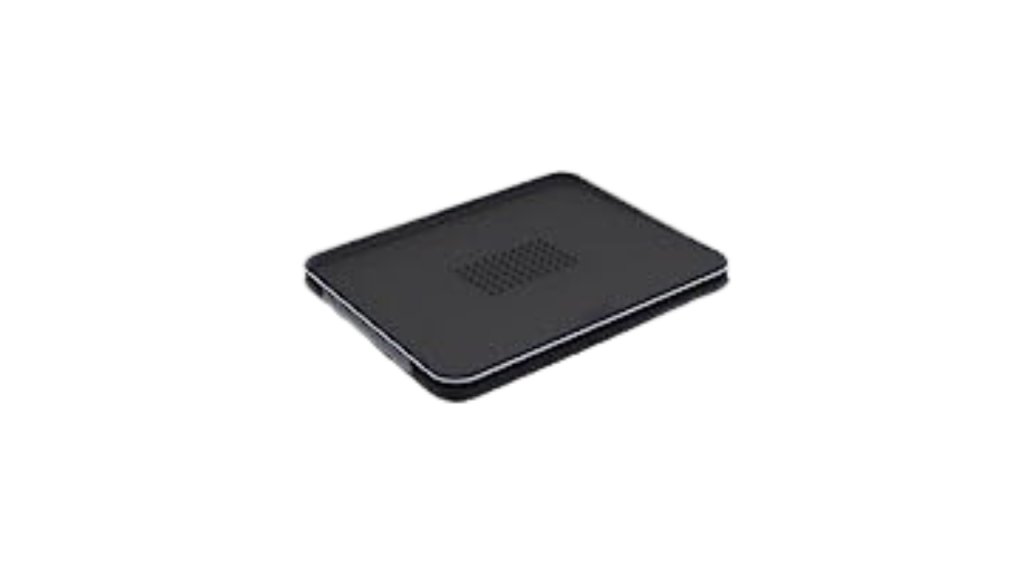 Are you in search of the best plastic cutting board? Joseph Joseph is the one. It has a conventional design with an angled surface that lets juices and crumbs roll down and collect against a high rim. It gives no chances of overflowing through its design that limits spills and holds out a lot, almost 10 ounces.
The plastic board is also reversible, with one side of it featuring raised spikes that can hold a roast into place while slicing but can pierce more tender cuts or cooked meat. The raised spices are also helpful when you are cutting hot meat. However, the other side is smooth, and you can flip to it according to your preference. It has a well-defined angle for liquids to flow or round foods to roll away, making it easy to work on the board. The board is available in four different colors to choose from, with a contrasting colored rubbery edge around its rim that maintains its grip on the counter.
It is big enough to cut a whole chicken into pieces or even slice a roast. It measures 11.5 by 15 inches in size, meaning it will take just the right amount of counter space. The only complaint about these plastic boards is that it leaves knife marks after a few uses and amplify the sound of a meat cleaver or the knife chopping through hard foods from the raised angle of the board. On the higher side, it is dishwasher safe, and you can use it even on a smaller dishwasher. However, be careful while handwashing it since the spikes are sharp and can cut you.
PROS
Double-sided multi-functional chopping board.
Has an angled cutting surface to drain and collect juices
One side of the board has a meat grip
Has a non-slip foot and a soft grip on both sides
CONS
Leaves knife marks after a few uses.
5. Best For Carving Meat: JK Adams Pro Edge Maple Carving And Prep Board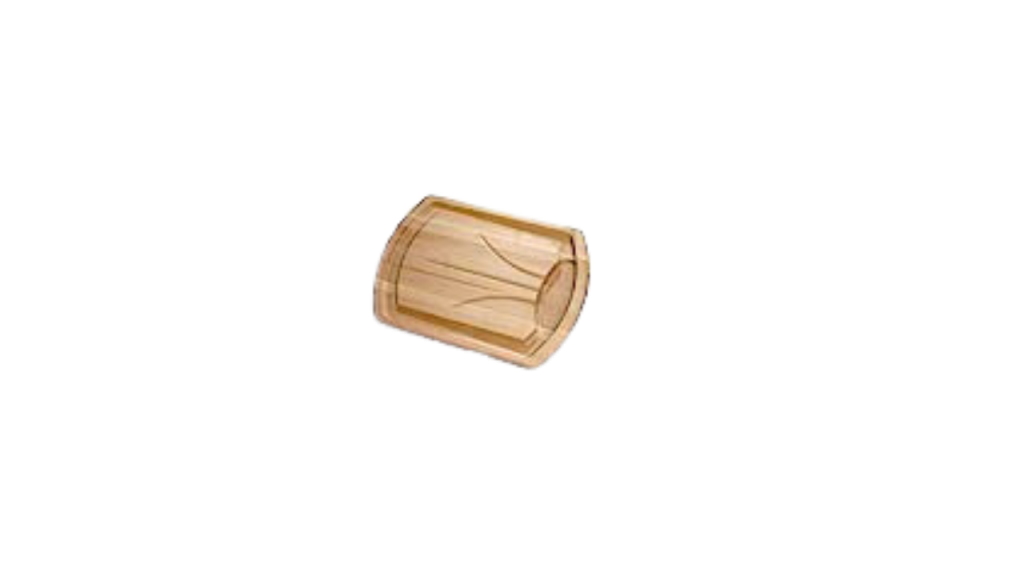 While looking for a cutting board that you can use in carving meat, give the JK Adams cutting board a try; not only will you use it in preparing meat but also help in holding your phone or iPad with its groove at the corner, if you are following a recipe online.
It also features a discreet slot for sharpening your knives at the opposite corner but to use it; you have to tip the board upright. Although this wood board is wide enough to enable you to cut plenty of meat at a go, it measures 20 inches by 15 in size and is one inch thick, making it a heavier option in preventing spillage. However, it is also easy to carry and store as it weighs below seven pounds.
However, this specific cutting board does not have a smooth treating surface; its surface is almost rough and has an unfinished feel, thus making it prone to deep knife marks. When buying it, you will get instructions that suggest that you frequently apply wood conditioner or mineral oil to it for maintenance or until the finish builds up.
You also have to hand wash it, but you will find it easier to manage when you wash it in the sink than other heavier, thicker boards.
PROS
Has a groove for holding your phone or iPad.
Has a knife sharpening slot
Has a wide drip groove to collect juices
The board is reversible so that you can use both sides.
CONS
Does not have a smooth surface; therefore easy to catch stains and deep knife marks.
6. Best Budget Cutting Board: HOMWE Kitchen Cutting Board (3-Piece Set)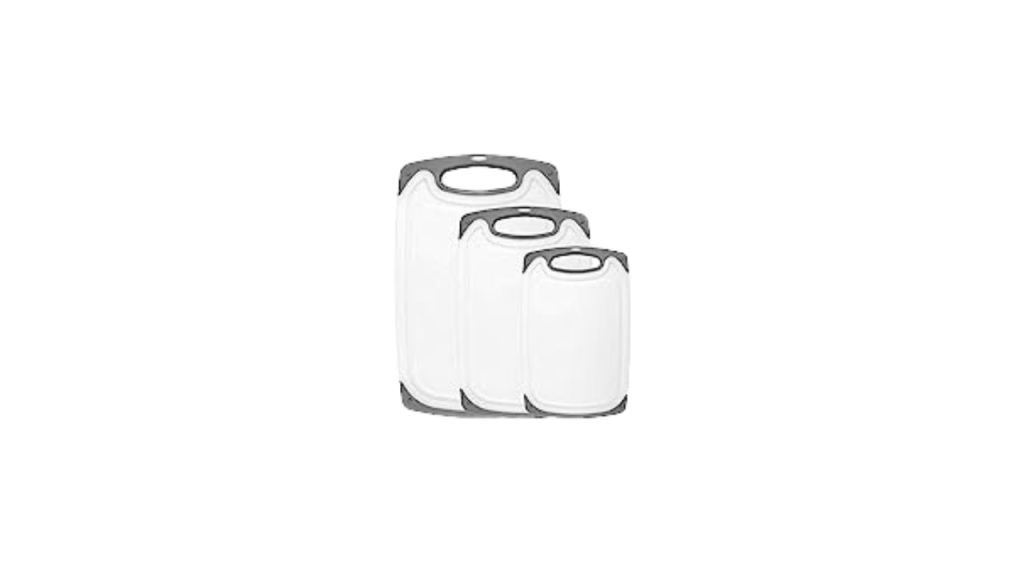 The crucial factor to consider in buying the best cutting board for meat is having a set of cutting boards. A set of cutting boards enables you to prevent cross-contamination as you set aside each cutting board for a different purpose.
The HOMWE kitchen cutting board helps you achieve that as it comes in 3 pieces. When cutting raw chicken or raw meats, you would like to avoid the possibilities of one food tasting like the other or even avoid cross-contamination. Also, these economically set cutting boards give you the capacity to choose the best size for every task at hand. Furthermore, it provides you with versatility and flexibility by switching from one to the other at any time. These boards come in sizes 10 inches by 5.8 inches, 12.5 inches by 7.8 inches and 15.8 inches by 9.5 inches each.
They are made from BPA-free, latex-free plastic that protects your countertop from cuts, stains and contamination. These plastic cutting boards also have a juice groove that helps catch excess juices to reduce a mess while cutting raw meat. In addition, their handles are non-slip to help keep them in place, making them perfect for cutting both raw meat and cooked.
PROS
Made from strong nonporous plastic
Comes in a set of three
Features juice grooves and handles
Its dishwasher safe
CONS
Some users complained of it moving around while cutting.
7. Best Splurge-Worthy Cutting Board: John Boos Edge Grain Reversible Cutting Board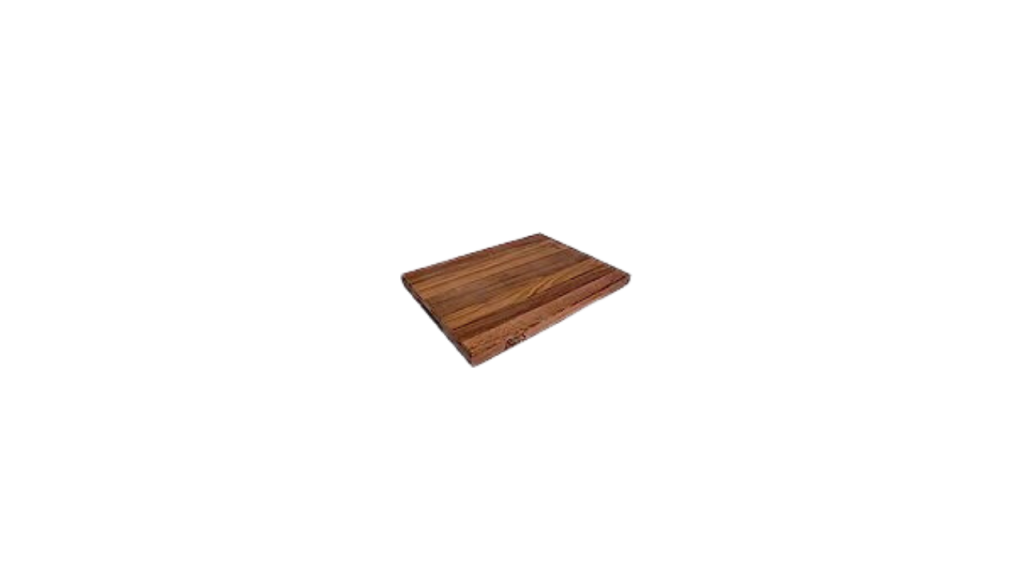 When it comes to wood boards, there are two types, edge grain boards and end grain boards. The difference between the two is only aesthetics. The end grain boards show the tree's rings from which they were cut from while the edge grain boards may dull your knife easily and get scuffed. The John Boos Edge Grain Reversible Cutting Board is an example of an edge grain cutting board. It wins in aesthetics as it makes it easy to move it around.
PROS
It is reversible, thus allowing you to use both sides
It is safe for fine cutlery thus does not dull knives.
CONS
Needs to be oiled regularly for maintenance
Factors To Consider When Buying The Best Cutting Board For Meat
1. Material
The material of the cutting board is crucial for longevity, function and aesthetics. On materials, we will discuss the three major ones: plastic, wood, and composite. Plastic sits right for cutting raw meat because it is dishwasher safe and doesn't have a porous surface. When you opt for wood, consider that it can be difficult to sanitize, especially if you settle for bamboo types.
You also can not put wood into the dishwasher as it might destroy the material. Furthermore, if you expose your wooden board to heat, it might end up warping or even split. To maintain your wooden board, you may regularly need to condition it with some food-grade mineral oil.
As much as the wooden boards are hectic to maintain, it is a surprise that most chefs and home cooks love them. These cutting boards tend to be easier on knives and prevent them from being blunt easily. In addition, they create a good presentation when you put meat on the dinner table on them. Finally, you can use them to serve.
On the other hand, composite cutting boards give you the satisfaction of both plastic and wooden cutting board worlds. They are made from a heavy-duty resin material that will last you a long period. They are also dishwasher safe, so you can toss them in the dishwasher to save your time. A bonus is that they do not require regular conditioning. They have a wooden-like appearance which might confuse you, but they are not made of wood. The only downside is that they seem a little hard on knives.
2. Non-Slip Edge
Cutting meat on a slipping cutting board can be very irritating and uncomfortable. It is also dangerous as you might end up being cut due to the lack of stability of the knife and the cutting board. You want a cutting board that stays in one place; with the innovative designs in the market, you will not miss one.
Some cutting boards have an addition of non-slip grippers that keep them in place when used. You can opt for a heavy cutting board if you don't find the non-slip grippers. The only downside of heavy cutting boards is that they tend to be difficult to clean since they are wooden and require handwashing.
3. Size And Shape
The most common types of cutting boards in the market are rectangular. Rectangular cutting boards make it easy to grip and transport the meat to another surface since they have straight edges. These straight edges are also useful in sliding meats off the board to a pan or a plate.
You can choose a cutting board sie depending on the amount of cooing you want to do or just your preference. Board sizes vary from 18 inches to 12 inches, but you can find larger ones of about 24 inches by 18 inches. Professional chefs often use these big cutting boards since they prepare many meals, but you can opt for a small one if you are preparing meals for one person.
4. Juice Groove
A common feature you wouldn't want to miss on your cutting board is the juice groove unless you want to end up with a messy countertop. A juice groove is an indentation on your cutting board that will prevent excess juices from your meat from flowing to the countertop when cutting the meat.
No doubt that the cutting and chopping of meat produces a fair amount of juice and debris. Where does this juice go to? They go on your countertop, your clothes, or the floor, messy, right? Now you have extra work of cleaning after you finish your meal preparations.
Handling meat requires you to be keen to a precision not unless you will even contract bacteria from the meat. Buying a cutting board with a juice groove feature helps you contain those meat juices in one place kee[ping your preparation clean. However, if your cutting board does not have a juice groove, be careful of how you discard these meat juices.
5. Single Board Vs. Set
A cutting board proves to be essential in meal preparation but ensure it does not take much space on your countertop, especially if your kitchen is small. Purchasing a set of cutting boards is better than purchasing one big board. The single board will limit your space when you cook many meals, yet you have a small countertop.
For that reason, you can get a set of boards so that you can switch up to a comfortable size anytime. A set of boards also minimizes the risk of cross-contamination; since you have a variety of boards to choose from, you can choose a board specifically for raw meat and a separate one for vegetables and fruits.
6. Knives
As we had discussed earlier on the type of material affecting the cutting edge of your knives, it is important to consider your knives as a priority. Apart from owning the best kitchen knives, you want to keep them as sharp and well maintained or else how will the cutting board be useful if you cant use your knives on it?
If you go for a soft cutting board, your knives will cut through it or leave some grooves on it. These grooves may become a breeding ground for bacteria since some meat or juices may be left in them. Your cutting board will also develop a foul smell after some time, and if nothing is done, you may develop food poisoning. On the other hand, if you also go for hard materials like ceramic, they may blunt your knives and end up destroying their cutting edge.
7. Versatility
People want to go for unique options; if it is not for the design, what more can it offer? Apart from food preparation, did you know that a cutting board can meet other needs? As you look at these other features, do not forget about aesthetics. For example, is the cutting board presentable to use as a platter at a dining table or a buffet?
Consider a solid and reliable cutting boar that will serve you more than once; it should not damage the table, stain the surface or ruin your knives. Next, choose a cutting board that will serve meat and other foods like cheese, fresh fruits, nuts, or even chocolate. It should protect your knives from damage and your countertops and table from heat damage. Finally, look at the elegance and design, choose something beautiful and get satisfaction whenever you use it.
Frequently Asked Questions On The Best Cutting Board For Meat
1. Which Type Of Cutting Board Is The Best For Meat?
Cutting meat can be a little bit tough since you have to cut through the tough tendons or bones. Therefore, when chopping or dicing, you will need a sturdy, large and easy-to-maintain cutting board. Mostly, wood boards work well since they are made to endure the sharpest cutting edge of your knives. Woodcutting boards are also durable, depending on how you maintain them.
If you cannot find a wood board in your area, you can opt for a plastic cutting board; you will find it easy to clean and affordable. After all, we agree that you can only get the best cutting board according to what you are looking for.