Having a farmhouse is one of life's blessings that can bring you so much joy. The country charm and the promise of peace in the air can take away most of the stress of everyday life. However, you don't have to actually move across the country to experience this charm.
With the right decor and passion, you can turn your own kitchen into a farmhouse-style kitchen. This is why today, we'll help you get the right farmhouse kitchen decor so that you can bring the country charm to you.
Therefore, whether you live in a farmhouse in the country or want to convert your current home into one with some cool farmhouse kitchen decor ideas, stick around.
Why Is It Important to Have the Right Farmhouse Kitchen Décor?
Because it completes the farmhouse-style kitchen ambiance and allows you to take a moment every day to savor all of life's blessings and simple pleasures. Being able to pick out what you want in your farmhouse kitchen and create the space you dream of can have a healing effect.
Therefore, whether you're starting from scratch or already have a farmhouse kitchen stocked and want to redesign, we've got you covered.
We will give you some great ideas, tips, and tricks for the best experience. Let's get started.
25 Farmhouse Kitchen Decor Ideas
1. Handmade Touches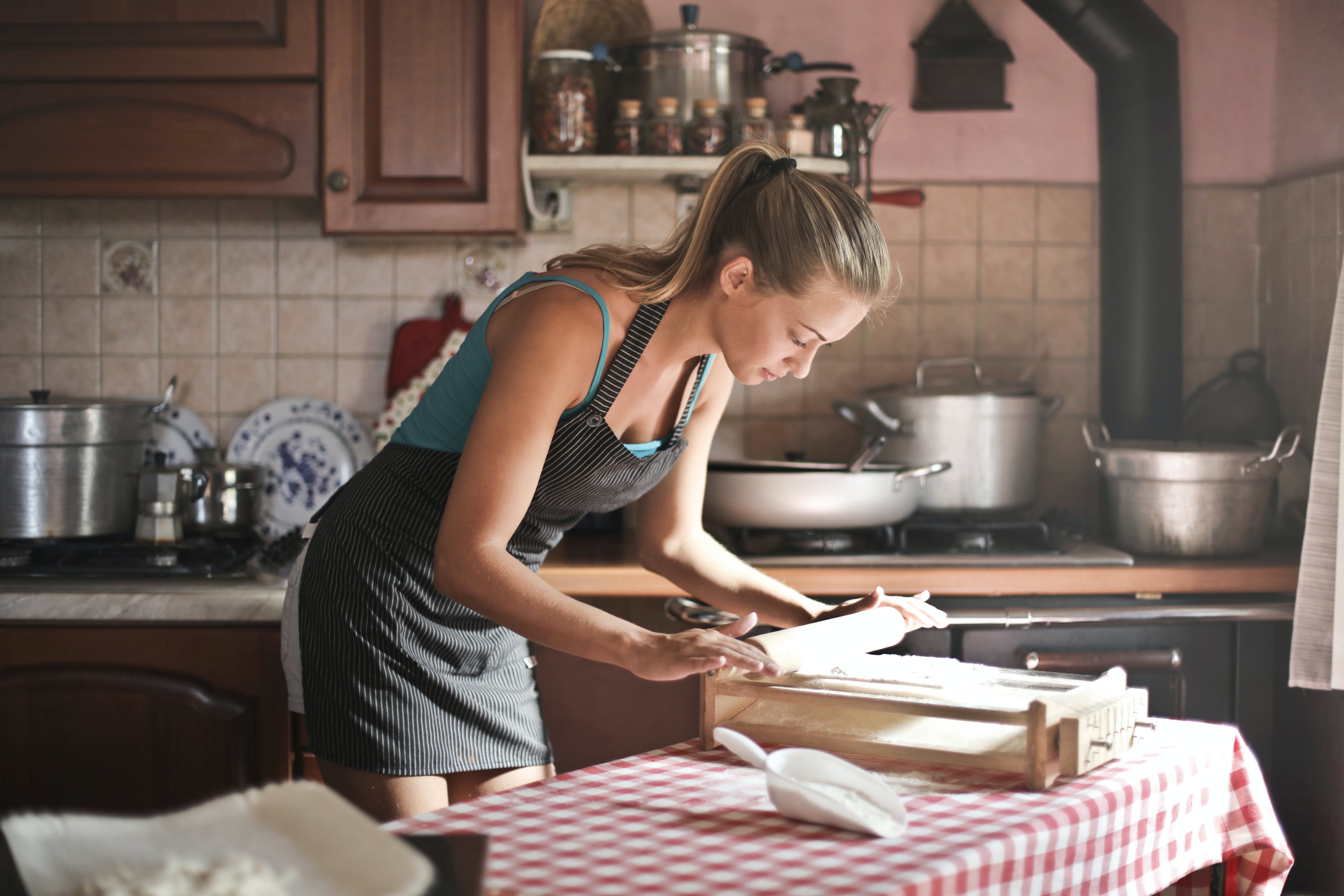 What better way to add your personal style to your farmhouse kitchen than with something handmade? A good idea of something hand-made is a kitchen table or even kitchen towels.
Having handmade items embodies the country style and allows you to express your creativity to the fullest. You can also choose to wash your dishes by hand to add to the charm of not having a dishwasher.
2. Under Sink Curtain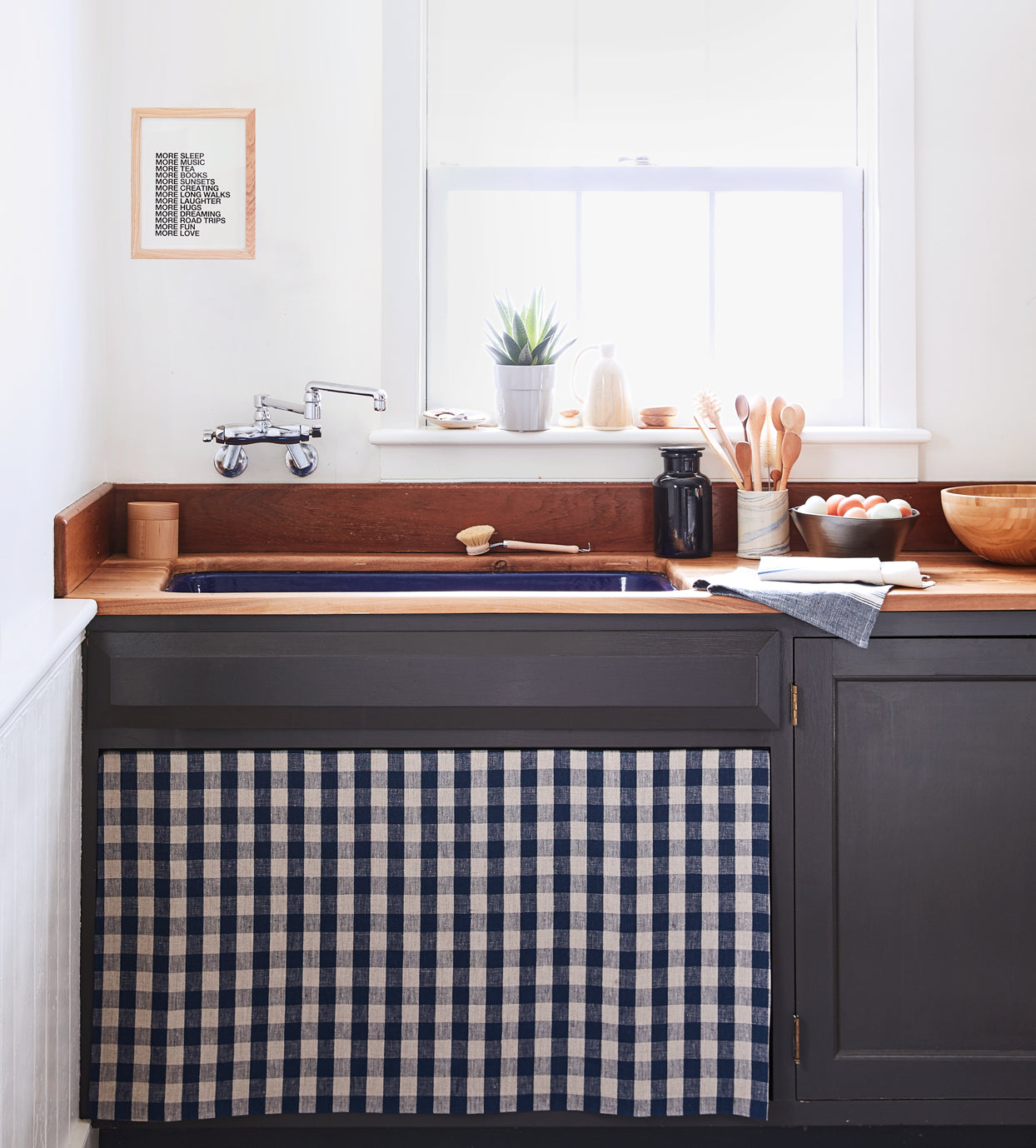 This will undoubtedly earn you points in the farmhouse kitchen decor world. It boasts of a simpler time and can easily transport you to several centuries earlier.
3. Copper Pots and Pans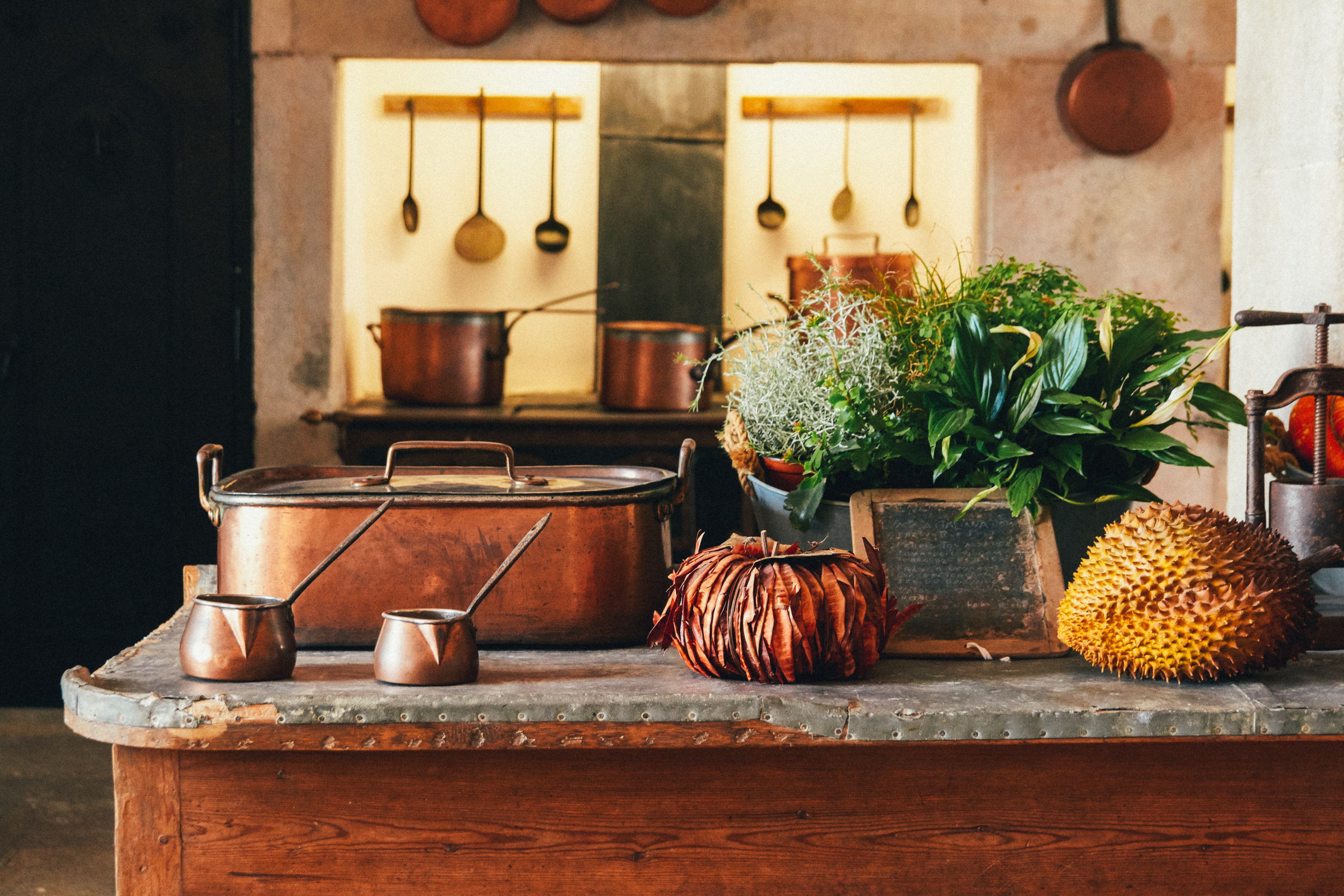 Nothing says rustic style like some copper pots and pans to complete your farmhouse kitchen decor.
4. Retro Appliances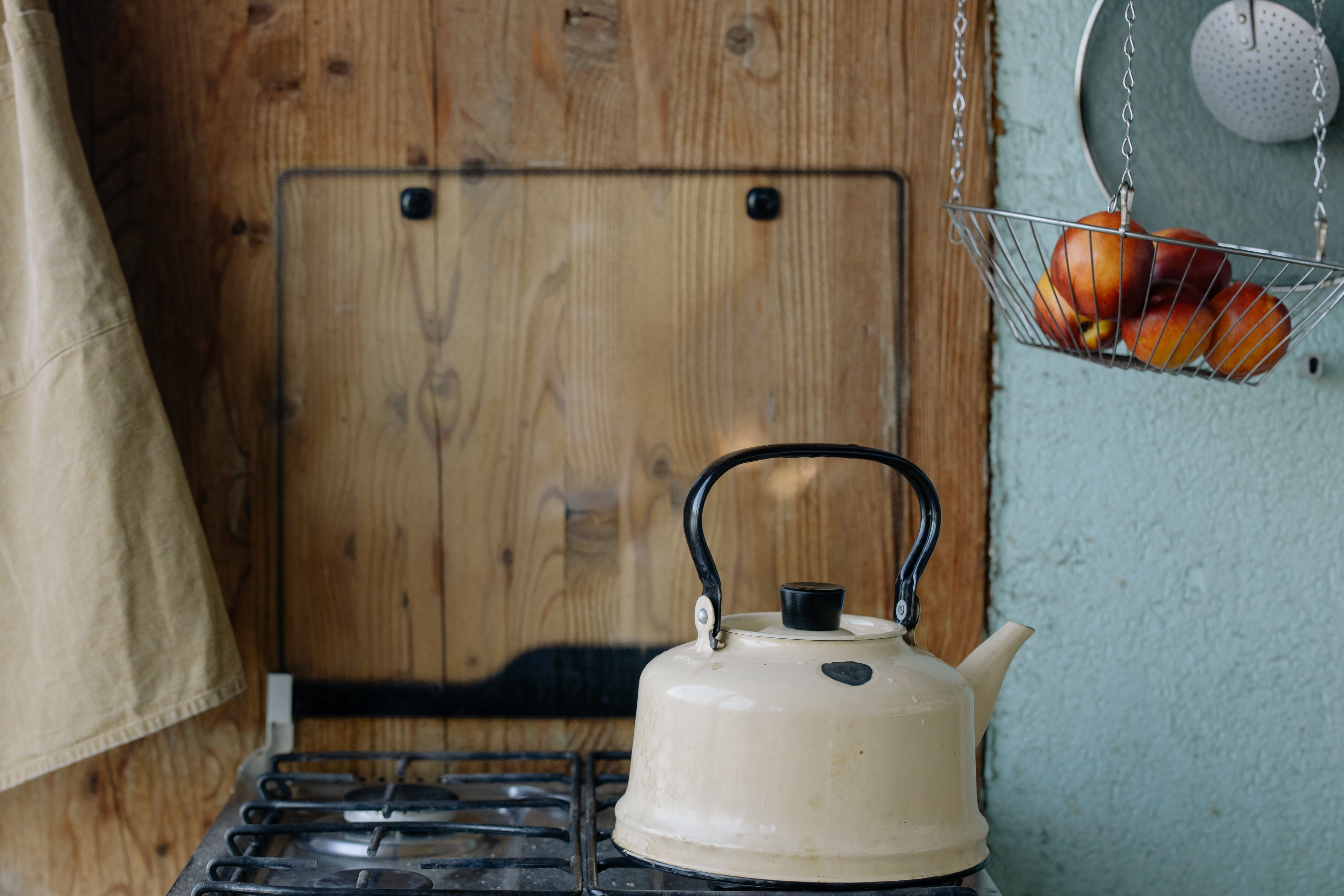 When choosing your appliances, keep in mind the kind of farmhouse style you want. This will allow you to match your appliances with the rest of your farmhouse decor.
Choosing retro appliances adds that rustic charm to your kitchen and takes you back in time.
5. The Library Ladder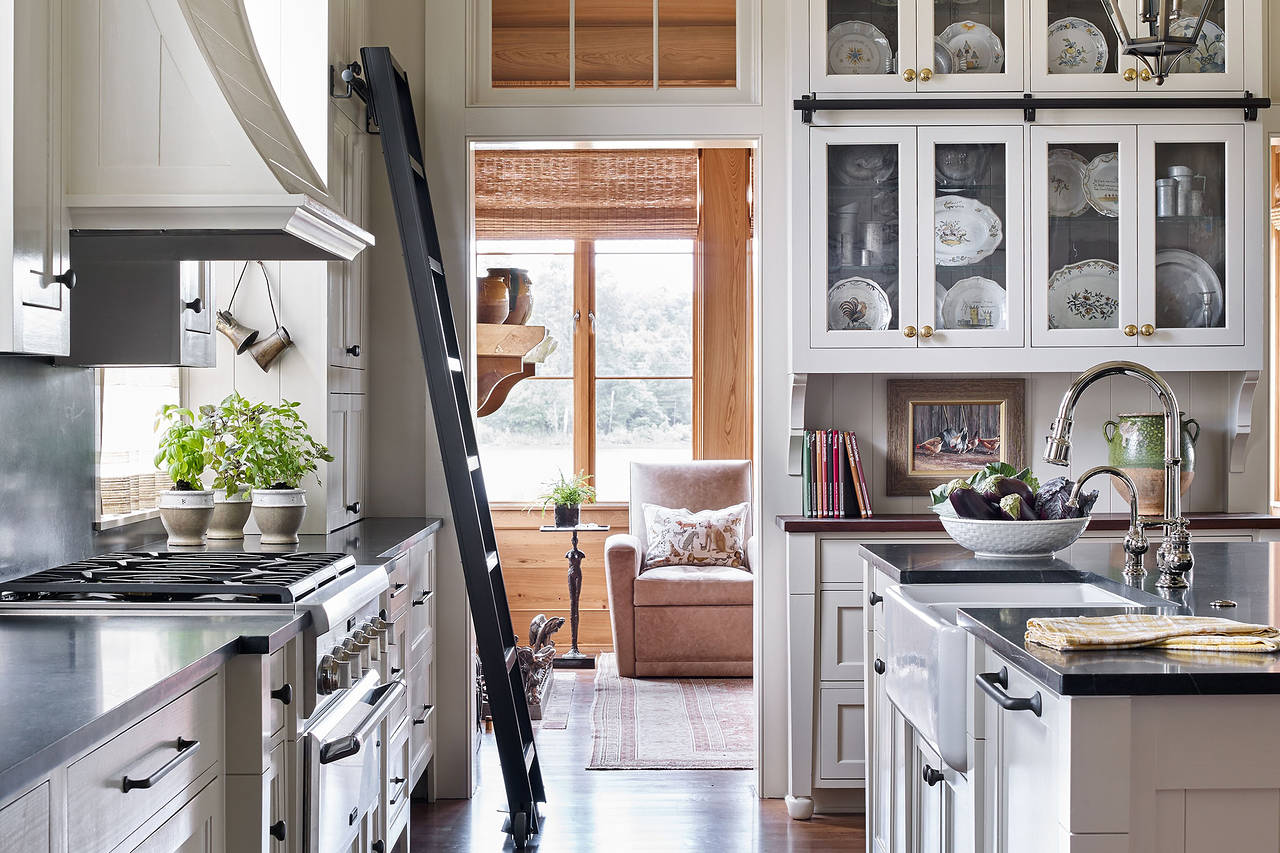 If you have some upper cabinets and want to have easier access to them, what better way to do so than with a library ladder in your kitchen? Although this is not a feature you see every day, it can bring out the country vibe in your farmhouse kitchen.
On the plus side, this is definitely not something you'll be seeing in many modern kitchens. Therefore, anyone who enters your kitchen will be met with the charm of farmhouse kitchens.
6. Wooden Kitchen Island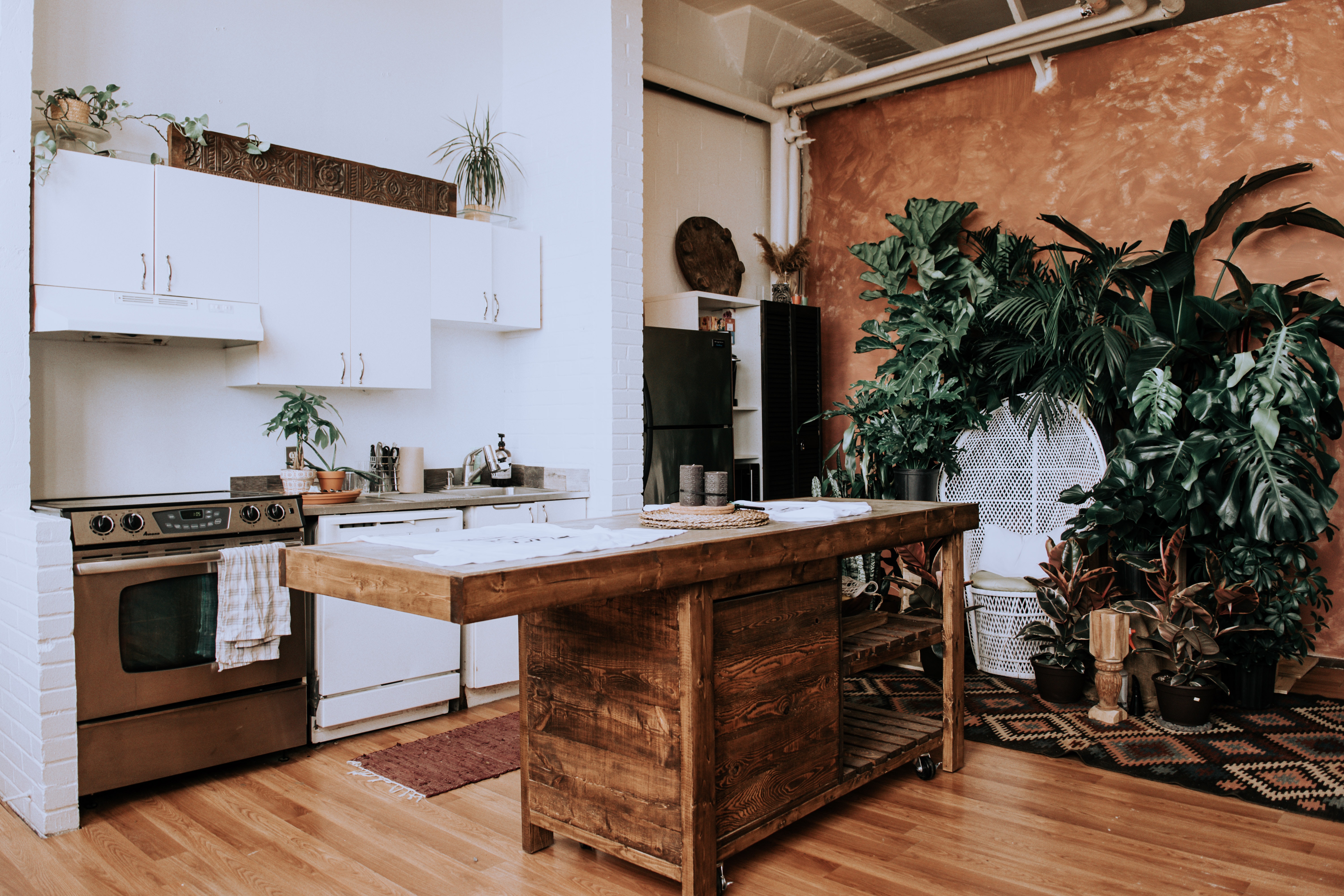 Whether you're going to use reclaimed wood or newly gotten natural wood, having a wooden kitchen island in your kitchen will complete the look. You'll find that several farmhouse-style kitchens boast of this feature because it's a classic.
You can put your decorative flowers, comfortably carry out meal prep, store your kitchen items, and so much more on your wooden kitchen island.
Some features to keep in mind if you want to have this for your farmhouse kitchens include either having an open space below the island or having lower cabinets where you can store your kitchen items.
7. Old Country Charm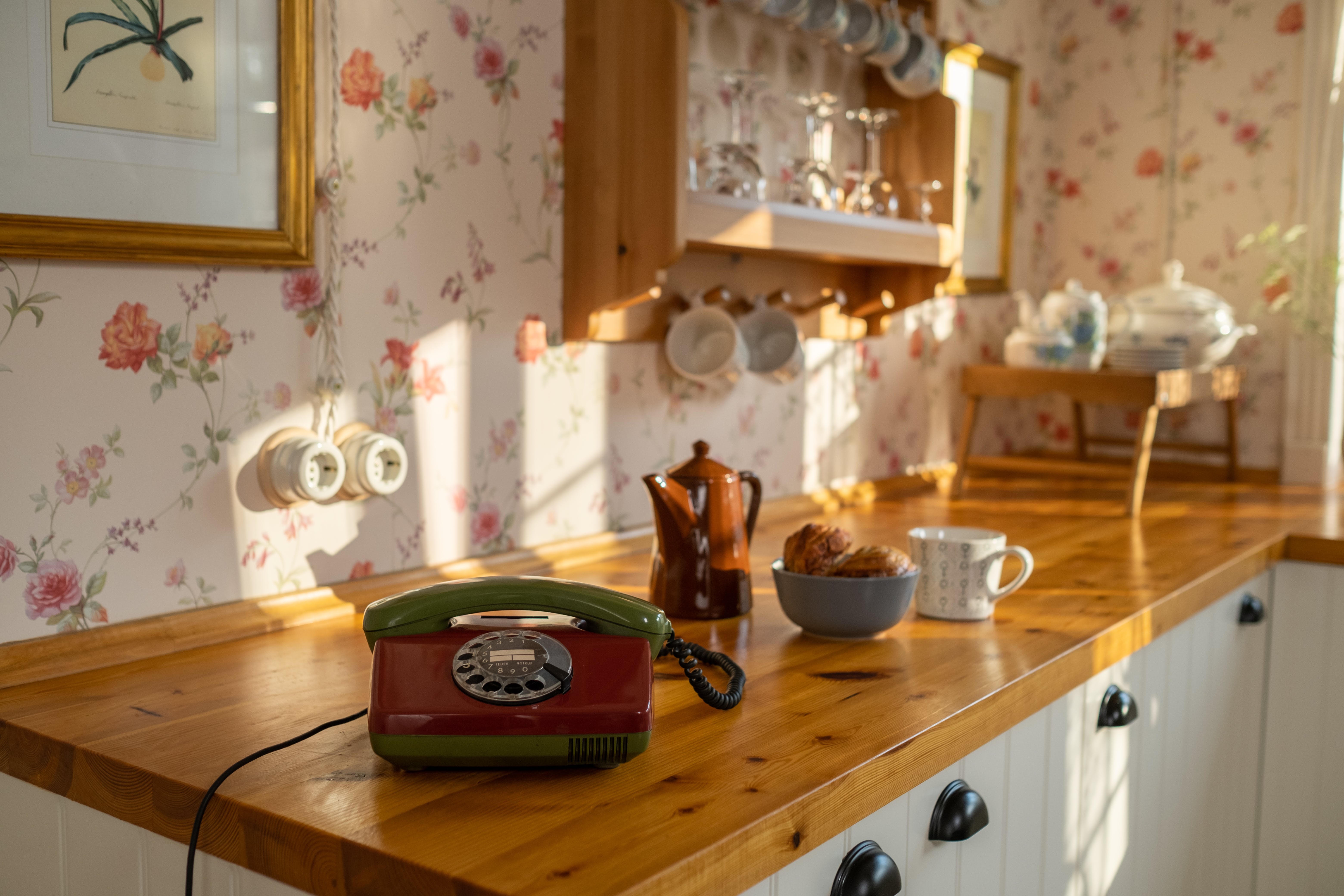 If you already have your kitchen in place and want to do some slight renovation to turn it into a proper farmhouse kitchen, this idea will work well for you. You can add some country charm by replacing the wallpaper, making your cabinets a bit darker, using reclaimed wood for your hood and island, and much more.
You can also add some small antique pieces here and there to add to the rustic charm.
8. Woven Baskets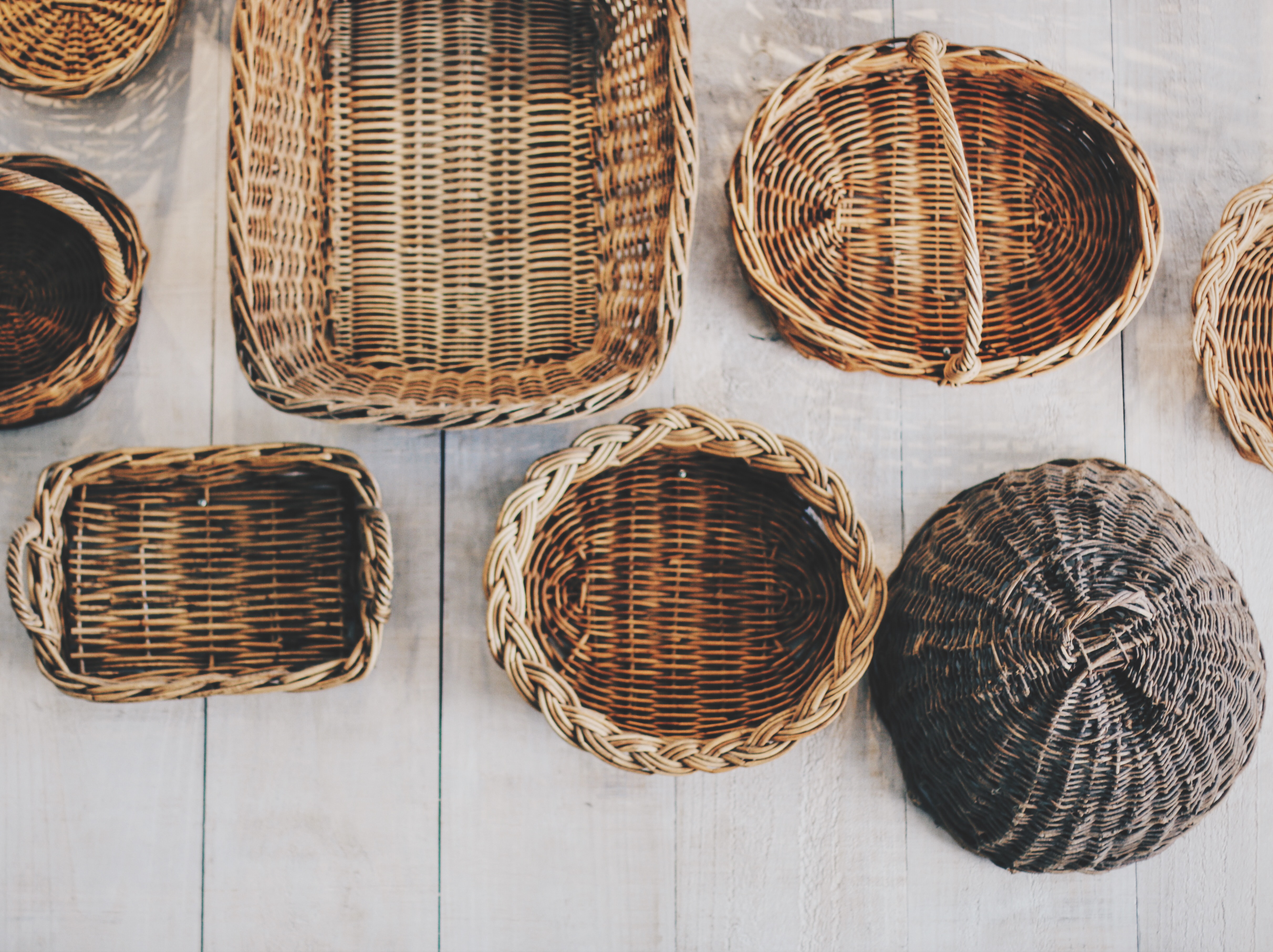 This is a good one. Having something woven in your farmhouse kitchen will fit right in with the farmhouse style you're going for.
9. Use of Bold Tiles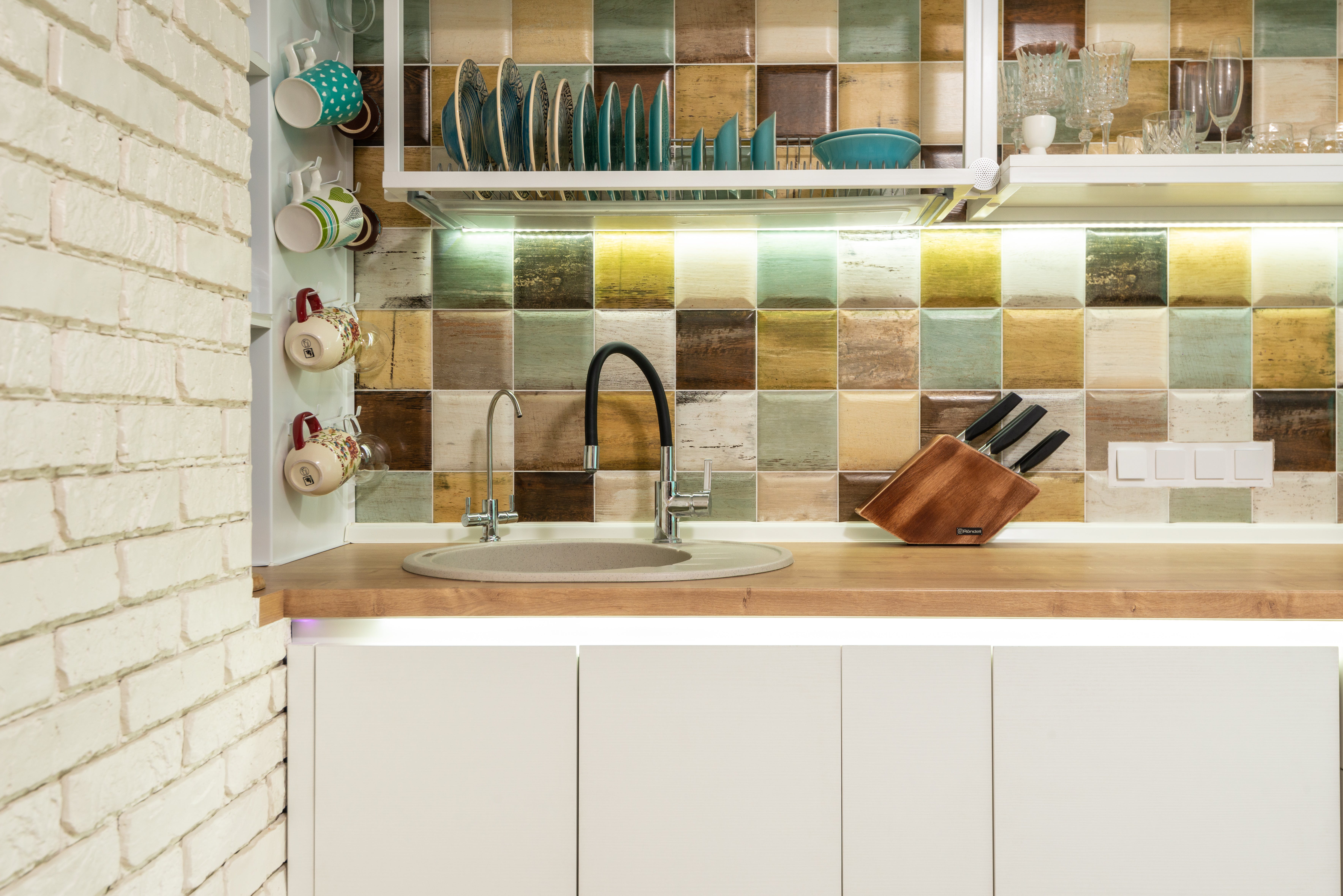 If you have a monochromatic kitchen, adding some bold tiling can help spice up the space and add some much-needed rustic design.
The tiles will be eye-catching, and you can choose the color you want that goes well with the rest of your decor.
10. Open Shelving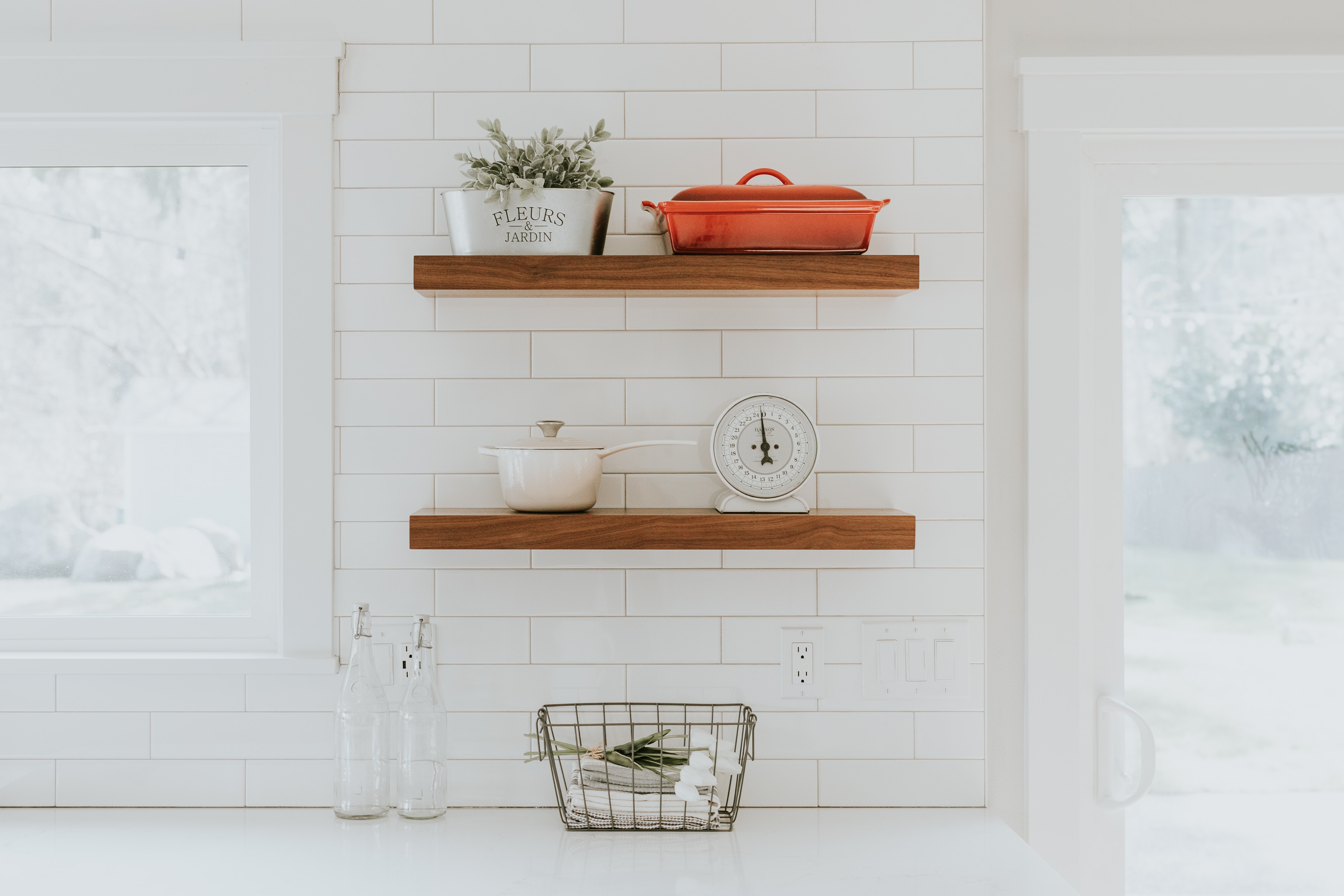 This is another classic of the farmhouse kitchen. It will add to the rustic style you're going for, and you can even couple it with the library ladder for a full effect.
11. Shiplap Walls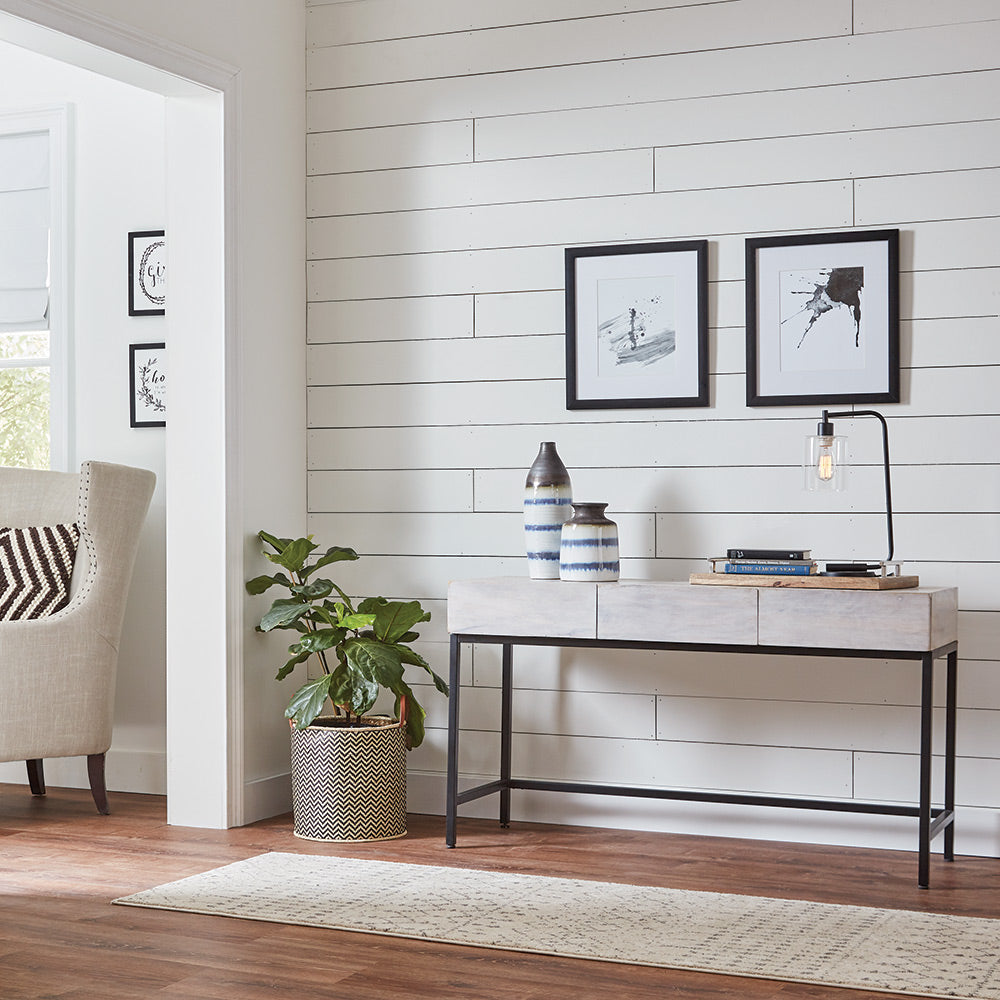 Another great one from the home decor ideas handbook when it comes to farmhouse kitchens is the shiplap walls. Shiplap is a style of wooden walls decor where you'll find long white planks mounted horizontally with a small gap between them.
This shiplap walls kitchen decor idea can blend in well with the open shelving to give you a great effect.
12. Bold Color Kitchen Stove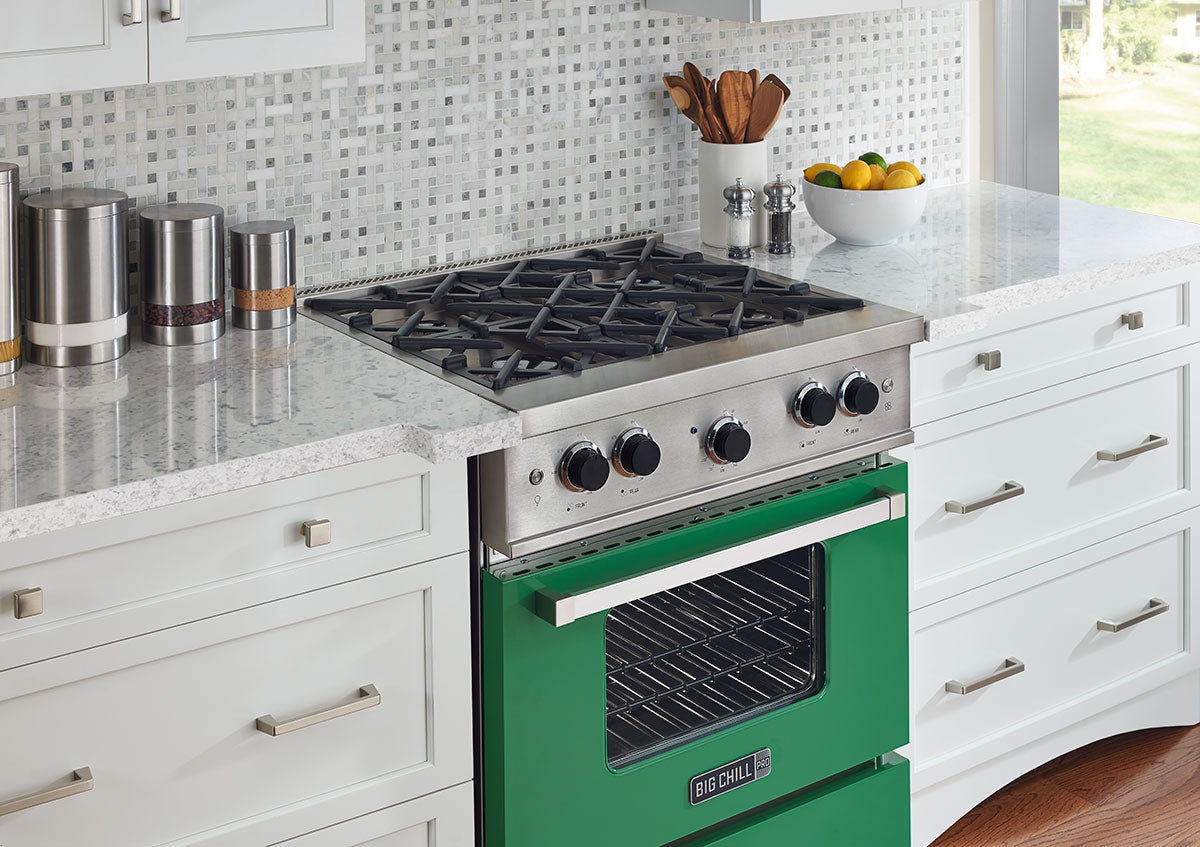 Nothing is too flashy when it comes to design ideas for your farmhouse. Therefore, as one of our farmhouse kitchen decor ideas, we invite you to try this one that allows you to have a kitchen stove in any color.
Whether you want green, red, orange, or yellow, the sky is the limit. You can save money if you get a second-hand stove or buy a brand new one in the boldest of colors.
13. Country Details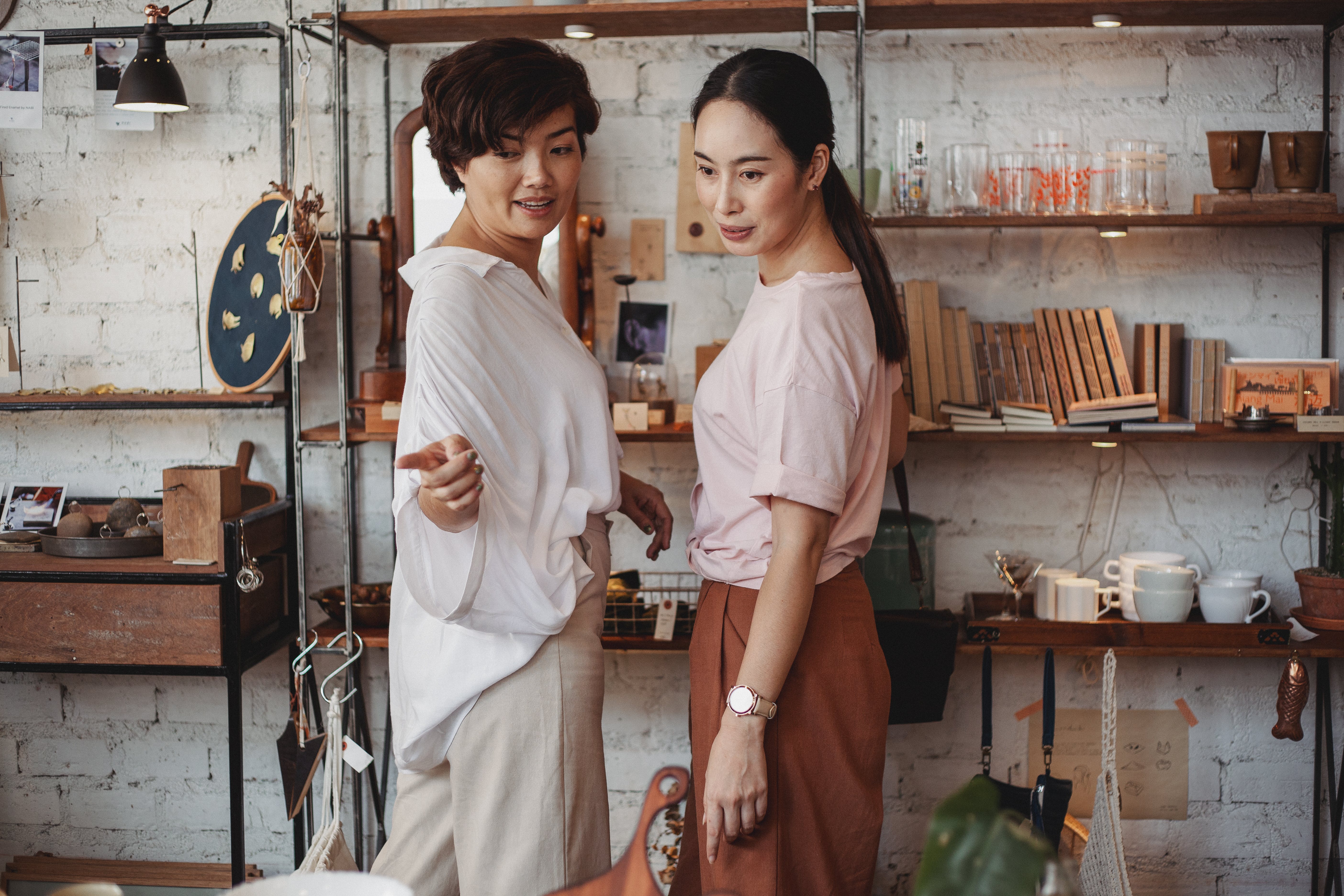 What are country details? These are elements of a farmhouse kitchen that will sell the idea of going back in time. These include oversized sinks, dusty blue cabinets, animal wall art, and anything else you can think of.
You can also work with earthy palettes of browns and reds. Finally, if you want something a bit more earthy, you can go with the Ivory dinnerware set to set the tone of a neutral ambiance.
14. A Decorative Rug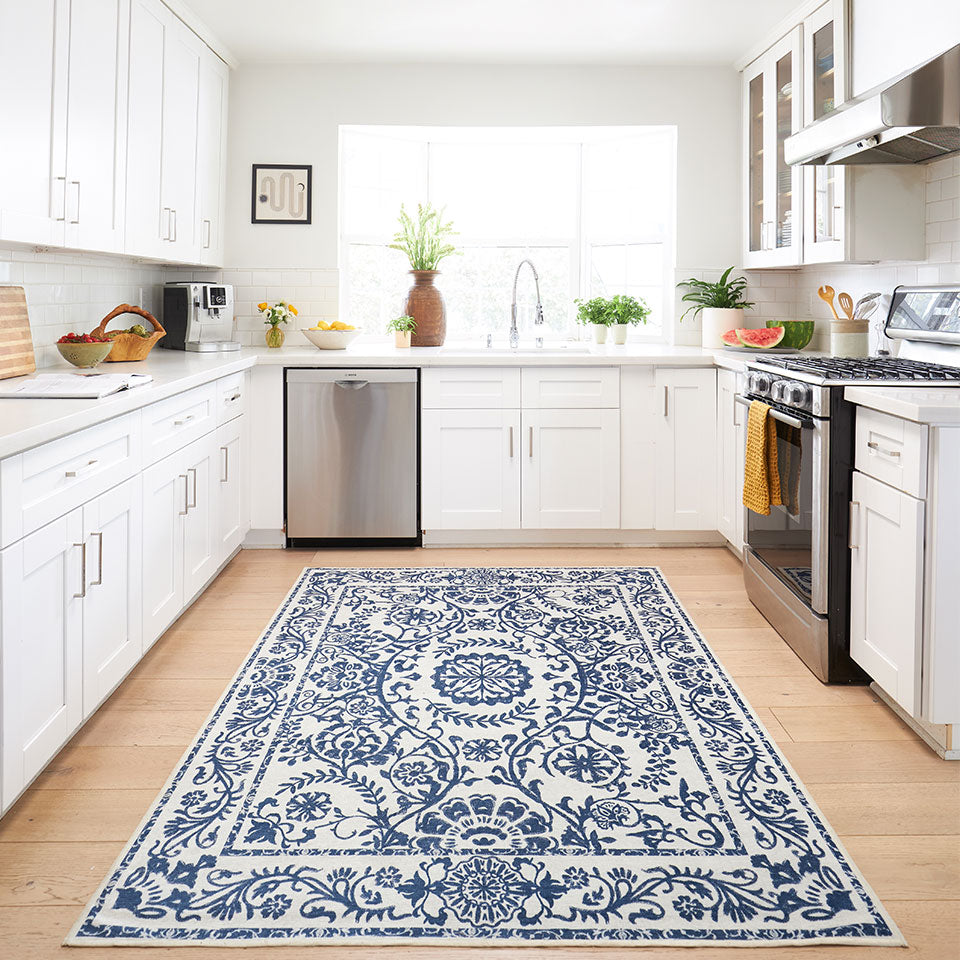 A stylish decorative rug can add some rustic vibes to your farmhouse kitchen and make it even cozier. If you have other features like open shelving, a brightly colored stove, a stocked pantry, and any other farmhouse kitchen-style decor idea, this rug will fall right into place.
15. Vintage Sink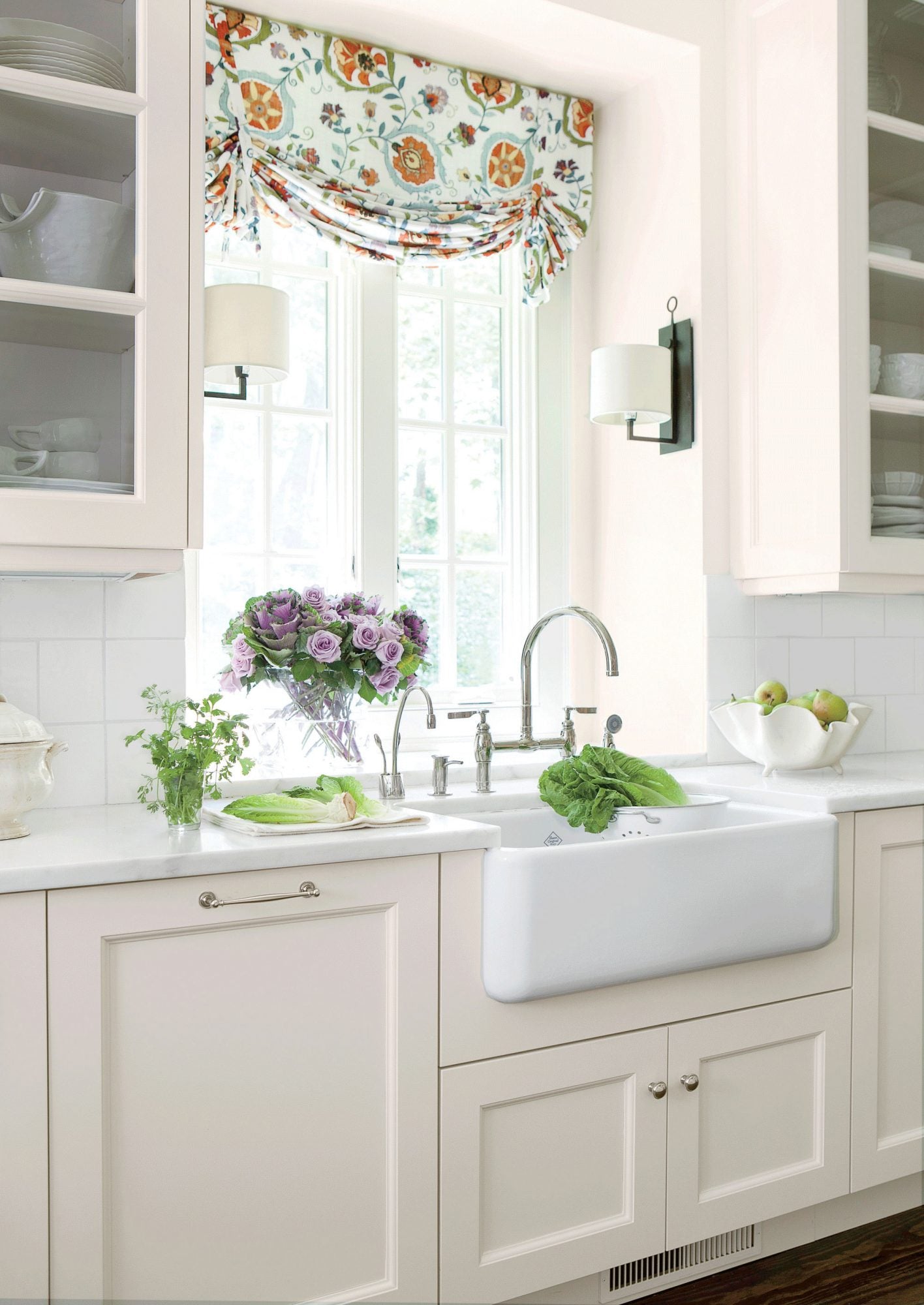 What says farmhouse kitchen better than a vintage sink? If you can get your hands on a vintage porcelain double farm sink, you won't even need to tell any visitor that you have a farmhouse kitchen because it will be very evident.
You can also couple your vintage sink with some eye-catching antique dishes for a complete look. Some other small touches you can add to this farmhouse kitchen decor idea include woven baskets, a sink curtain, and much more.
16. Matte Black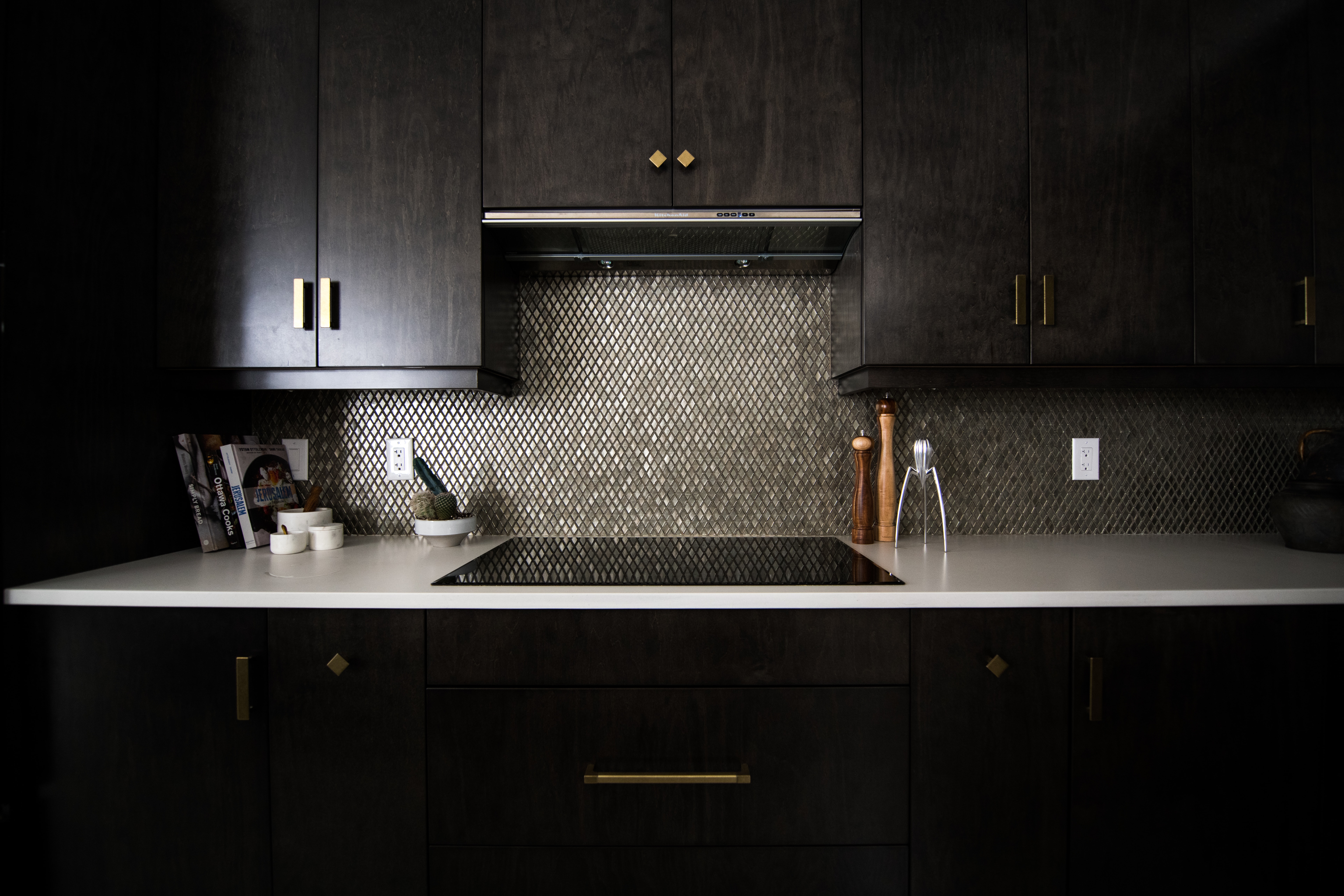 Although this is part of the home decor ideas you find in modern kitchens, you can still apply it to your farmhouse kitchen, and it will fit right in.
17. Bright and White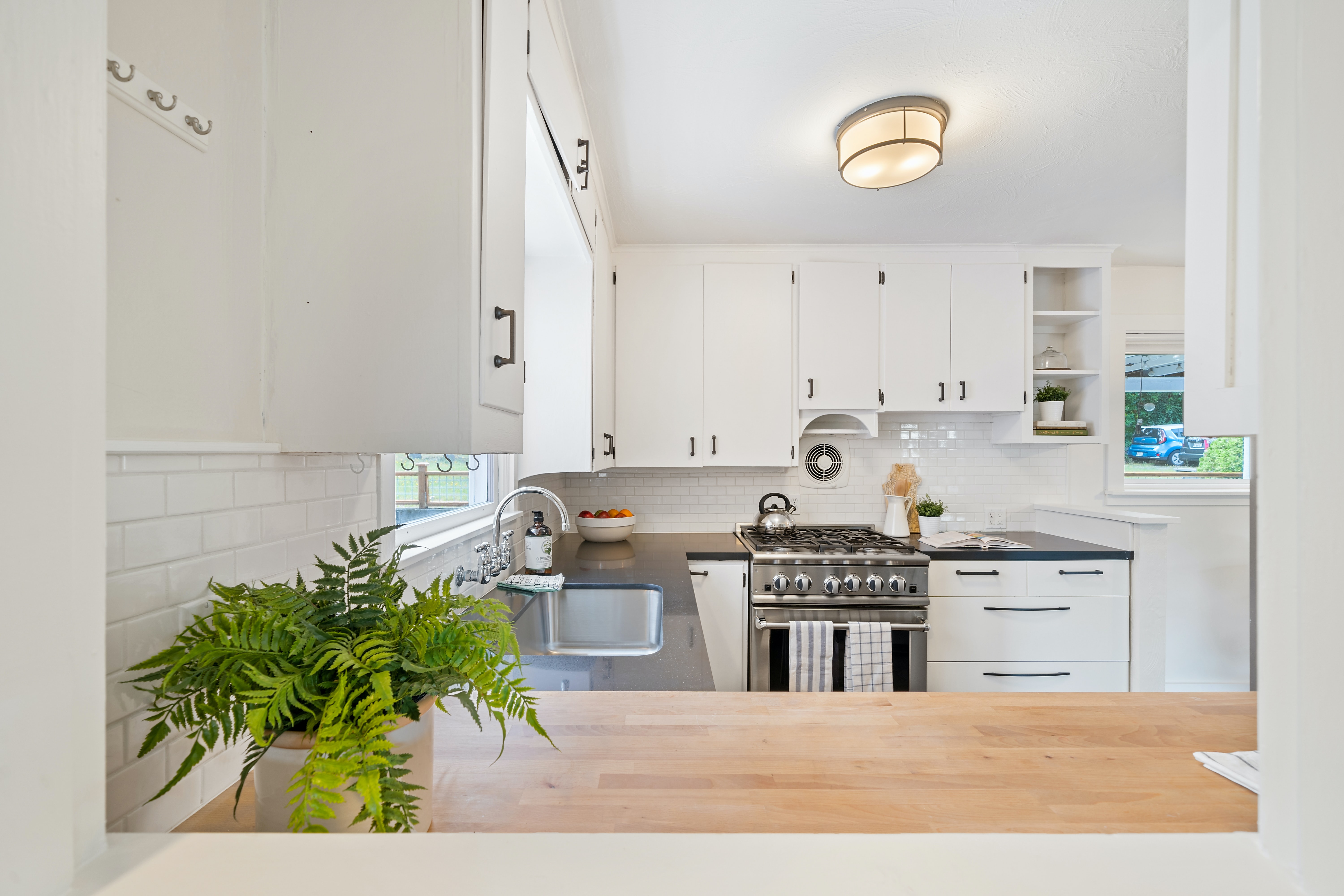 If matte black is too much for you, you can always go bright and white with your kitchen decor. The white reflects the natural lighting and makes your farmhouse kitchen look so much bigger and brighter than it would if you went for neutral or dark colors.
Therefore, if you love natural lighting or simply want your space to look brighter and bigger, this is a great color to go for.
18. Blue and White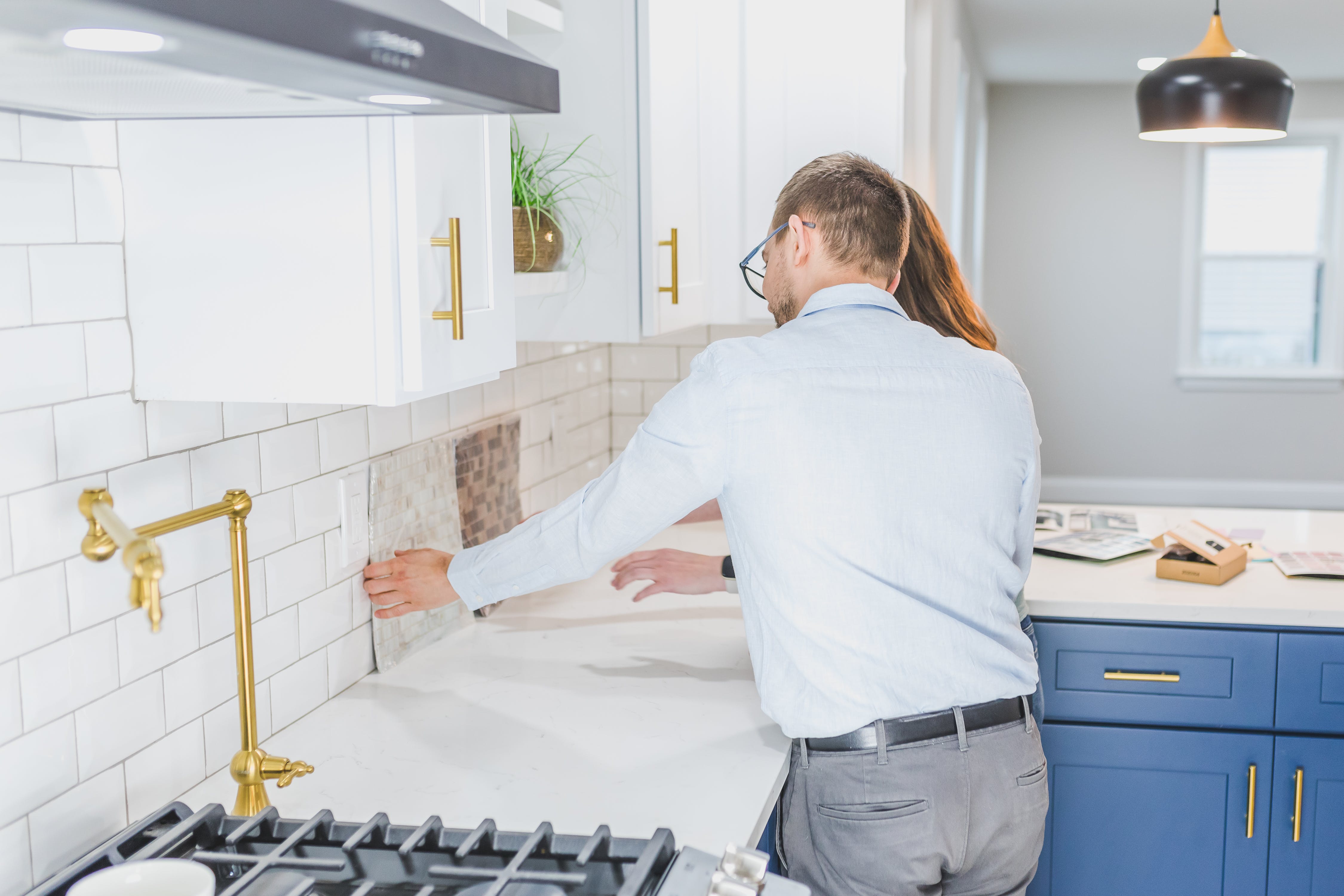 Here's another kitchen decor idea that you can go for if white and bright is too much for the eyes. In addition, you can choose a great collection of blue and white pottery to complete the look.
19. Antique Signs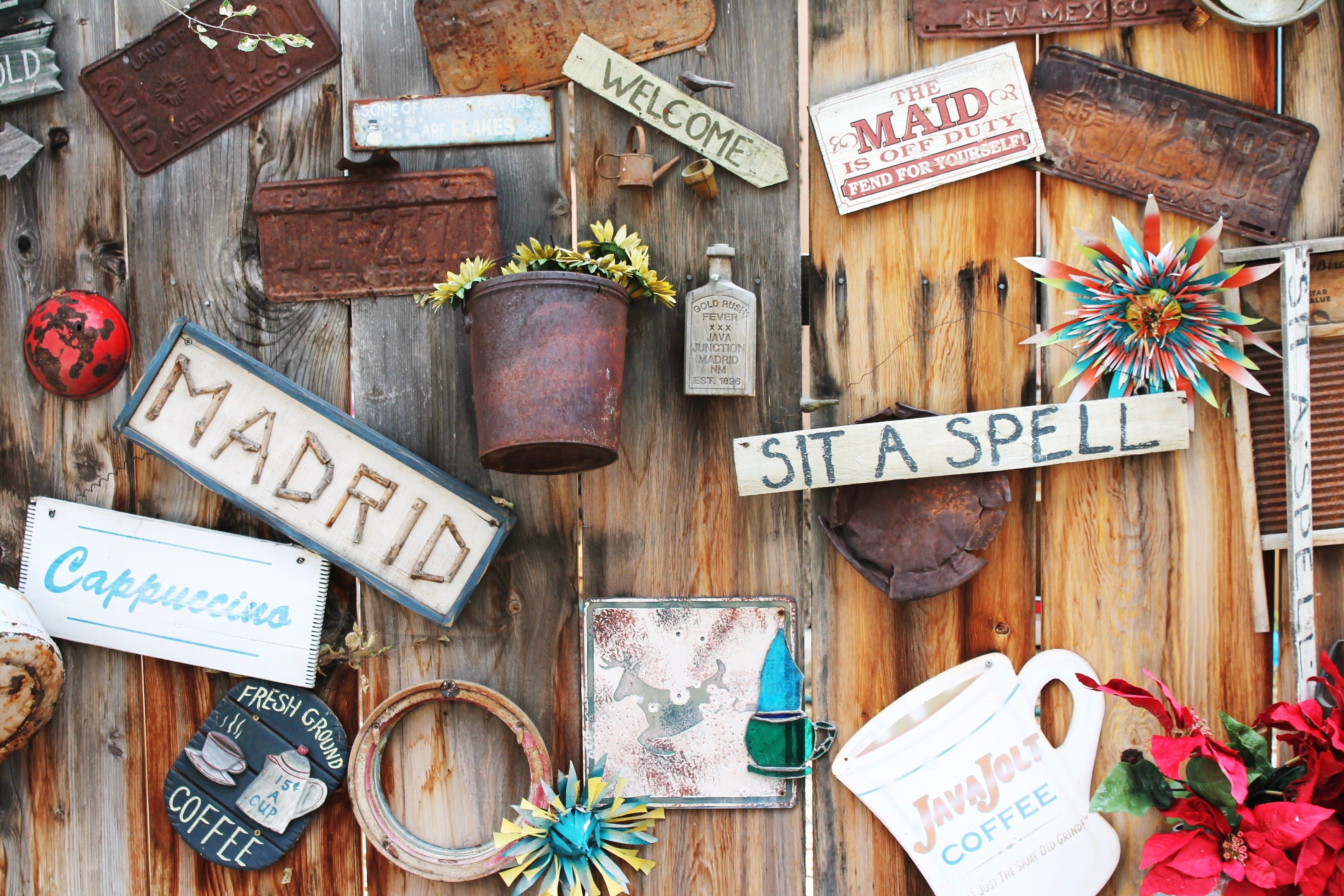 If you're a fan of farmhouse kitchen decor ideas, you know that this is a classic, especially when you're into trying new things. Imagine having a vintage sign that says "Meta Market" in your farmhouse kitchen.
Wouldn't that be great? Whether you'll buy a new one made or go to the thrift store to get one, having one of these antique signs can change the game for you and your farmhouse kitchen decor.
20. Exposed Shelving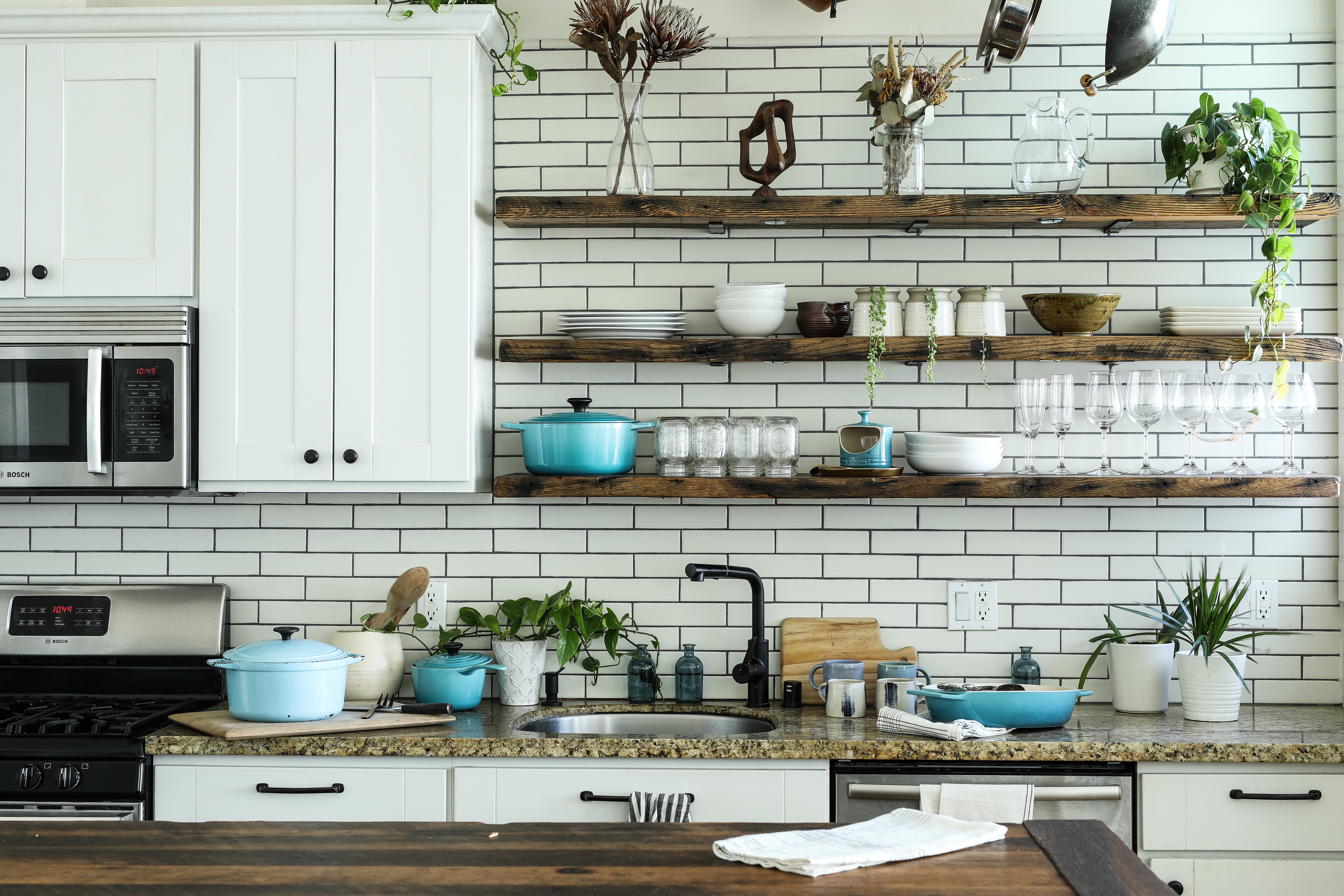 If you have white crips walls or bright dishes, having rustic wood against these walls will add to the country charm of your farmhouse kitchen. This farmhouse kitchen decor idea goes well with hanging pots and pans.
21. Repurposed Items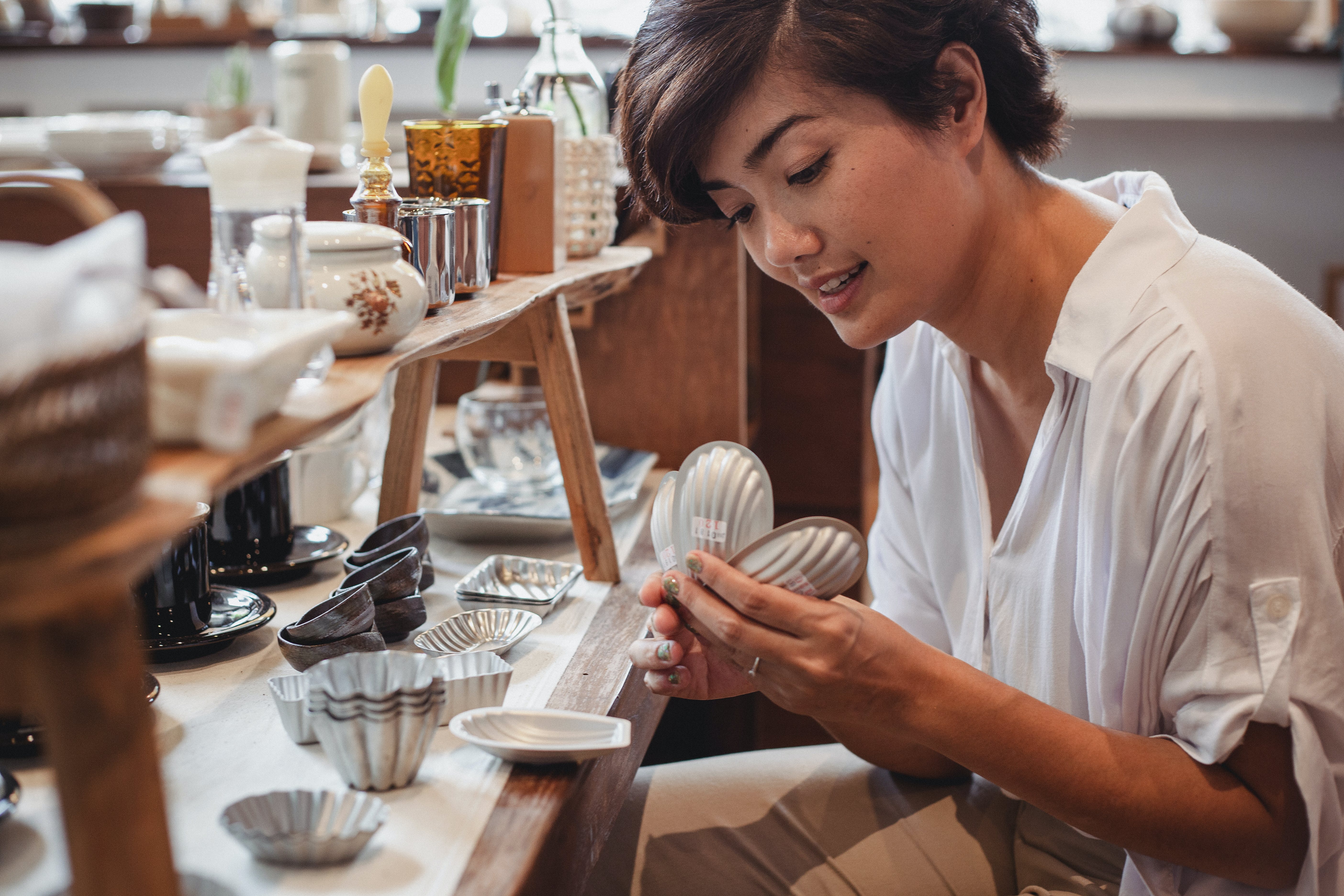 A trip to the thrift store can help you get so many things for your kitchen decor. You get to save money and add some much-needed rustic charm to your farmhouse kitchen. One of the main elements of farmhouse kitchen decor ideas is a cozy feel.
Using repurposed items can help you achieve that. You can get to use your amazing design ideas after a trip to the thrift store to add some style to your farmhouse kitchen. You can use some old t-shirts to decorate your kitchen stools and so much more.
22. Fabulous Fixtures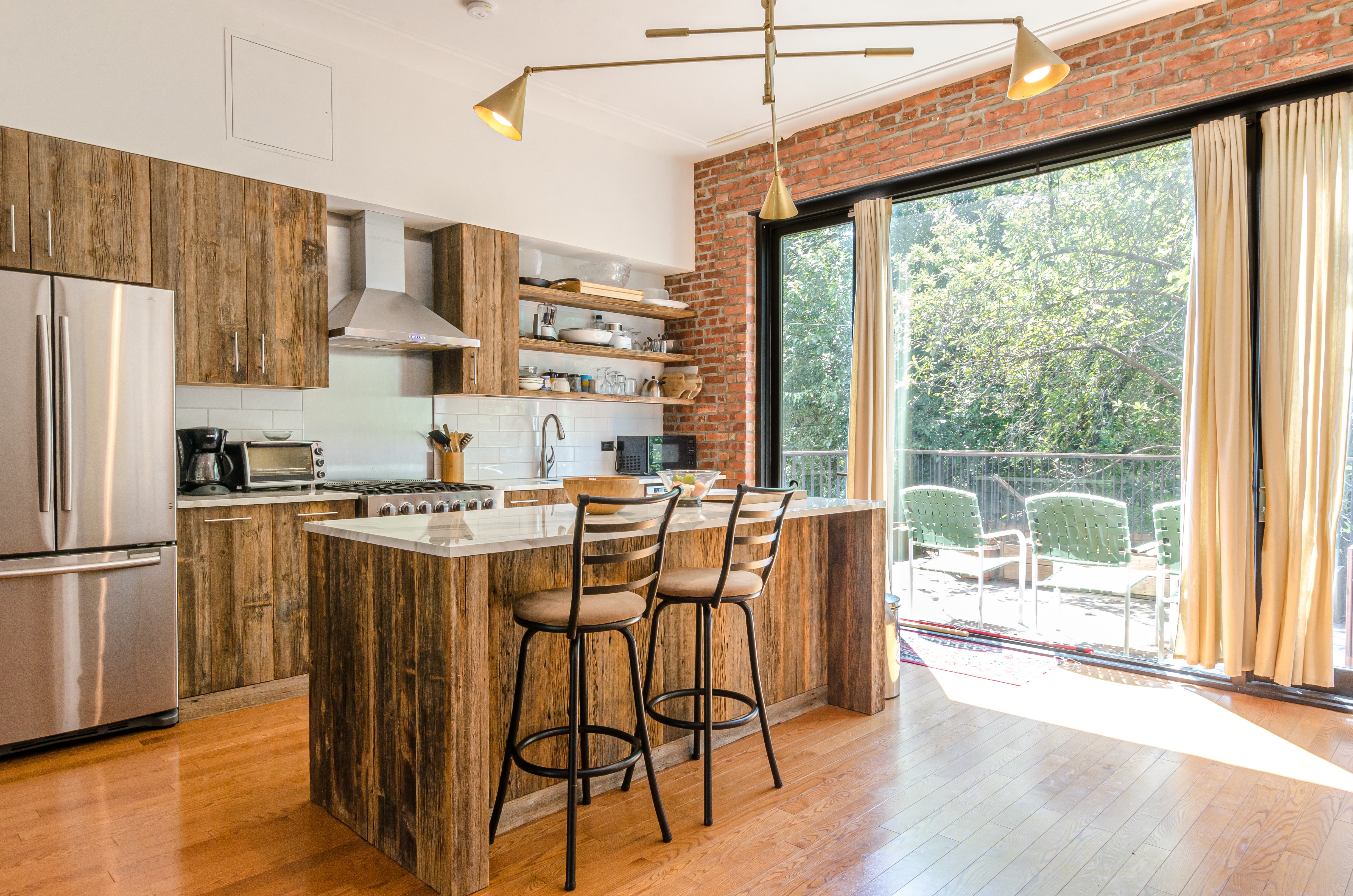 If you love going to the thrift store, here's a design idea that you'll love. You can decorate your farmhouse kitchen with reclaimed fixtures from the thrift store to add your own personal charm to the space.
This is a chance for you to go to the thrift store and have fun picking items that will match your rustic decor.
23. Reclaimed Wood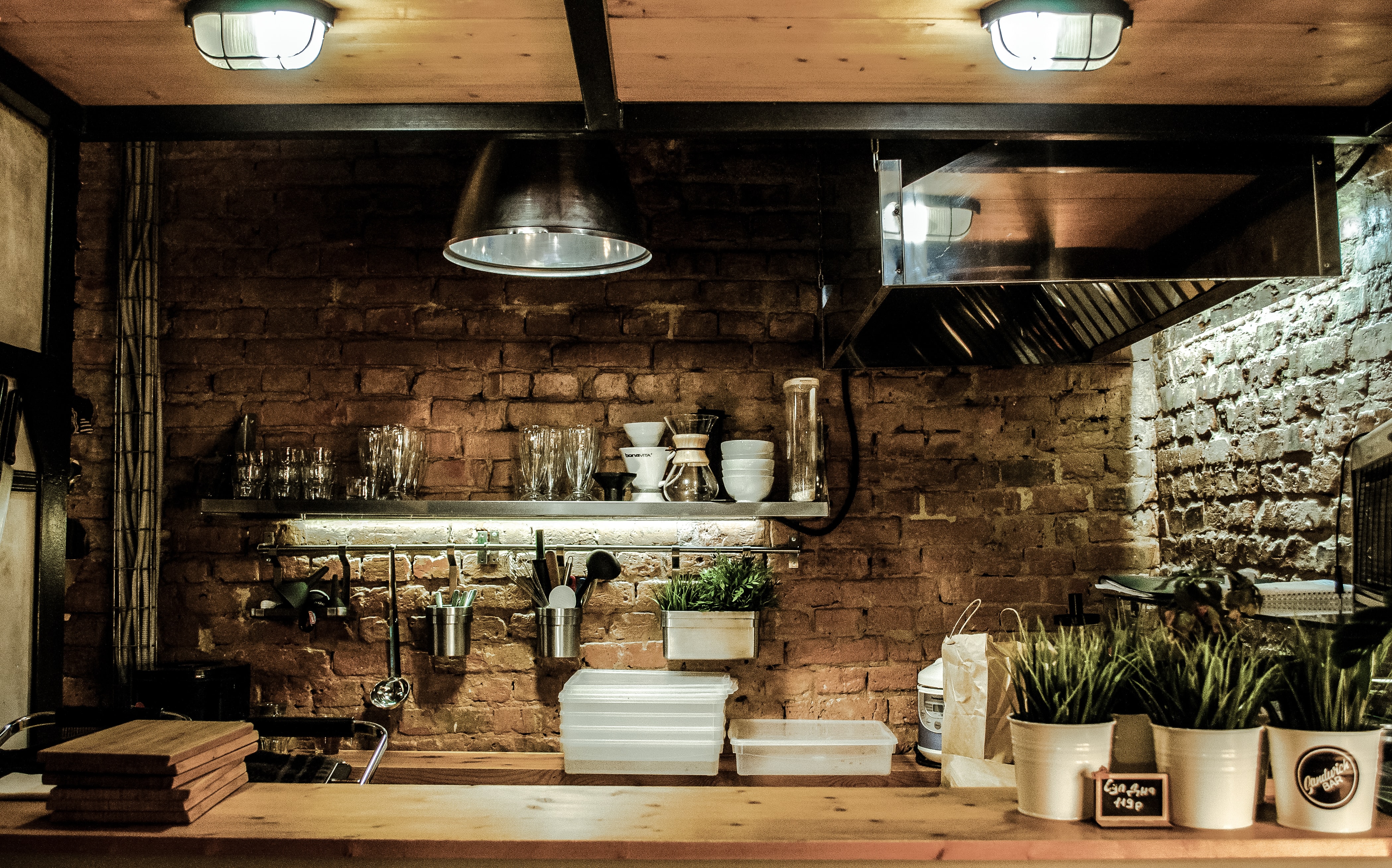 We've talked about reclaimed fixtures. Now, let's look at reclaimed wood as part of our country kitchen decor design ideas. One way you can use reclaimed wood in your farmhouse kitchens is by having the range hoods made from salvaged pine wood.
You can also create porch posts for your kitchen island from reclaimed wood and so many other ways. Whether the reclaimed wood will be used to make something functional or decorative, it's all up to you.
24. Pecky Cypress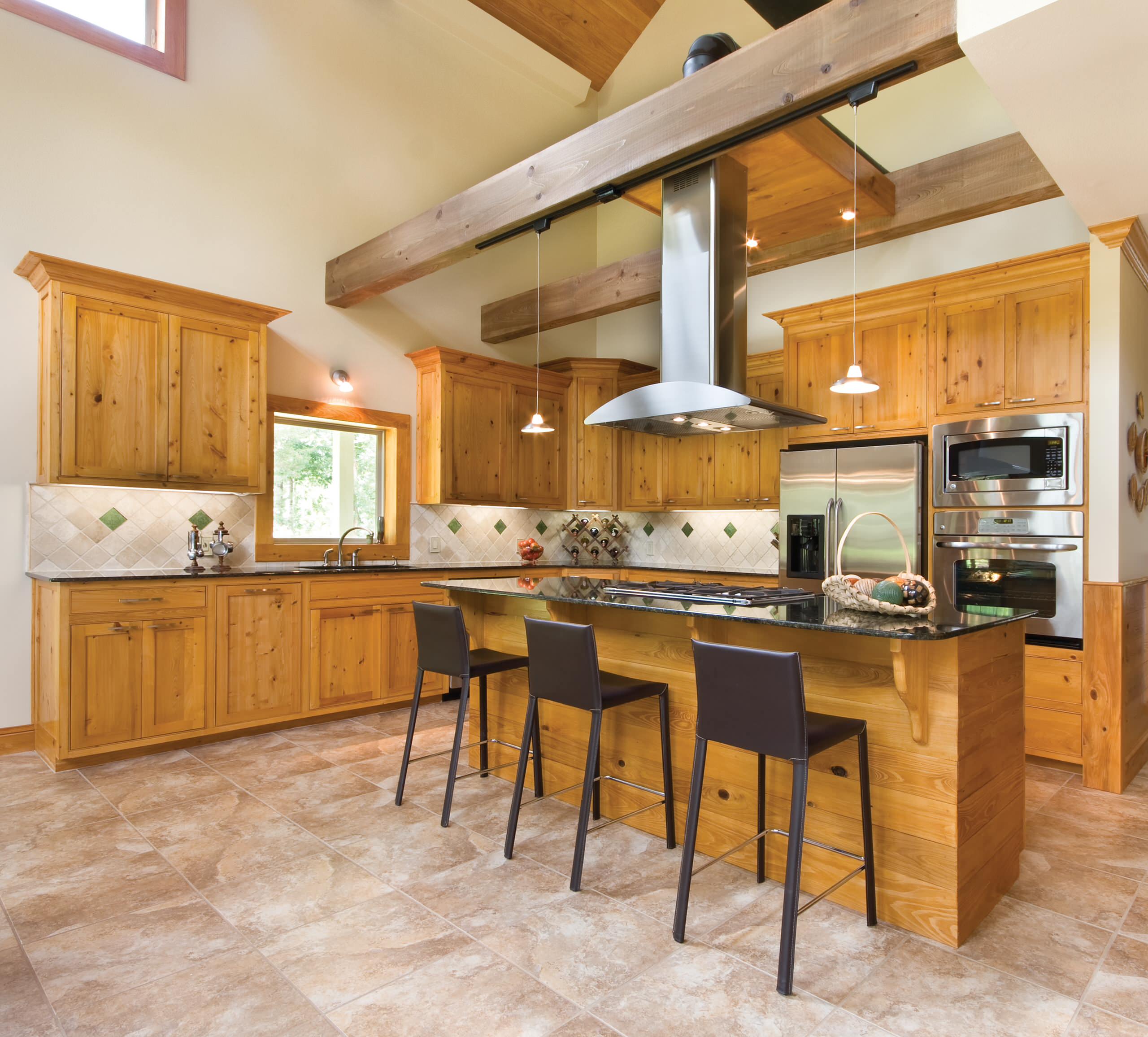 If you are a fan of using reclaimed wood in your space, you'll love this farmhouse kitchen idea. Pecky cypress is a water-resistant wood that contains small holes caused by a fungus.
However, don't let that scare you off because you won't be getting any fungi with this wood. This wood is actually very valuable, and the holes make it all the more attractive and able to fit right in with the rest of your farmhouse kitchen decor.
You can use this reclaimed wood for your kitchen island or on your hood.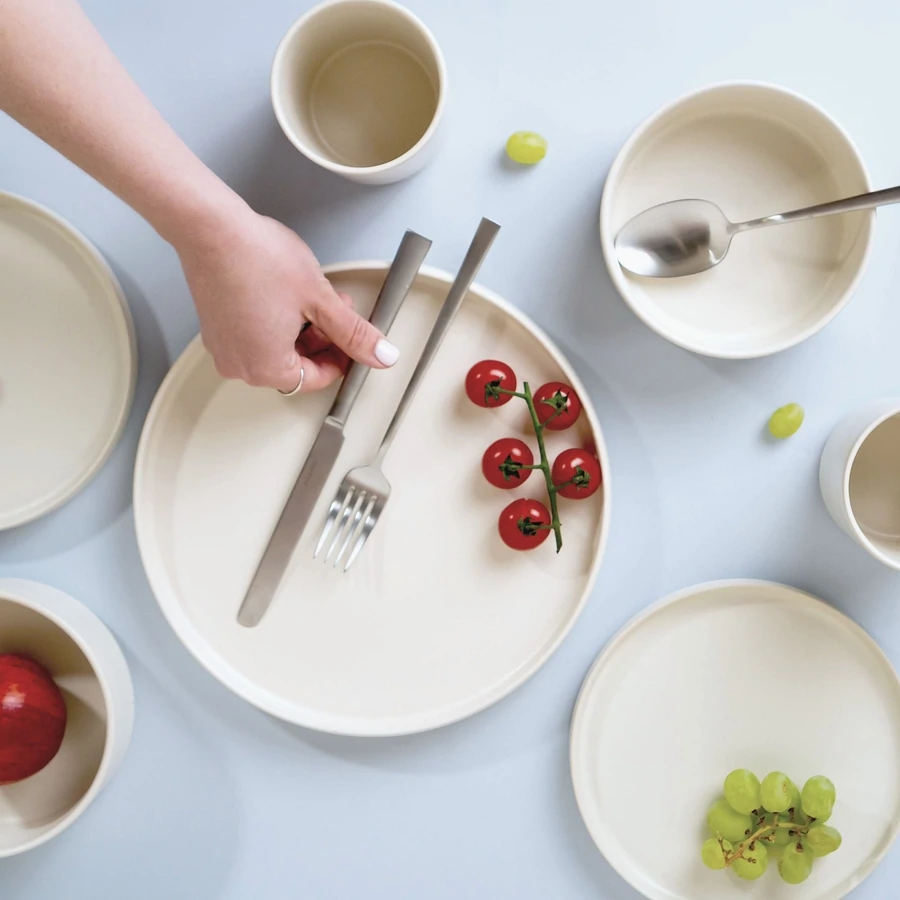 In addition to the neutral and earthy tones for your walls, adding neutral-colored plates, bowls, and cups to go with them will align with your farmhouse-style kitchen decor.
Ceramics are a good place to start when going for neutral colors. Our Far & Away Portuguese ceramics are made to withstand kitchen activities and will make a great addition to your fabulous farmhouse kitchen decor.
What Are Rules of Farmhouse-Style Kitchen Decor You Must Follow?
To get the most out of your breathtaking farmhouse kitchen and experience all that the country charm has to offer, here are some rules to keep in mind.
1. Open and Inviting Space
The whole concept of the farmhouse kitchen is centered around a place for friends and family to gather. Therefore, having an open and inviting space is a must-have to complete your farmhouse kitchen decor journey.
If you look at most of our farmhouse kitchen decor ideas above, you'll notice that they center around being open. For example, the kitchen island is a great example of this. However, you also have to ensure that your farmhouse kitchen is functional even as you make it accessible.
Other features of your farmhouse kitchen that make it open and inviting include bar top seating, deep kitchen sinks, homemade items, open shelving, and much more.
2. The Nature Approach
Even the name farmhouse screams down-to-earth and nature-based. Therefore the decorative elements and vintage finishing touches you choose to use should mirror the natural elements that surround a farmhouse.
If you choose to bring in greenery to your farmhouse kitchen, consider olive trees and eucalyptus branches that add some air to the kitchen.
3. Add A Splash of Paint
This doesn't mean painting your rug or cutlery set. Instead, it means adding some paint to your furniture with the aim of amplifying the light. Painted furniture has the amazing effect of making your room look bigger and brighter.
For example, you can have a lavender armoire, a distressed white coffee table, and so much more. You can pick out the furniture color you want that matches the rest of your decor. If you opt to paint your furniture yourself, ensure you arm yourself with the knowledge to avoid ruining your incredible pieces.
4. Neutral Colors on the Walls
Neutral colors are the highlight of any farmhouse kitchen. If you want to achieve the classic farmhouse style without having to do much, just focus on ensuring that your walls remain neutral.
If you don't like the bright and white or white and blue we mentioned above, you can always go for other neutral colors such as creams, beiges, and gray tones.
5. Farmhouse Light Fixtures
We discussed the fabulous fixture idea above while discussing farmhouse kitchen decor ideas because they are statement pieces. Light fixtures can completely transform the feel and ambiance of a space, and this is no different when it comes to your kitchen.
Most farmhouse kitchen light fixtures mimic candle chandeliers to add to the rustic and classic farmhouse look and feel. These fixtures transport you to the old days where electricity was a foreign concept.
You can also go for large fixtures such as chandeliers as your statement piece.
6. Use Repurposed Items
Old becomes new in farmhouse kitchens. This is why we talked about reclaimed wood and repurposed items when looking at farmhouse kitchen decor ideas above. In addition, you can use repurposed furniture pieces and other decorative accents to add to the appeal.
The best thing about thrift shops is that they allow you to get something old whether or not you have your own vintage family heirlooms lying around. You can also visit vintage shops to get some nice pieces to add to your rustic style.
When it comes to fixtures, you can always for an oil-rubbed bronze fixture to create a distressed look to your farmhouse kitchen.
7. High-Quality Craftsmanship
When you think of a cool farmhouse kitchen, you often imagine ample windows, rugged beams, hardwood floors, built-in kitchen cabinets, and so much more. This is all part of incredible craftsmanship and goes a long way in creating the ambiance you're going for.
8. A Splash of Dimension to Your Walls
We mentioned shiplap walls as we were looking at farmhouse kitchen decor ideas for a reason. Having walls filled with dimension and texture can go a long way in ensuring that you get your desired effect and charm.
Other examples of dimensions to your walls include wainscoting and beadboard. This will definitely add that rustic feel and allow you to create the farmhouse ambiance. If you're not too sure about this aspect, you can try it out with one side of your wall and progress to the others if you like it.
9. Add A Touch of Wire
This rule applies to decorative pieces and functional pieces alike. So, for example, you can have some wire baskets for your kitchen decor. These items are easy to use and add to that rustic vibe that you're going for.
You can also use them as decorative pieces on your walls or even use them to hang your greenery for the best effect.
10. Distressed Furniture
What is distressed furniture? Distressed furniture is pieces of furniture that have decorative art that makes them look older to create that "weathered look." This is a great aspect of your farmhouse decor as it adds to the appeal.
You can choose distressed furniture for your cabinets, kitchen island, tables, and more. If you don't want to have these pieces of furniture made from scratch, you can always get them from vintage shops.
Frequently Asked Questions about Farmhouse Kitchen Decor
1. What is farmhouse style?
Farmhouse style is defined by coziness and warmth. So whether you decide to go with modern design, coastal design, country design, eclectic, or any other, you should incorporate warmth and coziness.
The essence of this home decor type is to create a safe, cozy, relaxing, and warm space that allows you to let your guard down and relax. It's all about peace and tranquility. However, you should also not forget about functionality.
This is especially true if you actually live in a farmhouse.
2. What are the key elements of farmhouse-style kitchen decor?
Functionality and accessibility. You should choose pieces that are both practical and allow you to have easy accessibility at all times. This stems from the fact that farmhouses are said to be a place where family and friends gather to spend quality time together.
Therefore, the design of your country kitchen should convey that. This also means that the design should be simple and not too serious. This farmhouse-style kitchen decor can be a good idea if you have a young family.
3. What makes your kitchen a farmhouse kitchen?
A farmhouse kitchen is where the smell of freshly baked pie is normal at any time of the day. The farmhouse-style kitchen focuses on a simple and unpretentious design, the use of natural materials, and the availability of large cooking spaces.
Part of the charm of a farmhouse is to accommodate large groups of family and friends, and the farmhouse kitchen decor should reflect that. The sink is also a major statement in a farmhouse kitchen.
4. What are some great kitchen farmhouse colors?
Neutral and earth tones are great options when dealing with a farmhouse kitchen. However, you can also go for bright and white colors that blend in well with your kitchen items and the rest of your farmhouse decor.
The advantage of neutral and earthy tones is that they make your farmhouse kitchen look bigger and more inviting. This is great because it goes well with the idea that your farmhouse kitchen is meant to be inviting and a great place for your friends and family to gather.
Good examples of neutral and earthy tones include light blues, brown, tan, beige, white, greens, and yellows if you want to add a splash of bright colors.