If you bake a lot, offset spatulas can be very useful to have in your kitchen. These are long, narrow tools with a flat, metal paddle at the end. These tools are great for spreading frosting on cakes or pushing batter into an even layer in a tin.
A blunt blade makes it easier to spread frosting or batter, and the large area of contact with the cake helps smooth it out. A regular spatula could make a mess by slicing the frosting or batter.
An offset spatula, as the name implies, is a straight knife or spreader bent at an offset angle to the handle. This prevents fingers and knuckles from getting in the way of whatever you are spreading, such as icing, batter, or condiments like mayonnaise and nut butter.
The best offset spatulas are more gentle than a butter knife and have a flexible, thin blade that's easy to use. Because it is blunt, it's ideal for running smoothly along the sides and edges of a pan.
List Of 10 Best Offset Spatula Reviews
1. U-Taste Offset Spatula Set
You don't have to choose one offset spatula size. Why not buy several? You can use the U-Taste Offset Spatula Set in all sizes for baking, including 6-inch, 8-inch, and 10-inch blades.
They are all designed to meet the needs of both professional and amateur bakers. The blades have a width of 1.22-inches. This is the ideal width for ice-baking and flattening batter in the pan. You can use the small offset spatula to lift and turn meats, seafood, bacon, sausage, and scallops. This set is great for the kitchen!
Non-slip ergonomic handles with a round edge and light texture make it easy to grip, even for small baking projects. The kitchen-grade stainless steel blades won't rust, discolor, or bend if they are properly maintained. For easy cleaning, place the spatulas on the top rack of your dishwasher.
2. OXO Good Grips Bent Icing Spatula
OXO's offset spatula is the best choice. Customers measured the length of this stainless steel blade at 6.5 inches. The blade is flexible enough to spread frosting easily but strong enough to hold dense frosting. It can also lift and serve smaller cakes. It is easy to clean and has a comfortable grip.
OXO Good Grips' bent icing knife has a strong, flexible stainless-steel edge. The bent blade raises your hand so that you can clear frosted surfaces. The soft, non-slip handle is comfortable in your hand. Dishwasher-safe.
3. PUCKWAY Offset Cake Icing Spatula Set
This set includes four sizes: 4″, 6″, -8″ and 10″ blades (total 7.5''-10.8''-12.8''-14.8 ). This is the best option to perfectly decorate a cake.
These flexible spatulas are made with high-quality stainless steel, and come with a natural wooden handle. The holes on the handles make it easy to hang. It is space-saving.
With the offset cake decorating knife, you can frost difficult-to-reach places without having to use your hands. This knife is great for frosting cakes, cheese, sandwiches, and even cutting curds.
Designed to provide a comfortable grip and optimal control as you ice & decorate. Quality assured stainless steel material.
4. Rubbermaid Commercial High Heat Silicone Spatula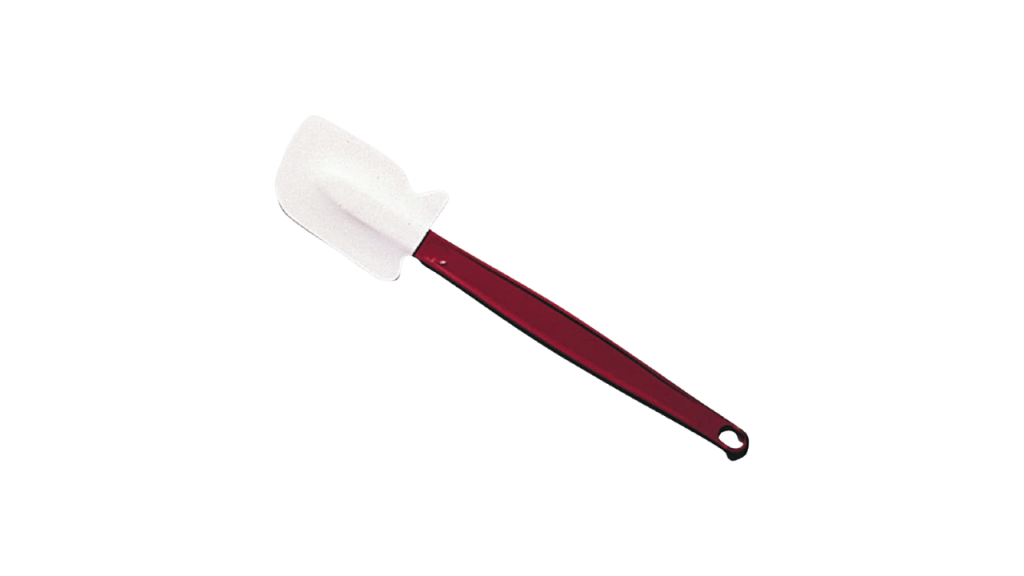 The spatula's stain resistance means that it won't scratch your cookware. The spatula is equipped with a white silicone blade, a nylon handle, and a 2.5-inch wide head. This makes it ideal for large batches of frosting and cake batter.
The scraper's handle is very rigid and is great for mixing dense doughs. It also features a notched blade that cleanly scrapes the sides of your pans and bowls. The blade is kept off countertops, which helps protect against cross-contamination.
This offset spatula also has a cool-touch handle that can withstand heat up to 500 degrees. You can choose from a variety of lengths, and many bright colors. They are dishwasher-safe and come with a 1-year warranty.
5. DI ORO Seamless Series Large Silicone Spatula
A silicone baking spatula is essential for everyone. The Di Oro Large Silicone Spatula is a great choice to fold the flour into your batter, then scrape down the sides of your bowl. The silicone is a single, smooth piece, so it won't be difficult to remove the head. The handle is solid and sturdy, while the head can be used to reach difficult-to-reach places in your bowl.
This spatula's one-side-curved and one-side straight head makes it ideal for reaching into corners. It can be used to scrape dough from a bowl or smooth out brownie batter in a square pan. You can do the job quickly and easily with the medium-large spatula head. This spatula performed flawlessly in all of our tests. I am now contemplating buying another baking spatula to use in my kitchen.
6. OXO Good Grips Bent Icing Spatula
The Oxo Good Grips Offset Ice Cream Spatula is perfect for decorating cakes, cookies, and other pan-baked goodies. The stainless steel blade is flexible and easy to use. It also resists breaking and discoloration.
You can bend the blade to allow enough clearance for the frosting so that you don't accidentally get your hand or your sleeves on the frosting. This could prevent you from making a mess.
The spatula's handle is soft and non-slip, making it easy to use. It doesn't put too much strain on your fingers, which allows you to ice longer durations of treats. You can spread frosting to your heart's delight with a dishwasher-safe spatula and don't have to worry about cleaning up afterward.
7. Wilton Icing Spatula
Wilton's offset spatula is an affordable alternative to the best. It has similar dimensions to the original, with a 6.5-inch blade. The plastic handle features an ergonomic thumb grip that keeps hands steady when handling slippery or greasy ingredients or lifting heavy items.
You can slide the blade of stainless steel down onto baking pans, or release banana bread loaves before you turn them out. The manufacturer suggests that you wash the offset spatula with warm soapy water.
This Wilton icing spatula can be used to frost cakes. Its angled shape makes it easy for you to keep your fingers away from icing while frosting. The stainless steel blade makes buttercream smoother. This 13-inch cake spatula was designed for the decorator.
8. Angled Icing Spatula Set 
This Angled Icing Spatula set is made of premium quality and will last a lifetime. Stainless Steel is the best choice for cake sputa sets.
These Offset Spatulas are dishwasher safe and washable easily. You can quickly and easily clean them by using water or the dishwasher
The perfect overall design for effective performance – The comfortable ergonomic grip handles (Non-Slip PPR Rubber +PP) allow you to enjoy your cooking and baking. The angled design helps spread the cream evenly on cakes. An end loop allows it to be hung for easy storage.
The Spatulas Set is made of high-quality Stainless Steel and durable plastic. It is a great material to touch food directly, it is easy to use, safe and non-toxic, and has no smell. BPA-Free materials are guaranteed not to be deformed for long periods of time.
9. Winco , Medium, Stainless Steel, Brown
A fish spatula is essential for anyone who cooks fish regularly at home. The extra-thin blade of this tool is extra-long and can be used to slip under delicate fillets. The long slots allow liquid to drain.
The Winco FST-6, 6.5-inch Blade Fish Spatula, is a fish-turner unlike any other. It features a brushed stainless-steel blade and a wooden handle. The knife has an ergonomic turning slot and an edged blade that allows you to cut food while grilling.
It measures 11 inches long and has a blade measuring 6.5 by 2.5 inches. The handle measures 1 inch wide. The wooden handle makes this spatula not dishwasher-safe, but it is still very easy to clean.
10. Ateco 1385 Offset Spatula
The offset baking spatula is the most niche. It's best used for cutting/removing brownies and frosting cakes. They can also be used to flip pancakes or slide cookies off of a tray.
Our tests for this category were dominated by the small Ateco offset cake spatula. It's delicate and perfectly shaped and is ideal for spreading frosting.
If you are into decorating, you can also make interesting textures and patterns with it. The spatula feels almost like your fingers extend from the blade, making it easy to reach corners when you are spreading batter in a pan.
How to Make an Offset Spatula
Buying Guide for the Best Offset Spatula
To ensure that you get a high-quality offset spatula for your kitchen, it is important to understand what you should look for. These are the things you should keep in mind as you choose which offset spatula is right for your needs.
Durability
You want a spatula that will last. Make sure you check the materials used to make the spatula. A stainless steel spatula with a wooden or plastic handle is better.
Thickness
The blade should be thick enough to glide over batter and frosting. Too thin blades can get stuck to frosting and ruin the appearance of your cake.
Comfortable Handle
It is not a good idea to choose an offset spatula that is uncomfortable to use. Comfortable handles are crucial, especially when you're working on larger cakes that require precision and care for longer periods of time. You want a handle that feels comfortable and allows you to control the icing.
Size
There are many sizes and shapes of offset spatulas, and each one serves a different purpose. As you would expect, smaller offset spatulas work better on smaller cakes. Larger offset spatulas work best for larger cakes.
A medium-sized offset spatula is best if you plan to keep one. It should also work with smaller or larger cakes.
FAQs
1. What does an offset spatula do?
An offset spatula has a narrow, flexible metal blade with a rounded edge. The long blade with a rounded end makes it easy to spread the frosting evenly on a cake and along its sides. If the cake is sticking to the sides of the pan, you can use it to lift it from the sides.
2. How size should my offset spatula be?
An 8-inch straight icing spatula is recommended if you only plan to use one offset spatula. It should be able to perform most baking tasks without becoming too large or small.
A 5-inch offset spatula might be worth the extra cost. This can be used for smaller cakes (8 or 9 inches), and frosting cupcakes or brownies.
Conclusion
We divided our spatulas into four categories to put them through their paces: flat cooking spatulas, baking spatulas, slotted spatulas, and offset baking spoons. Each serves a different purpose, but there is overlap. We created a set of tests and compared them with other spatulas.
We tested flat cooking spatulas for flipping normal-sized pancakes and silver dollar pancakes. Also, making and removing easy eggs from a stainless Steelpan and flipping and removing burgers. Lifting and moving cakes from a cake decorating stand onto a tray was also possible.
Which offset spatula is best? The best offset spatula should be strong and durable, have a comfortable handle, and have a narrow, flat blade that will smoothen down batter and frosting. The offset spatula will not frost evenly if it is too thin. If too thick, it may stick to the frosting.