Portugal is popular for its rich yet sweet desserts and pastries, and Lisbon is becoming a popular destination for the foodies. Food is super regional in Portugal, and while you can find some dishes everywhere, some dishes are not easy to find outside the native region.
There are many delicious things to eat in Lisbon restaurants, from great fish dishes and hearty stews to Portugal's capital city's famous sandwiches. Traditional Portuguese food is mainly based on fish, seafood, and meat, especially pork, fried, grilled, or cooked up in stews and casseroles.
No trip to Lisbon is complete without visiting Lisbon restaurants and enjoying some of the best traditional Portuguese food. The hearty Portuguese dishes are made with seafood, legumes, meat and vegetables. However, compared to Spanish cuisine, which most people are familiar with, traditional Portuguese cuisine is still a mystery to some people.
Whether you are visiting Lisbon for a few days, weeks or even longer, this guide will take you through all you need to know about traditional Portuguese dishes and what you should eat in Lisbon restaurants.
What to Eat in Lisbon Restaurants
1. Pastel de Nata
Whenever the question of Lisbon's most famous food pops up, only one dish comes to mind, and it's the Pastel de nata. Pastel de nata, otherwise known as the Portuguese egg tart, is a round puff pastry with an egg-based custard made with sugar, milk or cream, egg yolks and other seasonings such as vanilla, lemon zest or cinnamon, depending on the recipe.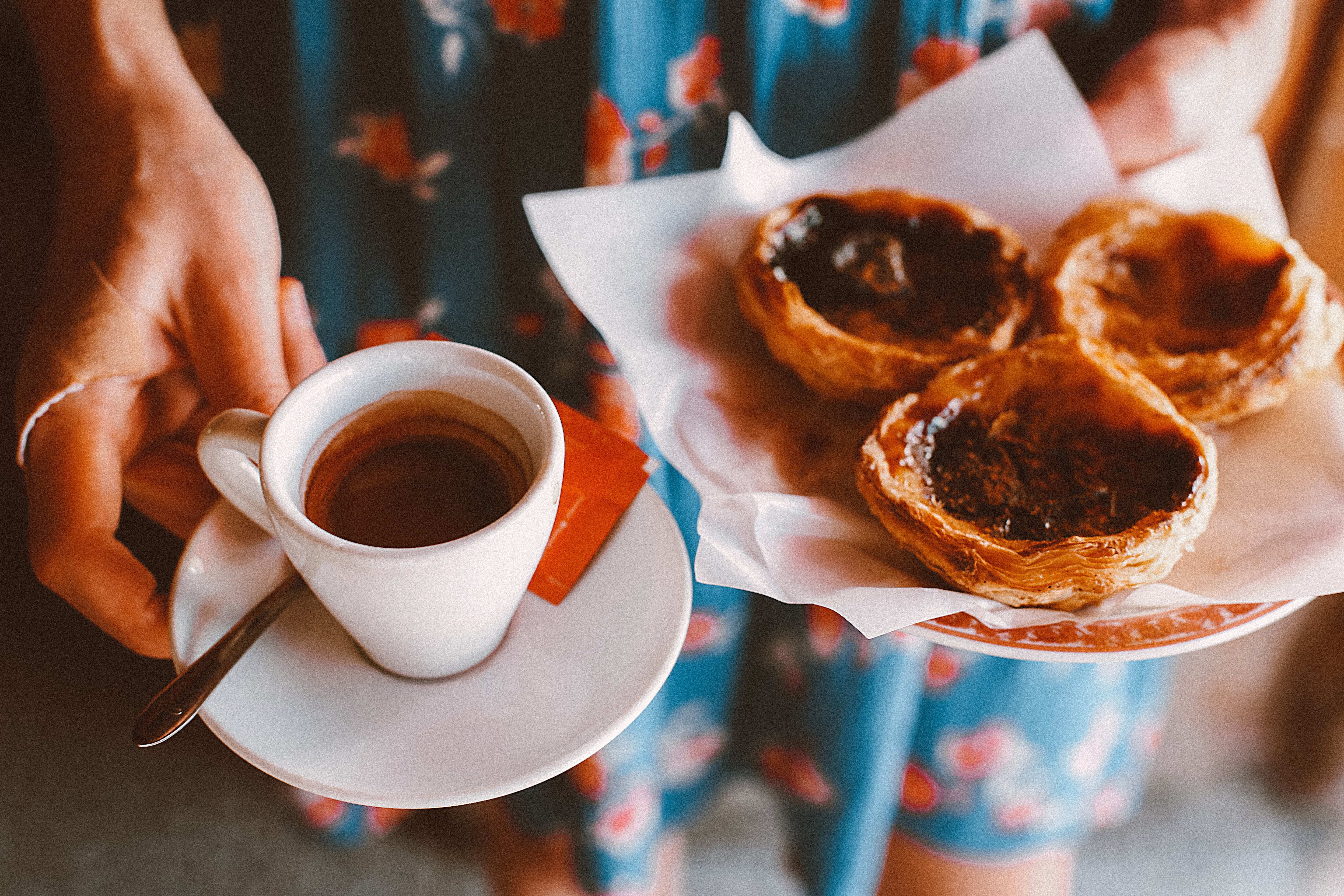 Although you can find Pasteis de Nata in almost all bakeries worldwide, they are not the same as the ones you would find in Portugal. This is because Pastel de Nata was created in Lisbon, where Pastéis de Belém was the main and first commercial bakery to start making them.
Notably, each shop's Natas will have slight differences in texture and flavor, and once you taste a range of Lisbon custard tarts, you will soon find your personal favorite. For some, they are an ordinary snack that goes well with expresso, while for others, they are a luxurious treat.
2. Bacalhau à brás
This salted fish is the best Portuguese seafood dish, a staple of traditional Portuguese cuisine and a part of Portugal's culinary heritage. Bacalhau is the Portuguese word for cod, but it means dried and salted cod in the culinary context. It has been produced for over 500 years to preserve cod before refrigeration was invented.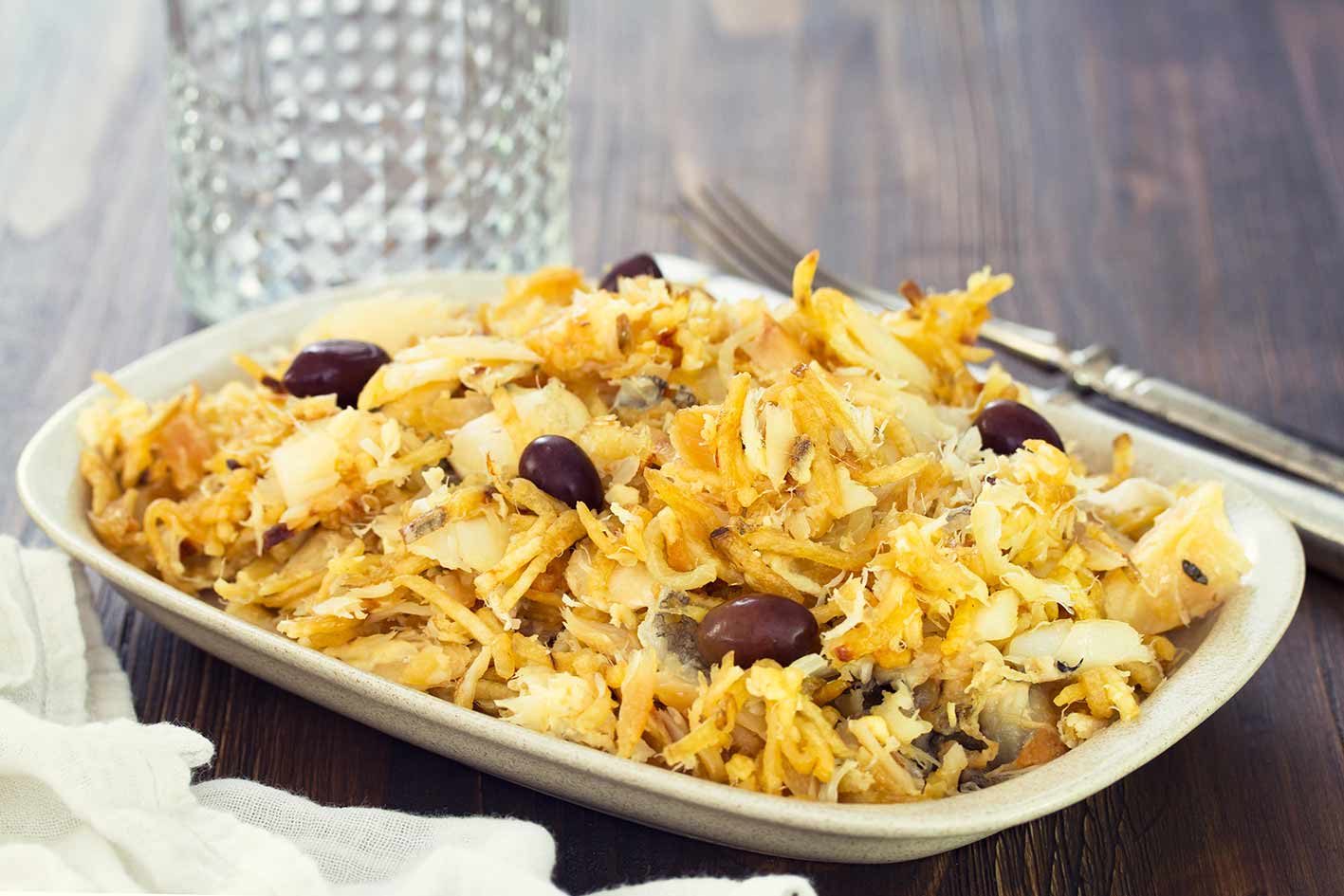 Image Credit: vovopalmirinha.com
Bacalhau is a Portuguese dish made with shredded cod, hand-cut french fries, and onions cooked with scrambled eggs. It is creamy and delicious and one of the best yet most authentic Portuguese food you will enjoy on your trip. In addition, you can also try Pastéis de Bacalhau, fried fish cakes and a mix of herbs and potatoes.
Although you will find these crispy treats in most Lisbon snack bars, they are a specialty that originated from Northern Portugal. Interestingly, Bacalhau is Portugal's national dish of Portugal, and it can be cooked in 365 different ways.
3. Amêijoas à Bulhão Pato
Portuguese dinners are three to four-course affairs, and this Amêijoas à Bulhão Pato is a top choice around the country, especially in the Portuguese capital Lisbon. Its recipe was named after the 19th-century Spanish poet Bulhão Pato, who resided in Lisbon and enjoyed these clams so much that he would tell everyone about them.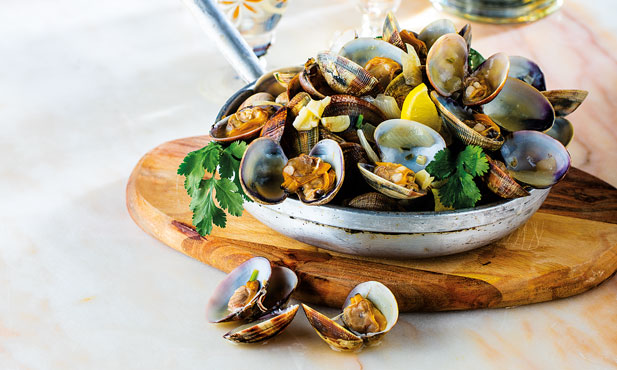 Image Credit: portuguesefood.pt
Amêijoas à Bulhão Pato is a dish of clams made with white wine, olive oil, bay leaves, cilantro, lemon juice and garlic for the extra flavor. It is a favorite local cuisine enjoyed as an appetizer with Portuguese bread at many Portuguese restaurants.
The sauce is delicious to the point some seafood restaurants have started adding it to other seafood dishes such as sea bass or codfish.
4. Meat Sandwiches: Prego & Bifana
If you want to eat authentic Portuguese food but don't fancy a big meal, the popular Portuguese sandwich is the best food. Most countries will have a signature sandwich, and for Portugal, it's the Bifana sandwich, a simple pork sandwich suitable as a mid-afternoon snack. Alternatively, you can try the Prego sandwich, which is made of beef.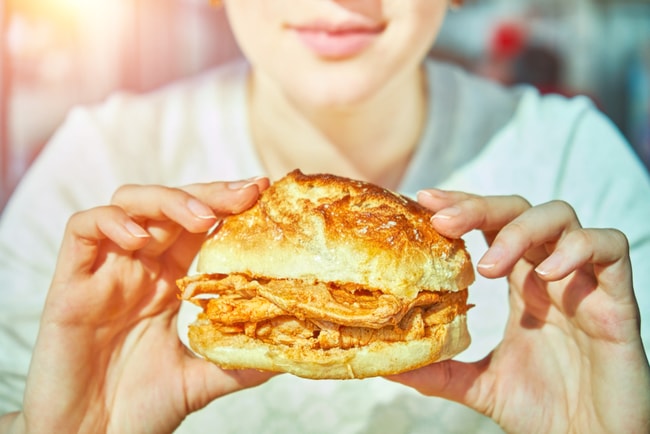 Image Credit: culturetrip.com
These two Portuguese sandwiches might be simple, but they are full of flavor. The best Bifana will always have a lot of garlic, and the Prego will be all about sauces like Piri Piri or mustard. The meat is cut into thin pieces and marinated for a few hours and sometimes overnight in a spicy yet garlic sauce, and it's served with red pepper.
Some Portuguese restaurants will add extra ingredients, but generally, these sandwiches are a simple affair, and you should try them on your food tour. Enjoy authentic Portuguese cuisine with french fries and a glass of a cold beer.
5. Caldo Verde
Caldo Verde is among the most popular soups in Portuguese cuisine, which originated in Minho province in northern Portugal but is now consumed all over Portugal. It is one of the traditional Portuguese recipes made with potatoes, kale or other leafy greens such as collard greens, chorizo and olive oil.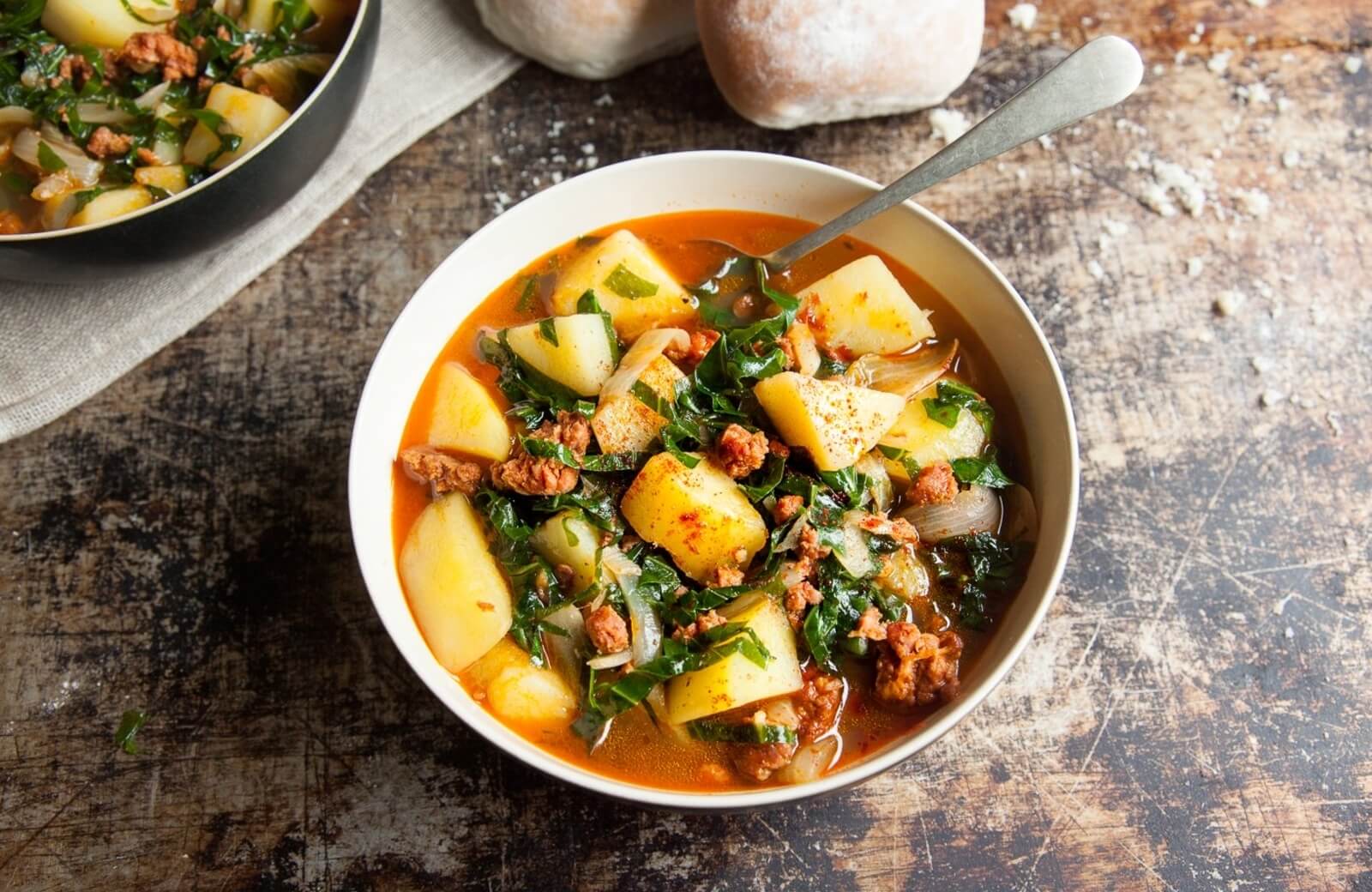 Image Credit: riverford.co.uk
When Caldo Verde is well done, it will be super creamy. You will think that cream was added, although it wasn't. The Portuguese food is often served with broa, a corn and rye bread traditionally made in Portugal for dipping in the soup.
Some cooks usually add one or two slices of Chouriço to each bowl, and although it will not be vegetarian friendly, the addition will add a smoky flavor and give a satisfying bite. Caldo Verde, also known as Kale Soup, is an important dish in the Portuguese culture that is mainly served at gatherings to celebrate events such as weddings or birthdays.
6. Grilled Sardines
The smell of grilled sardines is one of those things that remind people in Portugal of barbecues, music festivals or the beach. The sardines are one of the most traditional bites in Lisbon and if you visit Lisbon during summer, ensure you try the freshly grilled sardines.
Although they are not as fancy as other Portuguese dishes, they have been a part of the Portuguese diet since the early 8th century. When they are fresh, they are eaten directly from the charcoal grill and are marinated with Portuguese olive oil making this fresh seafood a feast for your taste buds.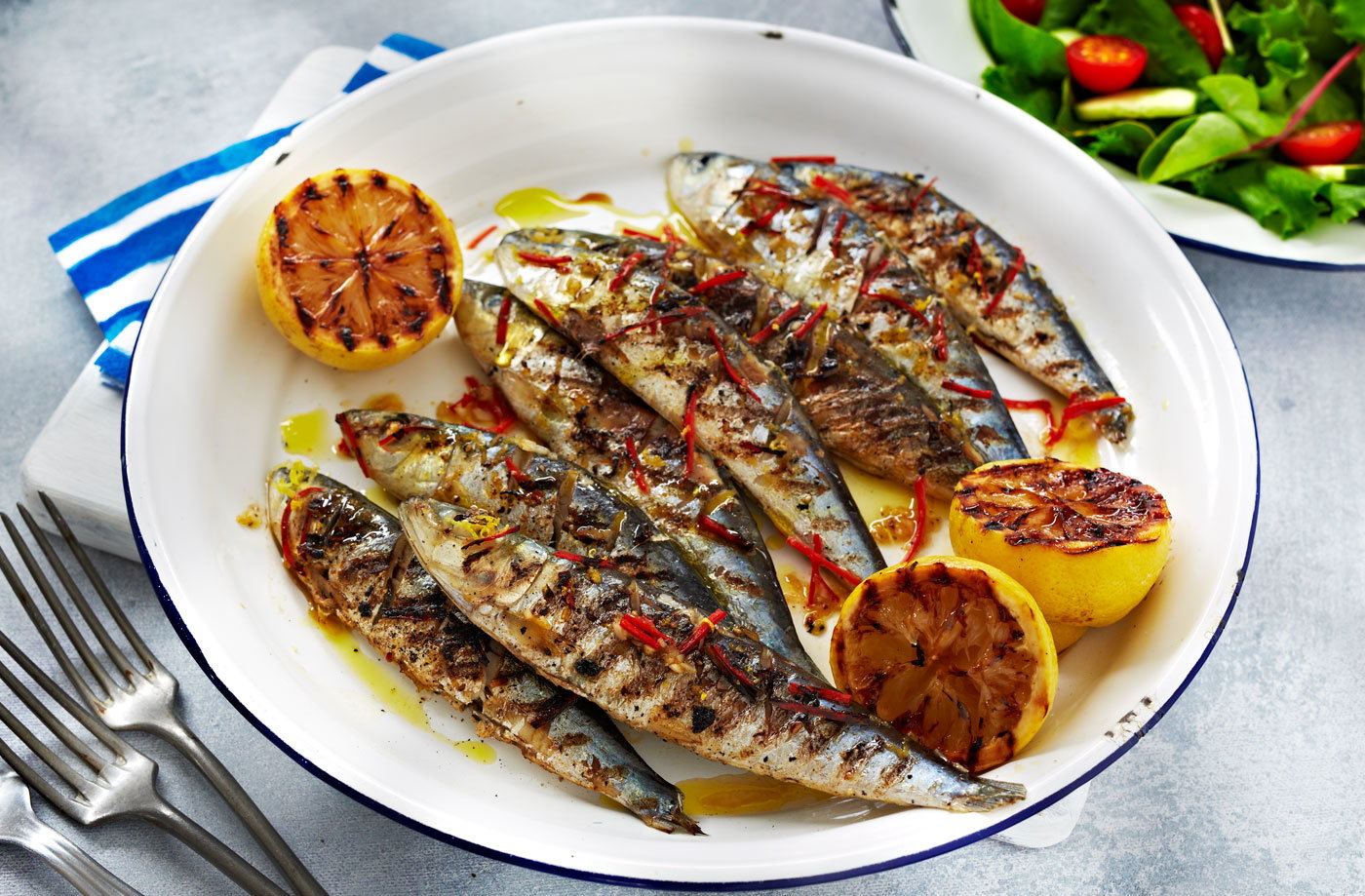 Image Credit: realfood.tesco.com
You can enjoy the grilled sardines with boiled potatoes, rice or salads at upscale restaurants and ensure you also have a glass of Portuguese wine. The best time to enjoy sardines is during their biggest harvest in early June, and around mid-June, you will find grills on the street selling this delicious food as street food.
7. Piri Piri Chicken
Although most people don't recognize this as a Portuguese dish, it is and has African roots from former Portuguese colonies like Angola and Mozambique. Piri Piri Chicken is a butterflied whole grilled chicken over hot coals, whereas the Piri Piri is the spice rub that helps achieve the delicious crispy skin. So, if you are not familiar with Piri Piri Chicken, your taste buds are up for a treat.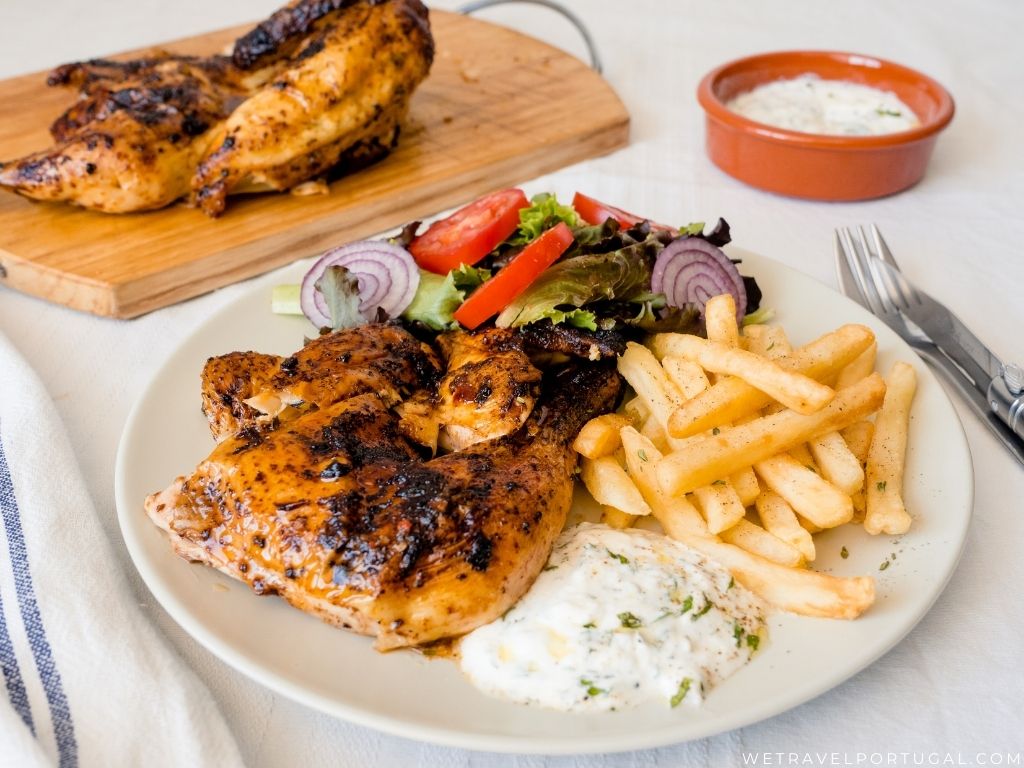 Image Credit: wetravelportugal.com
Piri Piri Chicken is a perfect example of blending global flavors from the former African colonies with local Portuguese food. In addition, Frango is Portugues for chicken and so look for a Frango sign when you want to eat Piri Piri Chicken. Portuguese chicken covered in Piri Piri is served with fried potatoes, chips, small lettuce, onion salad and tomato to make contemporary Portuguese cuisine.
8. Alheira
Alheira is one of the many Portuguese sausages, but this specific one is popular thanks to its history. The sausage was produced during the Inquisition period when Jews in the Iberian Peninsula faced death if they didn't convert to Christianity. Instead of converting, the Jews practiced their religion and tricked the locals by making pork-looking, pork-tasting sausages from chicken and other meats that were not pork.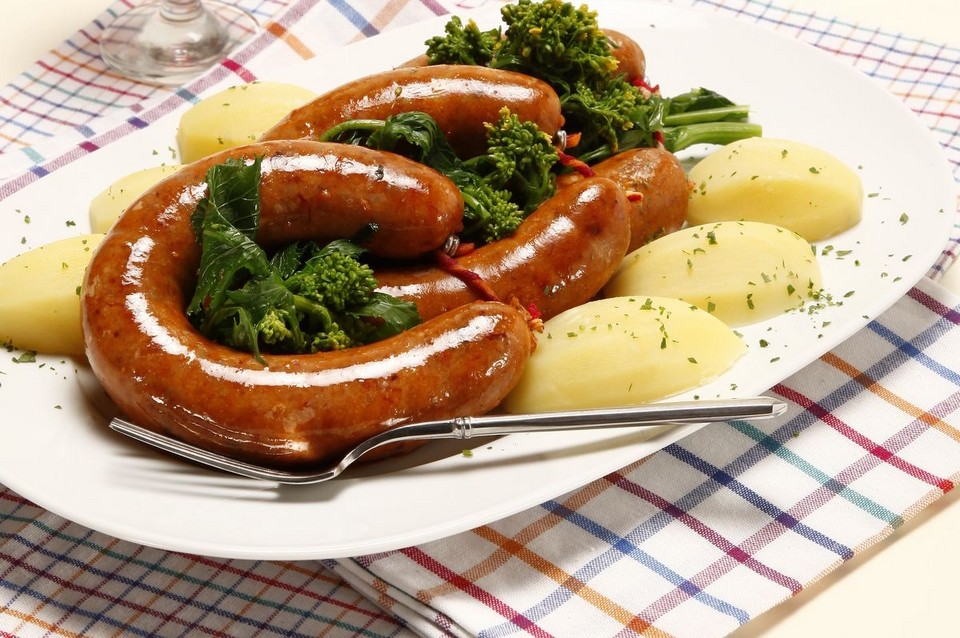 Image Credit: livingnomads.com
The hearty dish is among the 7 wonders of Portuguese Gastronomy. It is a smoked sausage with a bread filling that makes it softer than the traditional sausage but traditionally, it was made with chicken. Alheira is often served with potatoes, vegetables, cabbage and a fried egg.
9. Cozido à Portuguesa
Cozido is a typical Portuguese food that doesn't always make it to the list of what to eat while visiting Portugal. It might be a bit much, but it's the dish you should track down for people on a food trip. The base of the food is white beans, cabbage and rice, and it's topped with a meat-heavy stew with a delicate flavor, making it a perfect winter dish.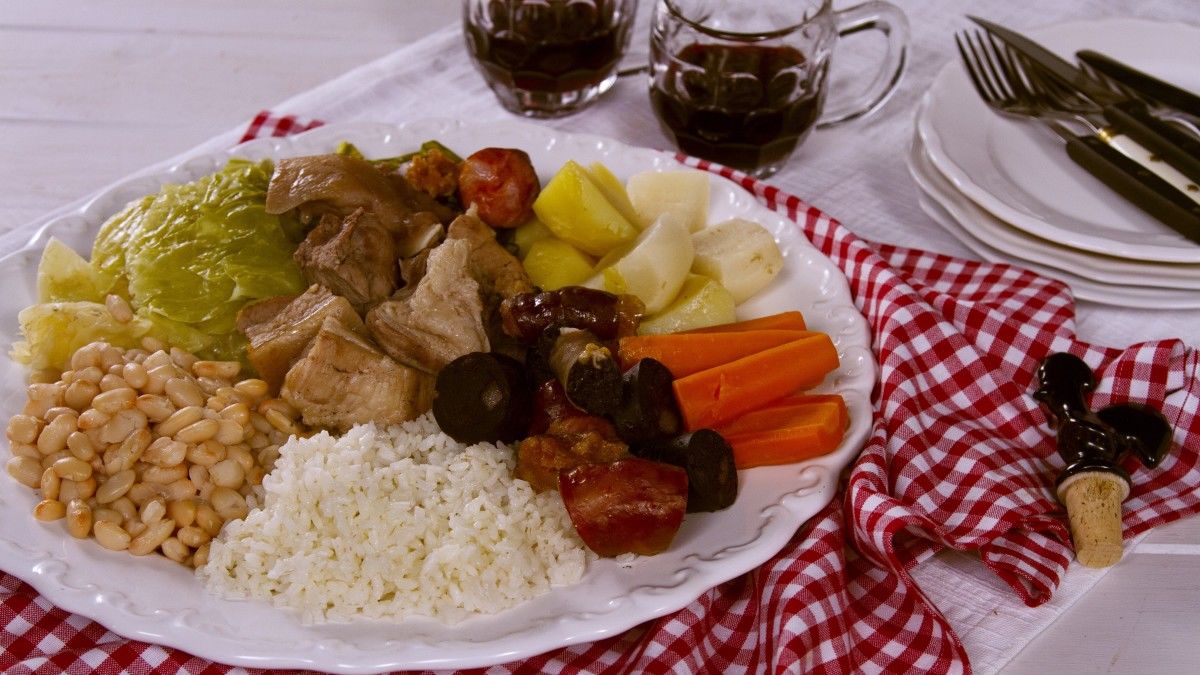 Image Credit: 24kitchen.pt
In addition, the stew will also include sausage, black sausage, and some pork bits, including offal and pig organs. While Cozido à Portuguesa is an authentic Portuguese cuisine, it is not for everyone since it is meaty, heavy and often chewy or fatty. The stew is not for the faint-hearted, but it's worth trying at least once when visiting Lisbon.
What to Eat as Breakfast in Lisbon?
You can skip the coffee chains and cafes and eat as the Lisbon locals eat when visiting Lisbon. A traditional Portuguese breakfast is quite simple compared to other countries, but it will wake your taste buds and get you ready for the day. Below are some staples residents in Lisbon enjoy in the morning to fuel up:
a). Portuguese Coffee
Is there any complete breakfast without a cup of coffee or two? There are several ways to order coffee in Portugal, just like in Spain, but any method will be the perfect start to your morning.
Like many European countries, the Portuguese enjoy Expresso and drink it black or add varying amounts of milk. One cup is enough to kickstart your day, but Lisbon locals enjoy drinking it all day long.
b). Freshly Squeezed Orange Juice
Southern Portugal grows plenty of citrus fruits, so it's only normal for the Portuguese to incorporate the delicious fruits into their daily breakfast routine. This is not the orange juice in a box but the real thing you can order for a few euros.
Fresh juice is an important tasty part of the Traditional Portuguese breakfast since it's a huge source of vitamins and nutrients. Just a glass of fresh juice in the morning will give you your daily dose of Vitamin C.
c). Bread
Although breakfast in Lisbon is generally light, it's heavy on the carbs. Most often, the Portuguese will have something simple like a toast with butter, but there are other bread selections you can choose including:
Toast– As mentioned above, it's mostly with butter, but some people may swap the butter out for fruit jelly. In addition, there are various types of bread you can choose from, including the famous papo seco. This is a small roll that can be enjoyed as is or like a small sandwich.
Croissant– Either plainly or with cheese and ham for more sustenance.
Sandwiches– This is bread with some filling, and it usually includes cheese, ham or both.
d). Pastries
If you are a sweet tooth and fancy something sweet instead of savory, Lisbon has various pastries, including the popular Pastéis de Nata. Some of the other popular ones include:
Bola de Berlim– This is a delicious doughnut fried to perfection and filled with a rich egg-yolk filling and dusted in sugar. The doughnut is very filling and will keep you full after eating one.
Pão de ló– This is a simple spongecake perfect for dipping in coffee and contains three ingredients: eggs, flour and sugar.
Frequently Asked Questions on Traditional Portuguese Food in Lisbon
1. Is Portuguese food vegetarian-friendly?
Being a vegetarian in Portugal is very challenging as it's difficult to find traditional Portuguese food in Lisbon that doesn't contain fish or meat, but it is growing. So you will find a lot of vegan and vegetarian restaurants in Lisbon, and many of the restaurants will have only one vegetarian option. However, meat dishes are the most popular, and in like rural areas, veganism is not really understood, so keep this in mind.
2. Is Eating in Portugal Expensive?
No, eating in Portugal is affordable, especially outside Lisbon locals and specifically at lunchtime. In addition, if you are on a budget, avoid the tourist traps or the more modern restaurants as they won't come cheap.