One of the best things about traveling is immersing yourself in a new culture and enjoying the local food. This list covers the top 10 best traditional Portuguese restaurants in Porto so that you can enjoy the city's views, bridges, and hearty foods.
Porto has often come second after Lisbon in different aspects. However, this second largest city in Northern Portugal takes the lead when it comes to traditional Portuguese food.
Aside from touring the museums and other fun gems in the city, visiting traditional Porto restaurants is a great way to learn and taste different Portuguese delicacies and their history. In addition, these restaurants are amazing if you want to avoid tourist traps.
From Prego and Francesinha to the famous Pastel de Nata and tripe stew, below is a curated list of the top 10 best Porto restaurants serving traditional Portuguese cuisine.
Let's dive in.
Fabrica da Nata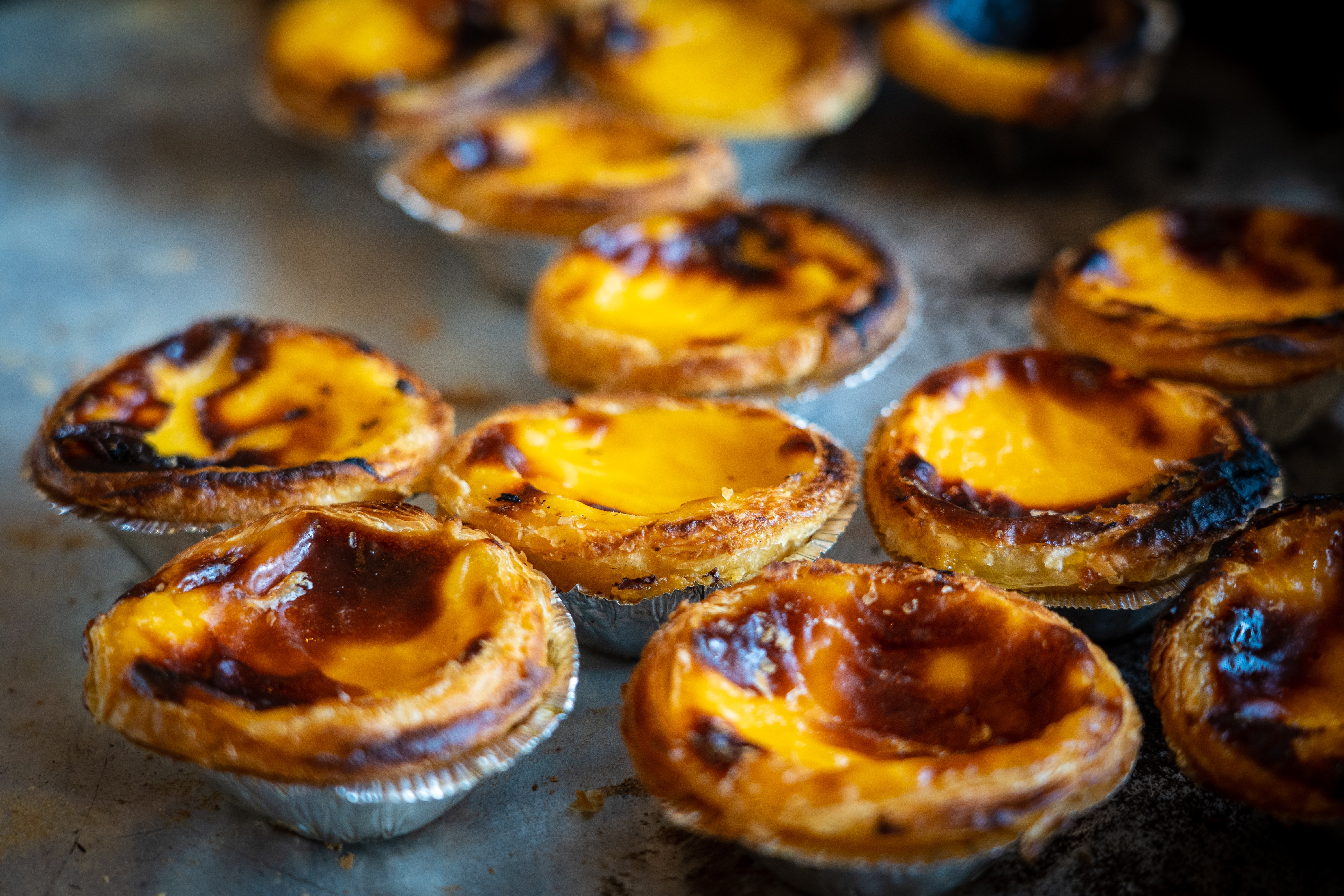 Nothing screams good morning in Porto more than a fresh cuppa coffee and a Pastel de Nata in hand. This egg custard pastry is undoubtedly the poster child for traditional Portuguese cuisine.
Pasteis de Nata(plural) were invented in Jerónimos Monastery, Lisbon, before the 18th century. The delicious little pastry is made from egg yolks and custard, baked at a high temperature.
The golden yellow with black-brown patches tarts are crispy on the outside and velvet-textured on the inside. They're also not too sweet or eggy.
A morning stroll in Porto is bound to lead you to Fabrica de Nata, where you can get a freshly baked, delicate Pastel de Nata to kickstart your day.
The ambiance at this little cafe is amazing, with plenty of sitting both inside and outside. Other pastries you can try here include Pastéis de bacalhau if you're itching for a savory snack.
Address: Rua de Santa Catarina 331/335, 4000-451 Porto, Portugal
Business hours: 08.00-23.00, Daily
O Rápido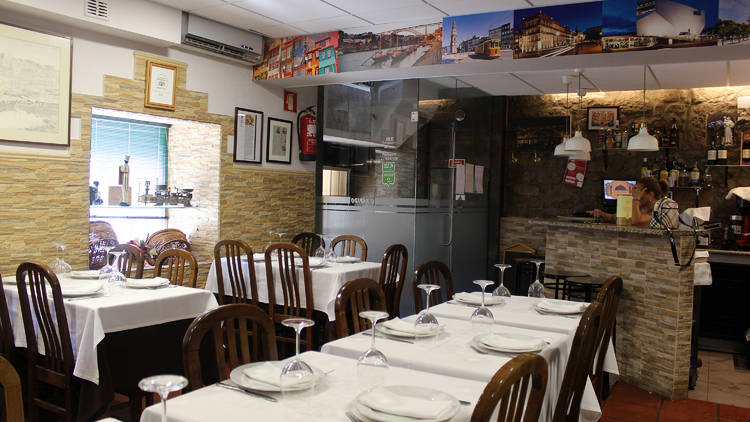 Image Source: timeout.com
While there are several high-end restaurants in Porto, you will quickly realize that Tascas are a go-to for locals and tourists looking for delicious Portuguese food.
O Rápido is located a few minutes from the gorgeous São Bento train station. Here, you can enjoy Porto-style tripe stew(tripas à Moda do Porto) before getting on the train for an afternoon of exploring.
Although O Rápido is a small little haven, it's one of the few places in Porto serving amazing traditional Portuguese dishes. Their Bacalhau à Gomes de Sá, Sardinhas and Bolinhos de Bacalhau are among the best seafood dishes you will find in town.
Oh, and the homemade desserts are to die for!
It's also an added advantage that you can make your reservation for a guaranteed spot at O Rápido. However, keep in mind that the Porto-style tripe stew is only available on Tuesday and Thursday.
Address: Rua da Madeira 194, 4000-330 Porto, Portugal
Business hours: 12:00 – 15:00, 19:30 – 22:00, Monday – Saturday
Adega Vila Meã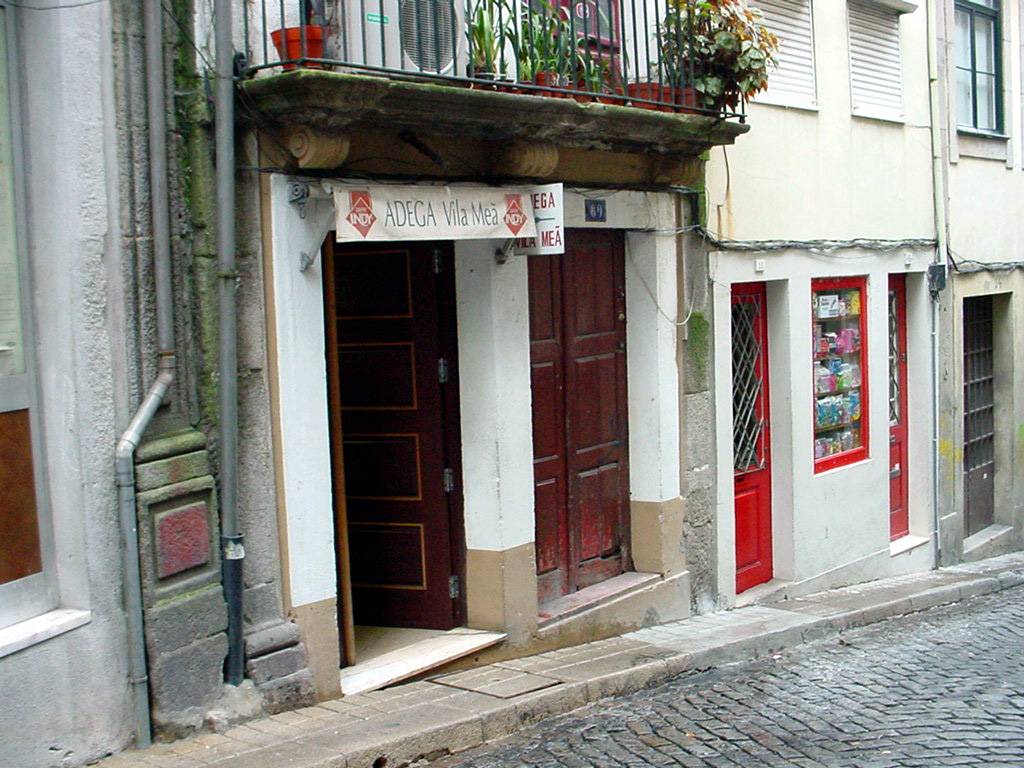 Image Source: allaboutportugal.pt
Adega Vila Meã is a family-style traditional Portuguese restaurant in Porto that feels like you're dining at home with your family. This restaurant is located about 3 minutes walking distance from the São Bento train station, making it super accessible for a quick meal.
The over 45 years old traditional Portuguese food restaurant should be a must-visit in your Porto itinerary. Some of the food you can expect to find here will be made from seafood or pork.
Miminhos de Porco Preto, for example, is a dish made of Iberian black pork. The tasty delicacy is often served with potato crisps.
Another Adega Vila Meã famous dish is alheira, a traditional Portuguese sausage.
When it comes to the seafood options at Adega Vila Meã, salted cod, otherwise known as bacalhau, is a popular and tasty choice, rightfully so since it's the commonly preferred type of fish in Portugal.
The food portions at this family restaurant in Porto are very generous, so be careful not to over-order.
Address: Rua dos Caldeireiros 62, Porto, Portugal
Business hours: 12.00-15:30, 19:30-22.00, Tuesday- Sunday
O Buraco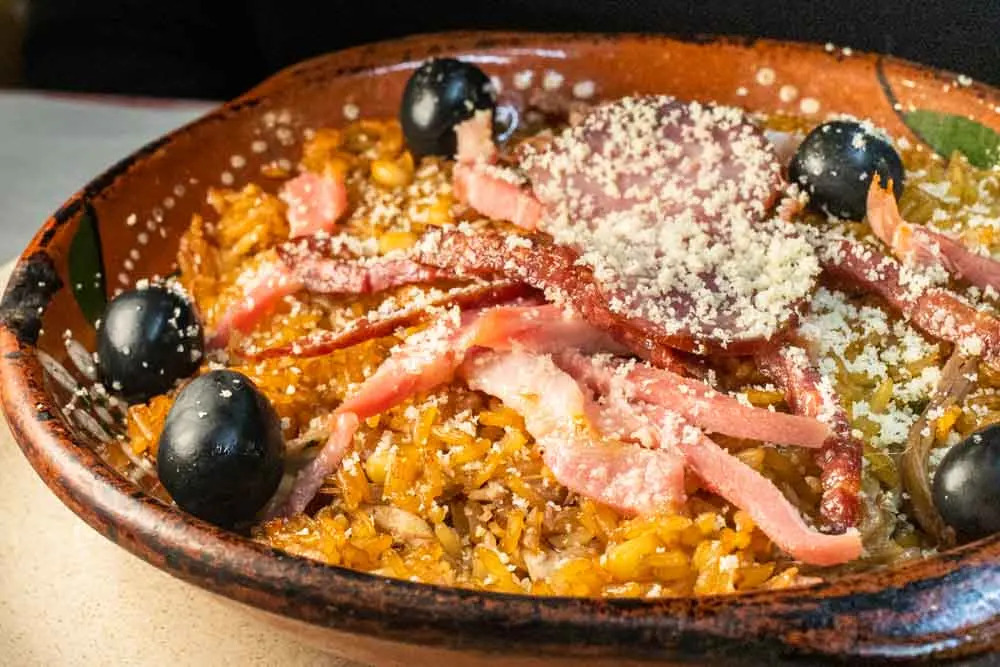 Image Source: 2foodtrippers.com
O Buraco is another one of the best restaurants in Porto, serving delicious Portuguese food. You will find mouth-watering dishes such as duck rice, also known as Arroz de Pato.
Other traditional foods you can indulge in this little gem located in downtown Porto include Tripas à Moda do Porto(tripe with bean stew, beef stomach, rice, and carrots) and veal pie.
You will also find that some dishes are left out of the tasting menu, so remember to ask for the daily specials. You will enjoy a delicious plate of fígado de cebolada(fried cow liver topped with caramelized onions) if you're lucky.
You can also order take-out at O Buraco and enjoy Portuguese cuisine in the comfort of your hotel room, especially after a long day of sightseeing.
Address: Rua do Bolhão 95, 4000-112 Porto, Portugal
O Gaveto
Image Source: en.booktables.pt
Porto is a city full of Marisqueiras, seafood restaurants, thanks to its strategic position on the Duoro river. Among these, O Gaveto comes highly recommended for its food, ambiance, and wine collection.
O Gaveto is one of the best restaurants in the area with Portuguese seafood delicacies. Although it is located about 6 miles from Porto in the Matosinhos, it is easily accessible by train, bus, or Uber.
Fortunately, there are lots to experience in Matosinhos, including a trip to Mercado Municipal de Matosinhos or a fun day by the beach.
The family-run traditional restaurant has a lot of options to choose from in its tasting menus. Some of these include amêijoas à Bulhão Pato(steamed clams served in a white wine and garlic sauce) – I highly recommend you start with this.
There are many seafood options to choose from, such as prawns, lobster, crayfish claws, spider crabs, and bernacles.
You will also enjoy seafood açorda, which is bread stewed with seafood in a spicy sauce. Other delicious foods you can enjoy in this traditional restaurant include lobster rice, garlic shrimp(Gambas ao Alho), and seafood rice.
Besides being a marisqueiras, O Gaveto has an option for other meats on its menu. But what's the point of coming all this way if not for fresh fish? Fortunately, there's a collection of wine to enjoy sourced from the neighbouring Douro Valley.
Address: Rua Roberto Ivens 824, 4450-279 Matosinhos, Portugal.
Business hours: 12.00-23.30, Monday, Wednesday- Sunday(closed on Tuesday)
Lareira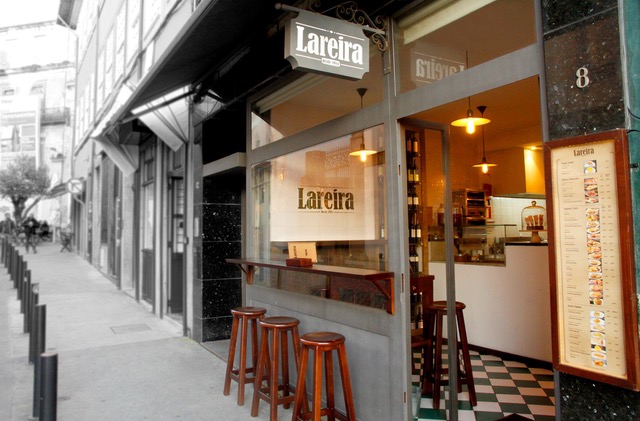 Image Source: restaurantelareira.pt
Lareira is a great spot to enjoy Portuguese sandwiches, an important part of the Porto food scene. These include the famous francesinha, bifana, and prego.
Francesinha is made from bread slices, Portuguese sausage, steak, and ham. It's then drenched in melted cheese and topped with beer and tomato sauce with a side of french fries. Super delicious!
Bifana is a traditional Portuguese food that refers to a popular sandwich made from marinated roast pork slices served on a bread roll(papo seco). While you can also find the bifana in Porto, this type of sandwich is more common in Lisbon.
Lastly, we have the Prego; a grilled garlic beef sandwich served on papo seco bread. There are two ways to have your prego sandwich, plain or with a side of ham, cheese, and a fried egg.
Surprisingly enough, Portuguese sandwiches in traditional restaurants in Porto are often served as the last meal after seafood. However, you can also have them as a delicious full meal with Port wine from Vila Nova de Gaia or a beer.
Address: R. Das Oliveiras 8, 4050-159 Porto, Portugal
Business hours: 12.00-23.00 Monday-Thursday, 12.00-01.00 Friday-Saturday
Rogério do Redondo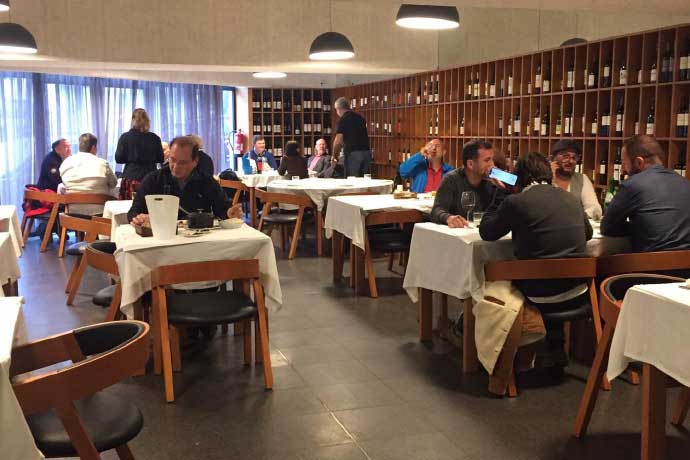 Image Source: rogeriodoredondo.pt
Rogério do Redondo is one of the best Porto restaurants boasting celebrity status with presidents and celebrities(like Anthony Bourdain) having dined here.
Unlike other Porto restaurants, Rogério Sá, the owner, has taken a different approach over the years to ensure the best produce is used to make the Portuguese cuisine.
This includes getting potatoes from Trás os Montes, prosciutto from Barrancos, and the very best seafood from the Vila Real de Santo António region. In addition, the interior design of this modern yet traditional restaurant is stunning and minimalist.
Address: R. Joaquim António de Aguiar 19, 4000-311 Porto, Portugal
Business hours: 12.00-15.00, 19.30-22.30 Wednesday-Saturday, 12.00-15.00 Sunday
Casa Guedes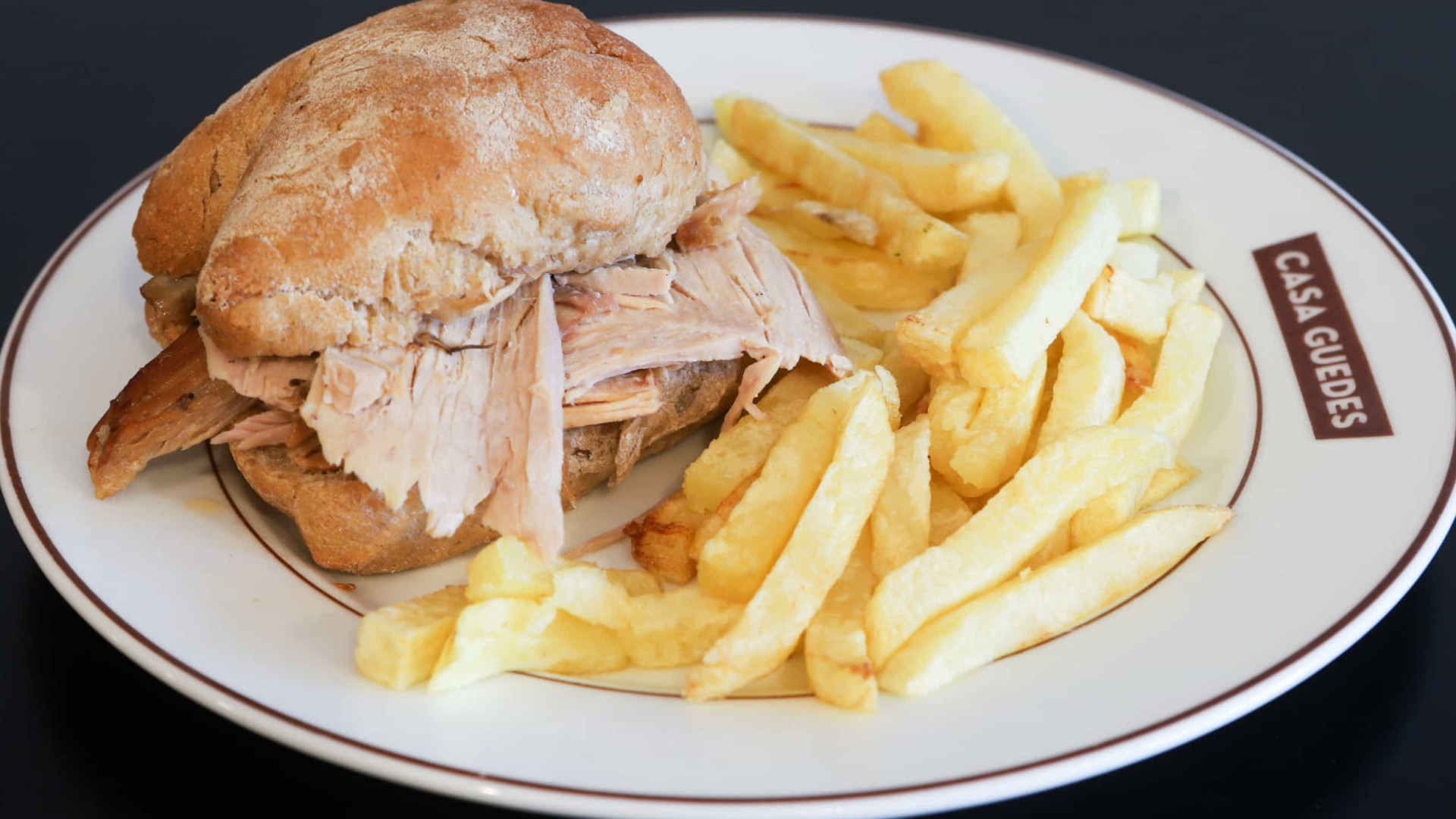 Image Source: noticiasaominuto.com
The Francesinha is hands-down one of the best sandwiches you will have in Porto. That said, you must try the Pernil com Queijo sandwich before wrapping up your trip in the city.
This unique and mouth-watering sandwich is made from slow-roasted pork specifically cut from the pork leg. It is wrapped in crispy bread and slathered in Serra da Estrela cheese.
Simple as it is, the Pernil com Queijo sandwich is unique and delicious. While you can have it in different restaurants in Porto, we recommend having it at Casa Guedes.
Besides the roasted pork sandwich, you can appreciate other types of Portuguese food, such as kale soup(Caldo Verde) and pig blood soup(Papas Serrabulho). You will also find lots of tap sangria and batatas fritas in this little gem.
Casa Guedes is one of the best traditional restaurants in Porto and is also quite affordable. This is why we recommend that you visit this restaurant early on in your trip – chances are you'll be back for more Portuguese food and local sparkling wine.
Address: Praça dos Poveiros 130, 4000-393 Porto, Portugal
Business hours: 11.00 to 00.00, Monday-Thursday and Sunday, 11.00-01.00 Friday-Saturday
Restaurante Abadia do Porto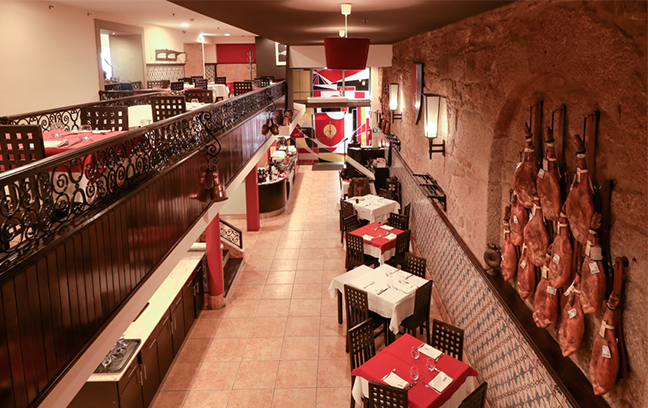 Image Source: abadiadoporto.com
Restaurante Abadia do Porto is known as one of the best traditional restaurants in Porto, thanks to its tripe stew and local seafood, among other delicious foods on the tasting menu.
The tripe stew, owing its history to Henry the Navigator in 1415, is loved by Portuguese locals and tourists. The hearty meal served with vegetables, Portuguese sausage, ham, veal shank, and tripe is perfect for the cold winter days.
Restaurante Abadia do Porto is also a go-to for fresh fish meals like bacalhau, grilled cod fish. The roasted fish is then dressed with extra virgin olive oil making it nothing short of delicious.
Unlike other Tascas and restaurants in Porto, Restaurante Abadia do Porto has a modern vibe and style. However, do not confuse it for the many tourist traps in the city.
Address: R. do Ateneu Comercial do Porto 22, 4000-380 Porto, Portugal
Business hours: 18.30-22.20 Monday, 12.00-15.30, 18.30-22.30 Tuesday-Saturday
Casa de Chá da Boa Nova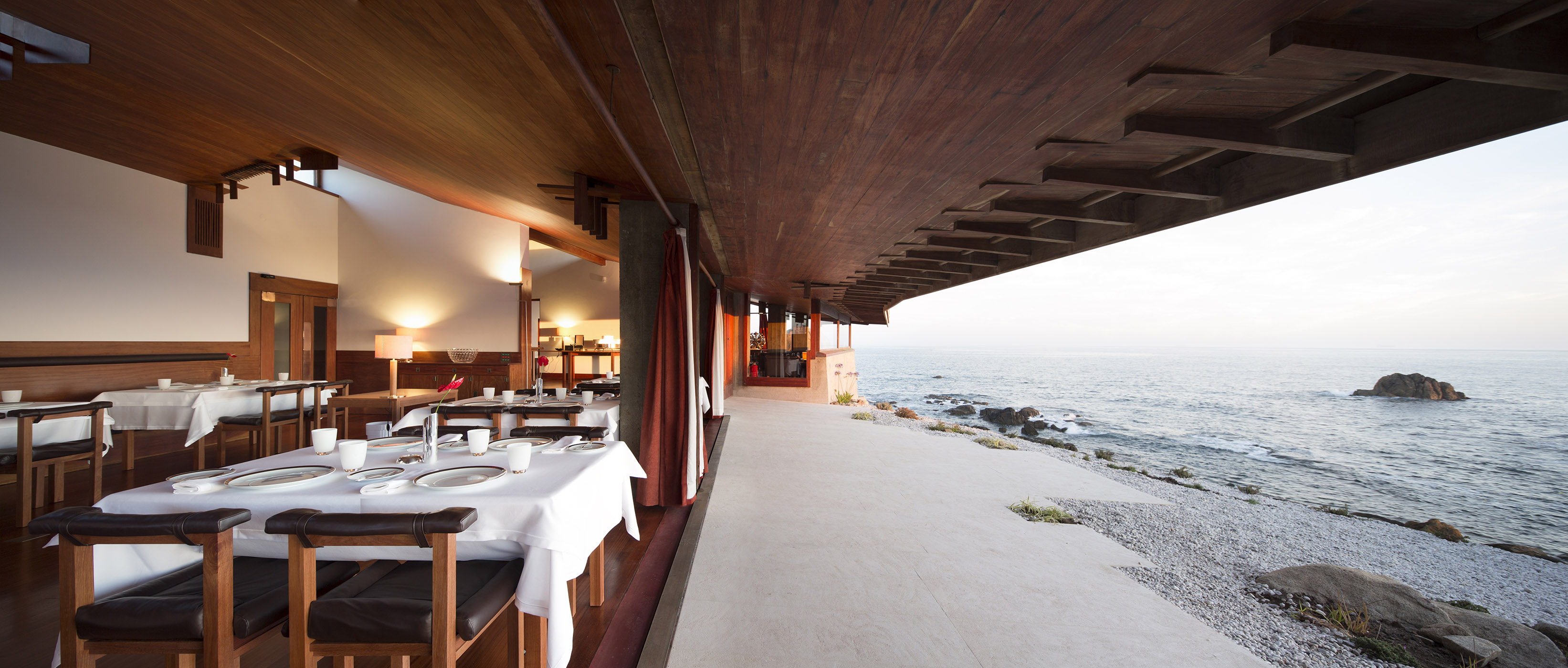 Image Source: www.casadechadaboanova.pt
Last on our list of the best traditional restaurants in Porto is Casa de Chá da Boa Nova. This quaint restaurant, designed by a prize-winning architect, Álvaro Siza, is perfect for when you want to dine with a view of the ocean.
Helmed by a Portuguese-born and bred chef Rui Paula, Casa de Chá da Boa Nova, originally designed as a tea house, serves local dishes made of fish and seafood. You will also find vegetables such as fava beans, greens, and local potatoes.
With two Michelin-starred restaurants, Chef Rui Paula and the culinary team at Casa de Chá da Boa Nova, see to it that your time at the restaurant is spectacular and memorable.
Address: Avenida da Liberdade nº 1681, 4450-718 Leça da Palmeira, Porto, Portugal
Business hours: 12.30-15.30, 19.30-22.30 Tuesday-Saturday
Frequently Asked Questions
What are the traditional foods you'll find in Porto?
Porto is home to various traditional foods, such as Fracesinha, Alheira(Portuguese sausage), and Tripas à Moda do Porto. In addition, the best Portuguese restaurants in the city include seafood dishes like bacalhau.
Does traditional Portuguese food include vegan and vegetarian options?
Often, traditional restaurants in Porto do not include vegan and vegetarian options in their tasty menus, save for a fresh salad or an omelet. However, you will find that some of the best Portuguese restaurants in the city, like Casa de Chá da Boa Nova, include a different tasting menu for vegetarians.