Wall mount range hoods are beautiful and useful appliances. Do you want a fan to remove all smoke from your kitchen? Are you looking to improve indoor air quality and eliminate strong cooking smells from your kitchen in a matter of minutes? These are more than just a fashion accessories. These are sophisticated pieces that add a lot to the value of your kitchen. They protect appliances and furniture from grease and oil buildup. They also improve air circulation and purify the air in your kitchen.
What hood do you need? What kind of hood should you get? How do you know which size hood to purchase? There are many types of hoods. But the most popular is the wall-mounted range hood. This guide will focus on this type of hood.
The typical wall-mounted range hood will have a vent or duct to the outside. However, there are also ductless range hoods that trap particles in filters. You want the best range hood for your kitchen, no matter if you are replacing an old model or renovating it. This buying guide will help you identify the key features to consider when selecting the best wall mount range hood for your kitchen.
What's a Wall Mount Range Hood?
Wall mount range hoods are a type of kitchen exhaust fan that can be mounted on a wall. They are vital in maintaining indoor air quality.
Wall mount range hoods are a more elegant alternative to the under-cabinet range hood. They have a chimney-style vent that runs upwards along the wall. There can't be any kitchen cabinets or microwaves in the way.
Wall-mounted range hoods, like other vent hoods, can be either ducted or unducted. With the purchase of a charcoal filter, virtually all range hoods are ductless or recirculating.
The charcoal filter is not necessary when a kitchen exhaust fan has been ducted. Many range hoods come with permanent baffle-style metal filters to catch grease.
Benefits of Using Wall Mount Range Hood
Wall-mounted range hoods offer many benefits, including:
You can feel better by cooking in a healthy environment.
Modern wall mount range hoods make a great kitchen appliance. A range hood upgrade can increase the resale value of your property.
Wall mount range hoods provide effective lighting that can be used directly on food while you cook… and it is easy to clean.
Wall mount range hoods remove excessive heat from the kitchen so the steam from food won't hit your face and it will be more comfortable to cook.
It filters out all potentially harmful elements and gases from your kitchen and releases them outside.
Wall mount range hoods are designed to fit perfectly against the wall, giving you seamless results. It will not alter the decor of your kitchen.
List Of 20 Best Wall Mount Range Hood Reviews
1. Winflo 30 In. Convertible Stainless Steel Wall Mount Range Hood
The Winflo wall-mount range hood is an elegant exhaust fan that can be adjusted to reach 8.5 feet ceilings. This hood has a 400 CFM rating and comes with push-button controls for three speeds.
The vent hood is quieter than most hoods as it operates at less than 65 decibels. The hood also includes 2 LED bulbs with high brightness and permanent stainless steel baffle filters.
High-powered suction at 350 CFM with the high-speed setting. 3-speed fan levels for the right amount. Push-button controls for fan speed, light, power, and fan speed; Durable, dishwasher-safe stainless steel baffle filters that are easy to remove and wash.
2. PROLINE PLFW 520.30 600 CFM Wall Range Hood
The PLFW 520 wall-mounted range hood is our quietest. It only produces 4.5 SONES at 600 CFM. The model has six speeds and a quiet 100 CFM. The front panel of the hood features a sleek, blue LED control panel that allows you to adjust the CFM by pressing a button.
Two stainless steel mesh filters are included in the PLFW 520 to clean your kitchen. Two bright LED lights give you great range coverage, making it easy to cook.
For homeowners looking to enhance their kitchen's style and performance, the professional plow 520 wall-mounted range hood is an excellent choice. The hood features a sleek LED glass touch control panel and a 600 CFM blower. It also has bright, energy-efficient LED lights.
3. Cosmo 63175S 30 Inch 380 CFM Wall Mount Kitchen Range Hood
This Cosmo duct range hood is constructed from durable 430-grade, 20 gauge brushed stainless steel. It has many amazing features that will make you stop and stare.
This best wall mount range hood measures at either 30 or 36 inches, depending on your needs. It is made of brushed stainless steel and is durable. Its European-inspired design will fit in any kitchen, regardless of its aesthetic.
Without performance, what good would all that be? Cosmo has your back on this front: the Cosmo range hood boasts a remarkable 670 CFM airflow speed. This will make any worries about grime buildup a distant memory.
Both permanent filters are made from stainless steel and dishwasher safe. These filters will trap all oil and cooking grease easily. The best part about these filters is the fact that they come from Cosmo's ArcFlow range and don't have to be replaced. Keep them clean every 6-12 months.
Did we mention the LED lights! These lights provide easy illumination that allows you to see what you are cooking. They are built to last so you won't need to replace them anytime soon. We love this range hood. However, some might find it a bit too loud. It's still a great price for such a high-performing rangehood.
4. Cosmo 668WRCS75 Wall Mount Range Hood
Here's the best wall mount range hood selection for those who just moved into modern kitchens. You don't need to worry about space as the item is perfectly sized.
This item is essential for ventilation purposes. It has efficient airflow and measures 30 inches by 380 cm. This feature allows for proper airflow and eliminates noise from competing range hoods. This feature will keep your surroundings clean and provide fresh air for you to feel refreshed.
The Cosmo wall mount range hood is affordable. The reason? It is simple to clean the filters and you don't have to buy new filters after a short time. This item comes with a safety warranty. The warranty is valid for five years and allows you to return the item if any of its components fail.
5. Cavaliere SV218B2-30 Wall Mount Range Hood
This wall mount range hood is beautiful and offers a stunning cooking experience. It also provides effective ventilation in a clean, open kitchen. The heat-resistant nature of 19-gauge brushed stainless steel makes it extremely durable.
The 900 CFM centrifugal engine eliminates harmful pollutants from the kitchen air. The fan noise level is at 25 dB and maximum at 56. The 360-degree exhaust solution is provided by aluminum mesh filters that absorb grease, moisture, and steam.
The Electronic Control Panel with LCD Display allows you to adjust many functions, including 2 dimmable 35-watt Halogen lights, 6 fan speeds, and a timer option. A 1-15-minute delay power shutoff can also be programmed.
A tall, telescopic chimney gives the pyramid design a striking finish. It can fit up to 9 feet high ceilings and creates a stunning effect. To provide external ventilation, a 6-inch-round duct is needed to insert vent exhaust.
6. CAVALIERE 30″ Range Hood Wall Mounted
If you are a frequent cook or love to make spicy dishes, this range hood is for you. This wall mount range hood is ideal for heavy-duty cooking. It can also be used in commercial kitchens or restaurants.
The lowest setting produces noise at 43 decibels and the highest at 68 decibels. This is quite low considering the amount of smoke and grease this range hood can absorb. This machine is made from strong stainless steel and can withstand heavy, regular use for many decades.
The best wall mount range hood is suitable for installation in any kitchen that has an 8-feet- or 9-feet-high ceiling. A 6-foot-long duct hangs from the ceiling above your kitchen range. For ceilings greater than 9-feet, a chimney extension may be required.
The range hood measures 30 inches around the bottom. It can be mounted between two cabinets. The range hood has 6-speed settings that can be controlled by an easy-to-understand touch screen control panel. The hood has two LED lights that can be used to illuminate the entire range of your cooking. The stainless steel filters can be washed in a dishwasher and are very durable.
7. Golden Vantage Wall Mount Black Painted Stainless Steel Kitchen Range Hood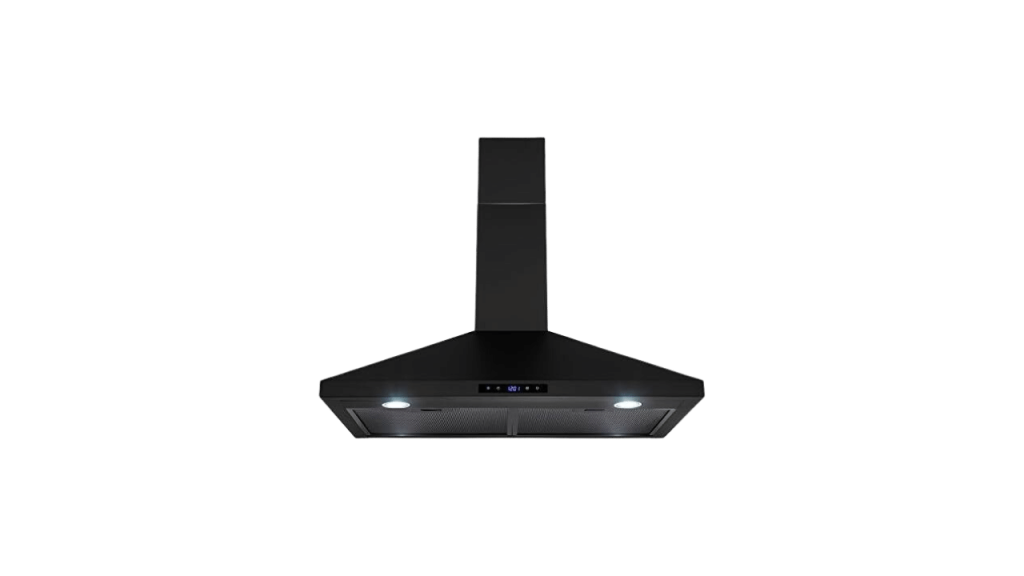 The telescopic chimney on the Golden Vantage wall-mount stainless steel range hood is one of its most distinctive features. It not only looks great but it also pulls away from the smell and fumes.
The touch panel allows you to see multiple options, such as a timer or 3-speed fan that can reach 400 CFM. The manual comes with it and is easy to install. Easy cleaning is possible because most wall mount range hood components are dishwasher-friendly. A carbon filter kit for ductless recirculating systems is also available. It will be sold separately.
This stainless steel range hood is finished in black and comes with a motor and a 3-speed fan. It ensures durability and quiet cooking. You can choose from ductless or vent-out carbon filters. The gradual speed intensity adjusts the airflow to meet your needs.
The range hood Golden Vantage has powerful LED lighting for extra visibility and a touch control panel with a backlit screen. It is very practical to keep the digital clock handy in the kitchen.
The professional range hood's mesh filter is dishwasher-safe so that you can get rid of any grease or smoke stains. This ensures perfect airflow and efficient ventilation throughout the kitchen.
8. AKDY Convertible Kitchen Wall Mount Range Hood
The AKDY range hood is equipped with a powerful motor, but it has been designed to be quiet and long-lasting. These factors will make the AKDY range hood the perfect choice for your kitchen. A three-speed setting allows you to choose a fan speed that matches your current activities.
The sensitive touch control makes it easy to use. It's easy to use, thanks to the finger-tip control. This is a smart, fast-acting kitchen exhaust that's also known for being one of the most highly rated wall-mounted range hoods.
Premium stainless steel baffle filters last longer than regular ones. They trap grease and draw in the smelly air. The filters can be easily washed with a dishwasher.
The AKDY wall-mount range hood will give you a clean kitchen and range hood. The tempered glass canopy adds style to the kitchen and keeps out dirt and dust.
9. Cosmo 63190 36 in. Wall Mount Range Hood
Cosmo 63190 wall mount range hood is a stylish choice that creates a statement while also offering standard air clearing capabilities within budget. The Cosmo 63190 has a suction power rating of 380 CFM. This rating is sufficient to eliminate harmful pollutants from a kitchen. The maximum noise level has been maintained at 65dB, which is not very loud but could be noticed if you have high settings.
Cosmo 63190 has permanent filters that you can use and don't have to replace. They can be maintained by regular cleaning after they have captured grease and other elements. High-quality stainless steel material is used to make the filters.
They are durable and functional. The push-button controls allow you to control the power and the three speeds. These buttons also have illumination that allows you to use the controls in dark environments.
The LED lighting included in this kit is an excellent way to save energy in your kitchen. The LED lighting provides enough light to allow you to see the cooking spot in any dark environment.
10. HisoHu Wall Mount Range Hood
Another stainless-steel 30″ hood is available. It's efficient enough to clean your kitchen of all harmful particles and fumes. This will help you have healthier skin and better health. The hood features a 780 CFM airflow and a powerful motor. It also has 4-speed controls. Two 5-layer dishwasher-safe aluminum filters are included in the vent to effectively capture grease from your kitchen.
Its noise level is just 40dB at low airflow and 65dB when there is maximum airflow. The core noise reduction technology used in the low noise design provides an extremely quiet operation.
Two pcs of energy-saving LED lights are included with the purchase. They can be adjusted in brightness and have a delay shutoff feature that can be used to turn off the unit for up to 15 minutes. This best wall mount range hood is compatible with both ductless and ducted installation.
11. FOTILE JQG7501.E 30″ Under Cabinet or Wall Mount Range Hood
This Fotile JQG7501.E 30 inch wall mount range hood comes from a company that has won many iF Design awards over many years. This range hood has a high steam output and is ideal for Asian cooking.
A powerful dual centrifugal fan system and a large fume inlet of 30deg allow for the extraction of up to 92% oil filtration rate. All features are made with a premium black color. You can use it as a decorative item in your kitchen.
Fotile's motors are not the only thing that makes it a great choice. There are many other features that will enhance your experience with the Fotile. You can choose from 3 fan speeds with touch screen control, screen lock, and time delay, as well as screen lock and screen locking.
This machine also comes with a 5-year warranty. They also offer professional installation services in 50 cities, which is great for those who are having difficulty setting it up.
12. Hauslane WM-538 Wall Mount Range Hood
Hauslane Chef Series range hoods are stylish, European-style range hoods in stainless steel. The 3-speed, 860-CFM rangehood is strong enough to power larger kitchens but is still quiet.
Permanent stainless steel filters (baffles) can be easily cleaned. Separate charcoal filters can be purchased for ductless installations. Hauslane's kitchen exhaust fan is ideal for high ceiling kitchens. It can reach 10-foot ceilings.
Do not settle for mismatched lighting. These energy-saving LED bulbs can be used to coordinate the lighting. To coordinate, simply swap out the range hood's base GU10 bulbs at your local hardware store.
This stainless-steel range hood makes it so simple to use. It's easy to adjust the temperature and turn it on/off using the buttonless touch panel. It only takes a quick wipe down to keep it clean.
There is no need to sacrifice on the best wall mount range hood for your kitchen to accommodate high ceilings. With our extension kit (sold separately), the stainless steel stove-hood will fit kitchens up to 10 feet tall.
13. Proline Range Hoods 36″ Wall Mount Range Hood
The PLFW 544 wall mount range hood is our most distinctive, with a tempered glass design. The PLFW 544 is only five inches high, and the chimney is not included. It produces 600 CFM. This range or vent hood can clean your kitchen air, no matter if you are a serious or casual cook.
There are six speeds, just like the 520 models. This gives you a lot more flexibility. This hood can heat up soups on low, or fry vegetables in your favorite Asian recipe.
Two stainless steel mesh filters catch grease and dirt before it reaches your hood. Your guests will not even notice that the hood is on. It has a noise level of just 4.5 sones, which matches our 520.
14. Proline Wall/Undercabinet Range Hood
It is common to believe that ductless range hoods can't perform as well as ducted ones. While ducts can improve the performance and stability of range hoods, the ability to use ductless range hoods is dependent on their manufacturer.
Proline was chosen for this model. This thing can be set to four different speeds depending on your specific situation. It has a maximum CFM rating of 1000. The stainless steel baffle filter does a great job at circulating the kitchen's grime at any speed rating.
The best wall mount range hood is silent and quiet, so it won't make a lot of noise in the kitchen. It can produce as little as 60 decibels at its maximum speed setting. This is a sign of a well-maintained kitchen. This range hood is available in two configurations: wall-mounted and under a cabinet.
The control panel is also a great feature. It's located just below the hood's rim, and the pushbuttons make it easy to use without blocking your cooking area. The included LED lights are an essential part of any wall mount range hood. The heat lamp sockets included in the package are undoubtedly a highlight. They will make your cooking process much easier.
15. Cosmo COS-63190S 36 in. Wall Mount Range Hood
Cosmo will do anything to provide you with new products and services. Cosmo has combined style, size, and intricate features to create the best wall mount range hood. The range hood has a canopy design with modern digital touches.
There are two sizes available for this product. The shorter one measures 30 inches while the larger one measures 36 inches. You get what you choose. You get the same price, but with subtle differences in performance.
This product has a tempered glass visor and a digital touch. Cosmo COS-63190S has a canopy design. This allows you to quickly capture and expel smoke and other odors from your kitchen.
Filters are easy to clean. Filters are also made of extremely durable material so you don't have to worry about ordering new filters anytime soon. The main feature is the 3-speed motor. This motor will allow you to cook in a smoke-free kitchen.
16. Cosmo 63175 30 in. Wall Mount Range Hood
This wall-mounted range hood is modern and European in design. It can clean all types of smoke, odors, steam, heat, grease, and other contaminants from your kitchen.
You will need one of these wall mount range hoods if your open kitchen is large enough to cover your range. This will ensure that you don't have any cooking repercussions on the rest of the family.
The maximum airflow for this range hood is 760 cu. The range hood can produce a maximum airflow of 760-cu.ft. per hour, but it makes only 65 decibels. This range hood measures only 6-inches in length and can fit any small kitchen.
Permanent stainless steel filters can be easily washed in running water using a brush and soap. You won't need to replace them ever again. Two matching filters are placed side-by-side to trap in all odors and smoke. The front buttons are easy to reach and allow you to adjust the airflow, activate the overhead LED light for cooking, or turn on/off the range hood.
17. Cosmo COS-668AS750 30 in. Wall Mount Range Hood
Every electronic appliance has the potential to overheat or get overcharged. This is especially true for heavy-duty appliances like the kitchen exhaust fan. The Cosmo 668AS750 wall-mounted range hood will ensure that you don't run this risk. The modern wall-mounted range hood features a timer that allows you to turn off the hood when it is not in use.
When you are looking for a kitchen appliance, premium materials and construction should be on your mind. Cosmos wall mount's structure is what makes the range hood last longer.
It is tuned with high-end materials and features advanced engineering such as a multi-speed setting that allows for quieter operation at higher speeds. The versatile filtering allows you to choose between ductless and ducted. It is up to you whether or not you want to make holes in the wall.
Its digital electronic control is the industry's best design. This allows for an enhanced look and reduced operating effort. The moderate motor, which has a maximum airflow of 380 CFM, will match any medium-sized kitchen.
18. GASLAND Chef PR30BP Black Wall Mount Range Hood
GASLANDChef PR30BP, a black beauty known as GASLANDChef, is a wall-mounted style range hood with a chimney-style kitchen benefit and a quiet motor.
GASLAND Chef PR30BP includes a 2-part chimney. It is adjustable and will fit ceilings below 10 feet. The controls are easy to use and can be accessed via a push button. This device has a high power extraction rate. GASLANDChef PR30BP comes with 2 LED lighting fixtures of 2W, which are both energy-efficient and bright enough to illuminate your cooking space.
This range hood also includes 5-layer aluminum mesh filters. There is three total. They are easy to clean and maintain. The motor is powerful and makes very little noise, even at high settings. There are three fan speeds to choose from, and you can select the one that suits your cooking needs.
19. Mueller Deluxe 36″ High Air Flow Modern Eurocentric Style Wall Mount Range Hood
Mueller's exemplary, classy and elegant hood will fit right in any modern kitchen. It will impress all. The 36″ hood is highly efficient thanks to the 775 CFM airflow. This prevents greasy buildup and heat.
The option of either recirculation or ducted operation removes or filters out all pollutants and harmful gases. The hood has a 3-layer aluminum charcoal grease filter and Teflon-coated blades. It offers a 1300-meter cube an hour airflow.
This hood features 5-speed electronic LED sliding touch sensor control with LED lights and is available in beautiful satin finishes and black tempered glass. You will enjoy quiet cooking thanks to the low noise level at the maximum speed of 60dB.
20. AKDY 30″ Wall Mount Range Hood
It is an efficient and modern wall-mount range hood that will suit any cook, novice, or professional. You can choose from ductless or ducted versions.
Akdy RH0427 30″ range hood is suitable for commercial use. The motor is powerful and has a 217 CFM airflow. This will ensure that your kitchen does not smell bad.
Filters are designed to be easy to clean and use every day. The package includes carbon filters that can be used for ventless installation. The range hood can be used throughout the year.
A machine with a fan speed of 3 and a digital control panel is an excellent option for 8 to 8.5 pt. Ceiling fitting. This product does not include an extension chimney kit to fit on the higher floors.
Wall Mount Range Hood Installation
Frequently Asked Questions
1. Do I have to check the building codes of my city before purchasing a range hood for my home?
Yes. You, your contractor, and your kitchen designer should check your city's codes. The range hood is a type of ventilation system that can pose a danger to your safety. Although most building codes do not require the installation of a range hood, there may be rare situations when it is necessary. You may need to follow certain requirements if you decide to install a range-hood.
2. What is CFM and why should I consider it?
CFM is cubic feet per minute. It is a measure of the airflow speed of your range hood. CFM is a measure of the airflow speed at which your range hood can filter out food particles.
3. What is makeup air, and why might I need it with a high-performance range hood?
Although it is a complicated HVAC issue, for example, a hood that has a 600-900 CMF and uses high BTU ranges will require a makeup air system. The makeup air is what makes up the difference between the indoor and outdoor air being drawn out of your house through the hood. When your range hood pulls large amounts of air from your home while you cook, a motorized damper will turn on to bring fresh air in.
4. What is the time required to install a wall-mounted range hood?
Anyone who is familiar with DIY projects of this scale will not have to spend too much time on such installations. It should usually take between 2 and 3 hours. This requires knowledge of technical details. For such fast and efficient installations, some homeowners prefer to hire a professional.
5. What does Convertible mean?
Convertible refers to duct in its most basic form. This means there are many ducting options for the wall mount range hood that you are considering. With such hoods, you can use them both with ducted or non-ducted ducting. The hood usually comes with all the parts you need. Most manufacturers do not include carbon filters. This means that you might need to purchase carbon filters separately.
Conclusion
You will see a hood covering every kitchen in every house you visit. This is a valid reason. A kitchen hood is essential for open-plan homes. Without it, the entire house will be filled with heat and smoke when you cook. Your entire home will stay odorless and smoke-free if you have a range hood that is placed directly above your stove.
The performance of a range-hood is not affected by its location. However, size and aesthetics are important factors in choosing a high-quality appliance such as a kitchen range hood. We have chosen the best wall mount range hood and reviewed.
Every single wall-mounted range hood is the best, regardless of whether it comes from a well-respected brand, for product quality, or customer satisfaction. A clean, fresh, and hygienic kitchen are essential.