The hood's main function is to collect fat, unhealthy smoke, moisture, and other particles that can be generated by cooking or food processing. You will want to be familiar with the various styles and features of range hoods, but it is also important to understand the technical aspects of the best wood range hoods.
The hood is essential for any kitchen because it improves air circulation. It can be difficult to choose the right hood material for your kitchen. This is because it is often the focal point of the design. It is important that you are aware of all the options and styles available for your kitchen.
The wood range hoods add elegance to any space. They provide light to your cooktop as well as venting moisture, grease, and odor. They also complement the design and style of your kitchen cabinets. The best wood range hoods are available in two styles: wall-mount and cabinet-mount. Both require a ventilation insert.
What's the Difference Between Wooden Range Hoods and Metal Range Hoods?
Wooden Range Hoods
You can mount your wooden range hoods on the wall or cabinet, and they will integrate seamlessly into your cabinetry. This creates a stunning focal point for your kitchen. Wood range hoods are more customizable than metal range hoods, whose motors are already fully integrated into the exterior. Each wood range hood must be painted or stained to match your cabinetry.
Each exhaust fan, motor assembly, and wooden exterior liner can be chosen separately. Wood range hoods for cabinet-mount are attached to two upper wall-mounted cabinets on the left and right. Cabinet-mount exhaust range hoods can be customized to fit into your upper cabinets.
Metal Range Hoods
Metal range hoods can be made from metal and are custom-made to meet the needs of each buyer. They can be both modern and antique looking and are available in many designs to match any style or decor. Because they can be used for discount furnishing, island metal range hoods are popular for traditional and contemporary kitchens. There are many range hoods made from metal, such as copper, zinc, or aluminum.
Metal range hoods are more durable than wooden ranges hoods because they require less maintenance. They come pre-integrated with the exterior motor mechanism, unlike wood range hoods. Metal range hoods can be easily matched to your interior decor, without needing to stain or paint.
List Of 5 Best Wood Range Hood Reviews
1. ZLINE 30 in. 400 CFM Designer Series Wooden Wall Mount Range Hood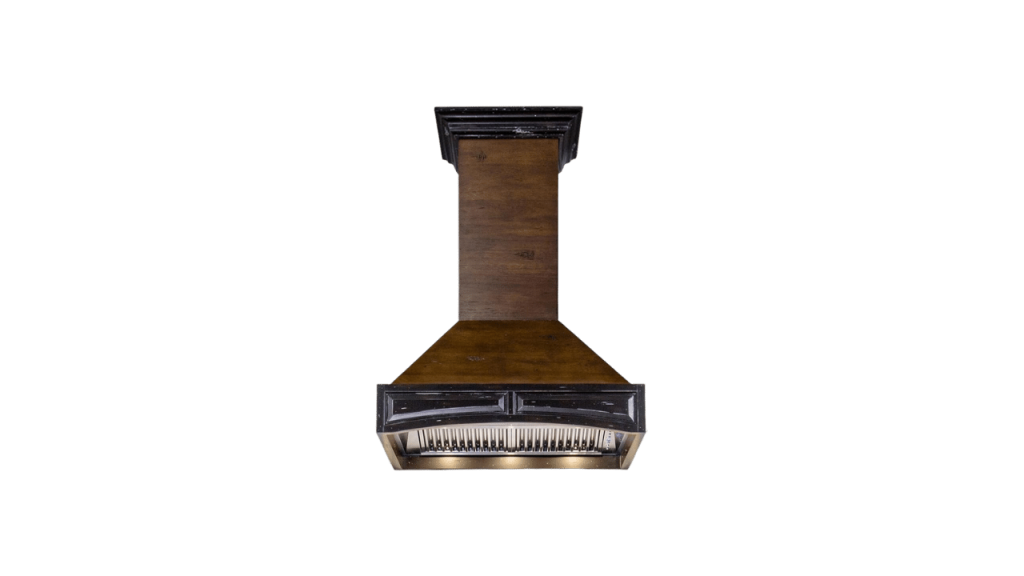 The ZLine Designer Series wood range hood is a great addition to any kitchen. It can be used to expel smoke, fumes, and odors. The wood shell is made from solid birch and has a distressed finish.
The band and crown look stunning and are very distinctive. The Zline wood range hood features four fan speeds. The highest setting is 400cfm. The hood features push-button controls as well as stainless steel baffle filters.
The range hood features a quiet, high-performance motor that is powerful and modern. Includes 4-speed push-button fan control, built-in lighting, dishwasher safe filters, and a manufacturer's warranty.
2. Castlewood Rustic Shiplap Chimney Range Hood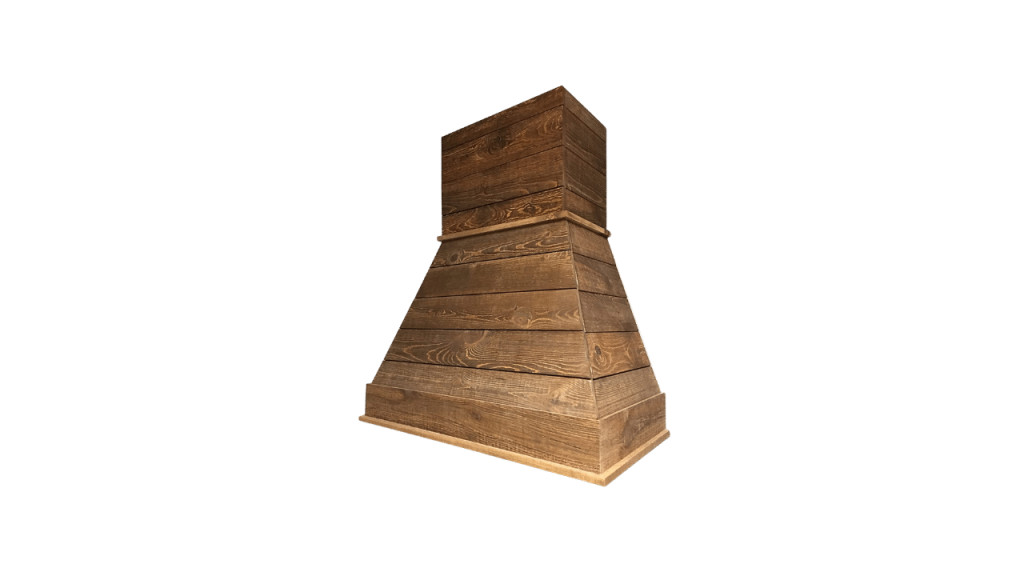 Rustic shiplap is a popular interior design trend. Castlewood's SYWCSLR-BR Brown Rustic Shippinglap Range Hood has a shiplap appearance and construction. It is ready for painting or staining. This design is made from weathered spruce plans and pre-finished using a Sherwin Williams water-based stain.
Rustic Shiplap Range Hood has been featured on many popular DIY TV shows and is available at a fraction of the cost. Each Shiplap Hood is handcrafted in the south of the United States and will be the focal point of your kitchen. This configuration includes the Range Hood shell and ventilator as well as the liner.
3. ZLINE 36 in. 400 CFM Designer Series Wooden Wall Mount Range Hood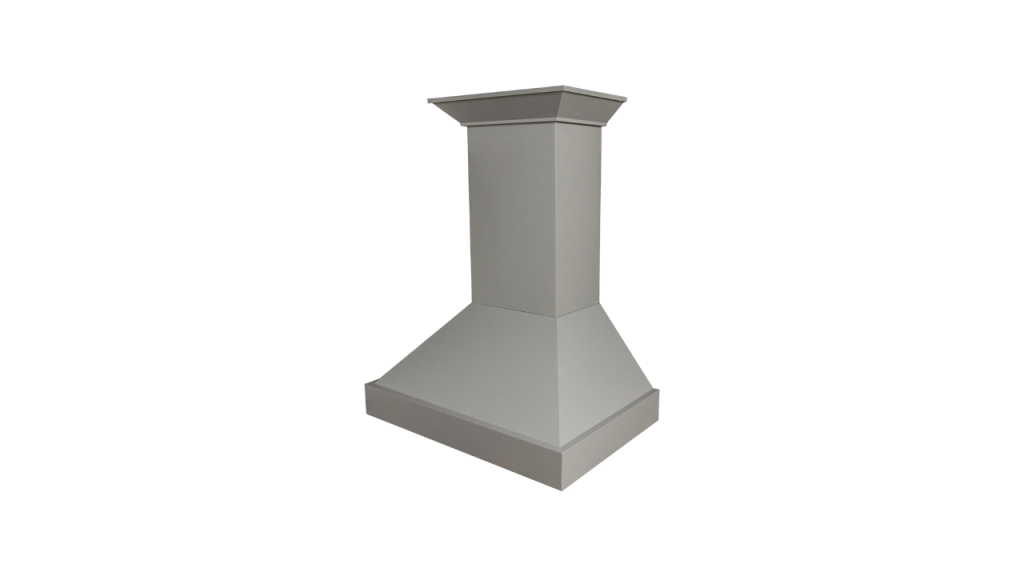 ZLINE KBUU 36 is a 36-wall mount wooden range hood that features the industry's best lifetime warranty motor. It is hand-finished with painted gray paneling and base and made from solid pine and a stainless steel inner-frame. This makes it durable and long-lasting.
ZLINE guarantees that the range hood will last a lifetime thanks to its durable construction and lifetime warranty on the motor. The classic wooden hood features many modern features such as Dishwasher-safe stainless-steel baffle filters; LED lighting; a 4-speed motor that produces 400 CFM.
The ZLINE range of hoods comes with everything you need to install and use them, including a crown-molded 24-inch chimney. The hood can fit ceilings up to 9 feet high, but the chimney can be cut to fit ceilings with lower ceilings. ZLINE is the industry leader for wooden range hoods. They stand behind the quality and durability of their wooden range hoods.
4. ZLINE 36 in. Wooden Wall Mount Range Hood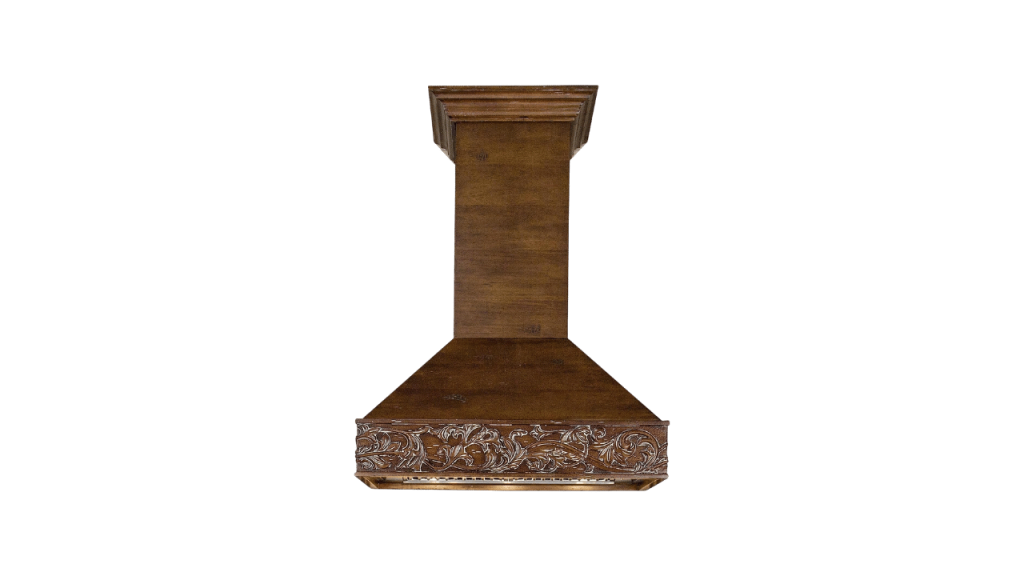 The hood's 4-speed motor is powerful enough to ventilate your kitchen quietly and efficiently while you cook. This hood will provide years of enjoyment with modern features such as built-in lighting, dishwasher-safe stainless-steel baffle filters, and easy cleaning.
ZLINE Hoods have the easiest installation in the industry and are ETL listed. Included is a 24 in. Elegant crown molding on the chimney for ceilings up to 9.5 ft. (must have custom cut to the appropriate height). For ceilings above 12.5 feet, ZLINE offers a chimney extension.
5. ZLINE 365BB-30 Shiplap Wooden Wall Range Hood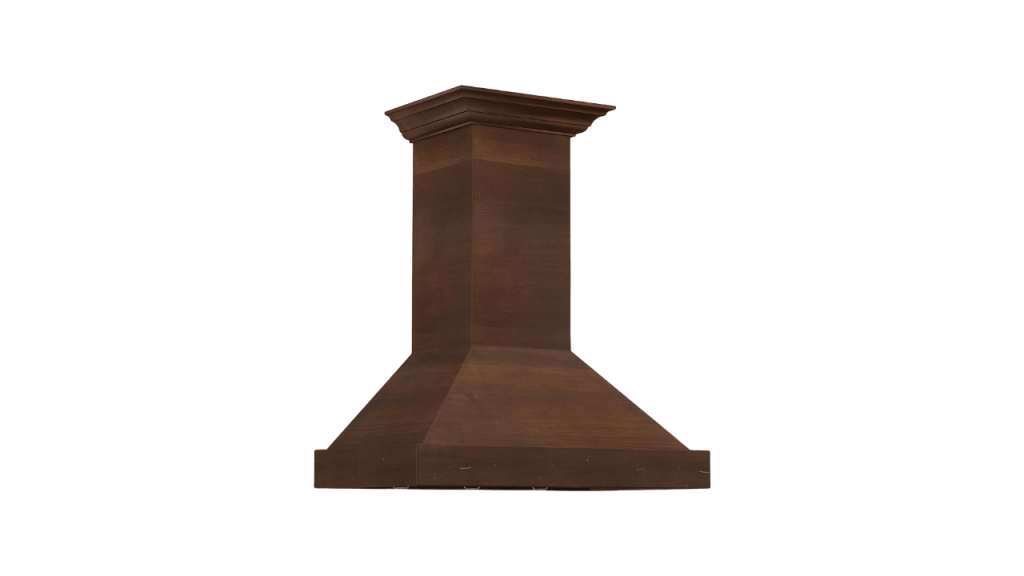 The hood's 4-speed motor is powerful enough to ventilate your kitchen efficiently and quietly while you cook. This hood will provide years of enjoyment with modern features such as built-in lighting, dishwasher-safe stainless-steel baffle filters, and easy cleaning. ZLINE Hoods have one of the most simple installations in the industry and are ETL listed.
Buying Guide for the Best Wood Range Hood
Type of Wood
It is important to choose the right material for the construction. This will not only enhance the aesthetic appeal of your kitchen but also increases its functionality of the kitchen. Cherry, red oak and hard maple are the best woods to use for a wood range hood. They can be finished with the right finish to give your kitchen a stylish look that will enhance your kitchen's aesthetic appeal.
Durability
Metal range hoods made from stainless steel and other metals are more durable than wood range hoods and also cost-effective. A high-end wood range hood with premium hardwood material will cost you more. Wood range hoods are difficult to clean and require a variety of finishes.
Hood Designs
Knowing the range hood options available for your kitchen is crucial as they will affect the appearance of your kitchen. There are many styles and designs to choose from for both metal and wood range hoods. They can be customized to fit your kitchen's style. The versatility of metal range hoods is unmatched. They can be made into a variety of shapes and sizes.
Exhaust Fans and Motors
Wood range hoods can be ordered separately from hood liners in most cases. A professional kitchen designer may be able to help you select the best motor or exhaust fan for the range hood. Metal range hoods come standard with integrated motors and exhaust fans, so you don't have to order them separately. The size of your exhaust fan will depend on the size of your range top, your cooking needs, and the space in your kitchen.
Kitchen range hoods are popular for their functionality, aesthetics, and convenience. These hoods not only remove harmful odors and unhealthy smoke from your kitchen but also act as a focal point that reflects your lifestyle and personality.
Conclusion
Manufacturers of range hoods have very specific height requirements. The majority of range hoods can be installed 20-24 inches above the cooktop. If it's a gas stove, the height requirement is 25-30″.
If you can find a wood vent fan that is slightly larger than your cooking surface, it is even better. You don't want to buy a wood range hood that is too small for your range. It won't catch all the cooking fumes.
A wood range hood is a great way for your kitchen to stand out with a beautiful and unique look. A wooden range hood is a unique option, especially since most kitchen hoods today are made of stainless steel. The best wood range hoods can be matched with your kitchen cabinets better.