Whether you want to pick up a design hobby or do something special for your family, friends or workmates, you need to find an inexpensive way of putting images or text on fabrics. Luckily, you do not have to invest in complicated and pricey equipment for doing different projects. If you buy the best iron-on transfer paper, all you need is a typical inkjet or laser printer and just a household iron to get stunning results that last long.
Heat Transfer Paper vs. Heat Transfer Vinyl
A printable heat transfer vinyl offers more advantages but at a steeper cost when compared to the best iron-on transfer paper. For starters, you need specialized printers for transferring images onto the printable vinyl then cutting it precisely. Next, if you want your designs to be perfect, you will need a heat press machine.
On the other hand, the durability of the designs made from a heat transfer vinyl makes up for the high costs of using the method. The printed image may outlast the fabric in some cases, and you will not see the fading or cracking typical of heat transfer papers.
If you want to do a low-cost project, you need to focus on getting a product that works with your current tools. Find the best iron-on transfer paper from our carefully curated list. Plus, we break down the key considerations to make before buying one.
5 Best Iron-on Transfer Papers
1. Avery Printable Heat Transfer Paper for Dark Fabrics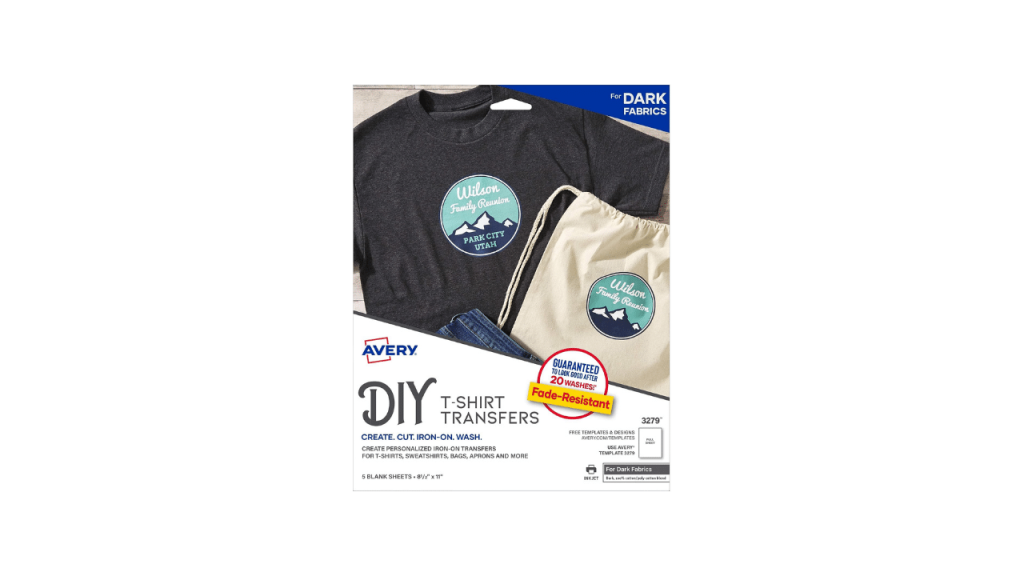 The Avery Printable Iron-On Transfer is the best heat transfer paper for dark-colored fabrics, especially pure cotton blends. If you are new to the printing craft, this product is ideal for learning the ropes. You can visit the manufacturer's official website to get designs, templates and inspiration for your project.
You do not need a heat press machine to transfer designs to the fabric flawlessly. Get your household iron and follow the instructions to create permanent designs that will last through several washes. Plus, the images are transferred completely, with no cracking.
Pros
The heat transfer papers are reusable.
Easy to use.
The standard paper of 8.5 by 11 inches is large enough for numerous designs.
You can transfer images on dark shirts with no cracks.
The paper is easy to cut by hand, so no specialized cutter is required.
The iron-on transfer paper is compatible with many printers and inks.
The manufacturer's website offers free customizable templates.
Cons
The ink can get smugged while cutting it.
Only works with inkjet printers.
2. PPD Inkjet Premium Iron-On Dark T-Shirt Transfer Paper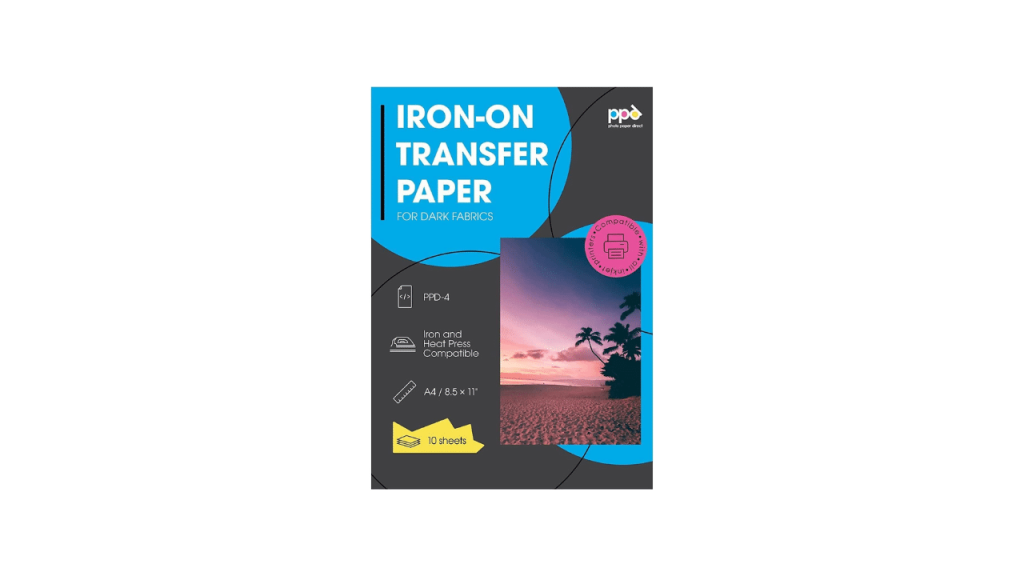 The Photo Paper Direct (PPD) Premium Iron-On Dark T-Shirt Transfer Paper creates durable designs that are stretchable and machine washable. Whether you have a heat press machine or your home iron, you can transfer images, text, clip art, and messages on dark t-shirts easily. Any inkjet printer will have no problem working with these transfer sheets. Plus, you can use standard, dye-based or pigmented inks with the product.
If you want to get professional results, PPD is the product for you. The manufacturing process of these transfer papers includes a formulation for ensuring flexibility, softness and crack-free use. Plus, you can go through the detailed instructions or go to the linked video to learn more about using it.
Pros
The transfer paper provides a matte finish.
It is compatible with most inkjet printers and any printer ink.
Instructions provided with the transfer papers are detailed.
Images are soft and have no cracks.
You do not need a specialized machine for cutting as you can use your hand.
The heat transfer paper works with numerous fabrics.
Cons
Only works with inkjet printers.
Using an iron may cause the images to have spots.
The smell emitted when applying is off-putting.
3. Neenah Iron-On Heat Transfer Paper 3G Jet Opaque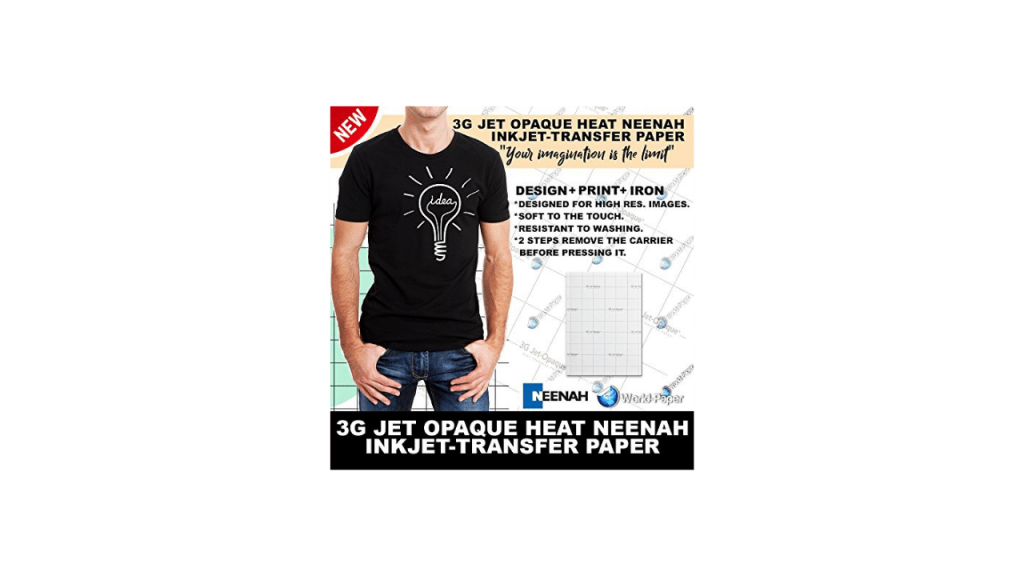 If you have a large project to work on and will likely use dark and light-colored fabrics, the Neenah Iron-On Paper is a reliable choice. The product comes in 11 by 17-inch opaque transfer sheets guaranteed to fit most images and designs. Plus, using a bigger piece of paper could mean saving time by printing on one large piece, then cutting it up for the different clothes.
Although this transfer paper was made for commercial uses, the detailed transferring instructions will help any beginner. Additionally, the product comes with 50 sheets to ensure you finish your project without another trip to the store.
Pros
It works with both dark colors, lighter-colored fabrics and white material as well.
It is a recommended buy for people handling large projects
Images transferred are sharp.
Cons
The prints do not last as long as most transfer papers.
4. Avery T-Shirt Clear Transfer Sheets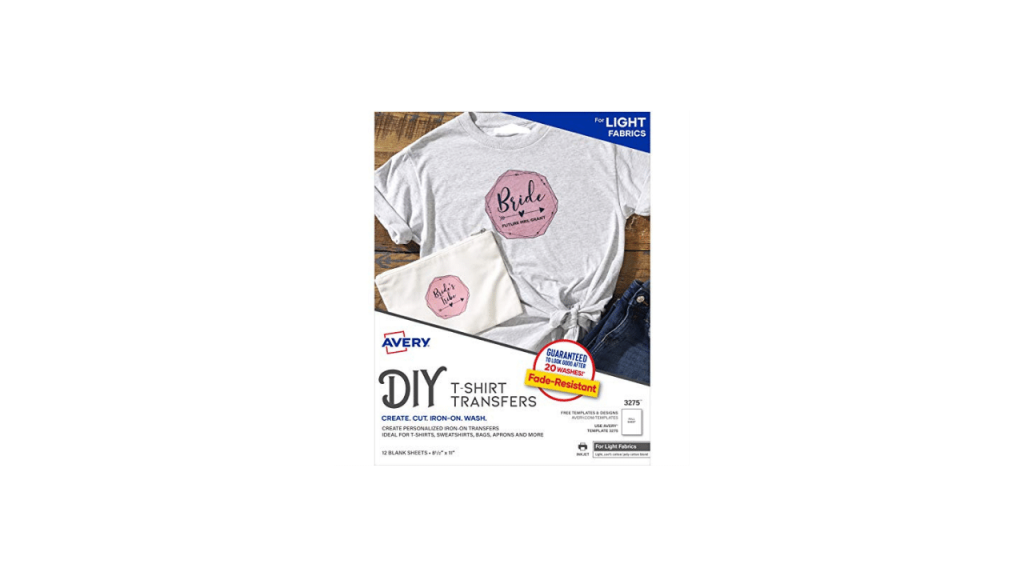 The Color Shield formula used in the Avery T-Shirt Clear Transfer Sheets is a game-changer for working with light-colored fabrics. If you want vibrant colors that still retain their sharpness after numerous washes, this product should be at the top of your list.
There is no need to buy any other equipment for the transfer paper to work. Most inkjet printers will print with these papers, and you can apply it on different fabrics like cotton, polyester and the various blends in-between.
Pros
Each bundle comes with 18 sheets.
You can find designs and templates on the Avery website.
The heat transfer paper works well with polyester, cotton and their various blends.
Cons
Only works with inkjet printers.
5. Epson Iron-On Cool Peel Transfer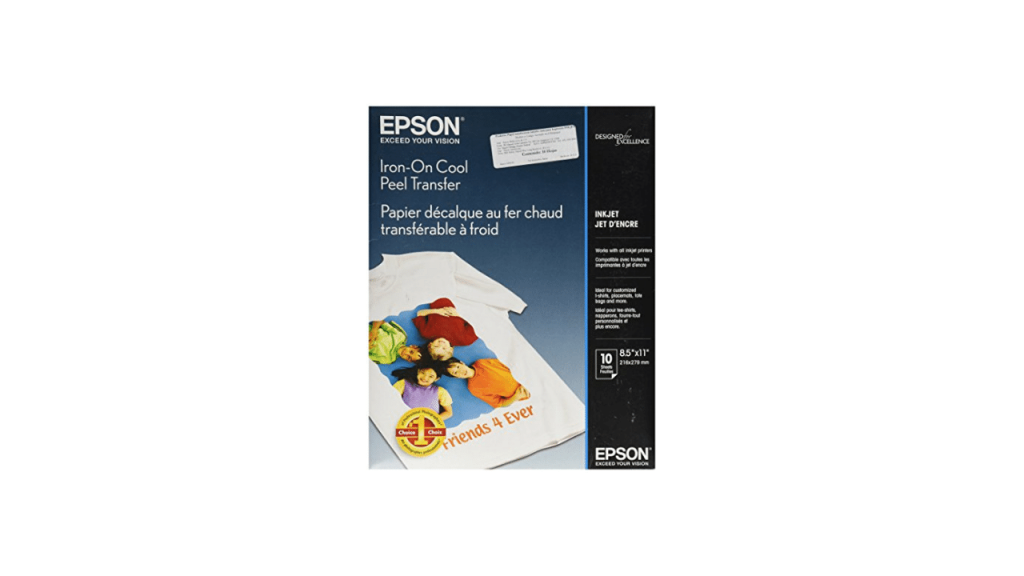 The Epson Iron-On Cool Peel Transfer is another terrific product for those who recently started to dabble in printing crafts. Each bundle comes with ten transfer sheets that work well with the typical household iron. Plus, the transfer papers are excellent when it comes to simple logos, text and basic designs.
The best part about the Epson transfer sheets is that you can peel off the paper after the cloth has had enough time to cool off. If you are familiarizing yourself with the nitty-gritty, avoiding high temperatures will help settle the nerves.
Pros
The product features iron-on cool peel transfer.
It works brilliantly with different types of fabrics.
The standard size of the sheets is 8.5 by 11 inches.
It comes at a relatively low cost.
Cons
The transfer paper is not ideal for stretching fabric as the images may crack.
The images peel off quickly.
Consider the Following When Buying Iron-On Transfer Papers
a). The Project
Your project may involve working with t-shirts, leather bags, glass or wood for creating rustic designs. Some surfaces are much more challenging to handle when you want to transfer images. Plus, even the best iron-on transfer paper could be limited to fabrics.
b). Printer Type Available
Unlike a heat transfer vinyl that comes in rolls that require a special printer, heat transfer papers come in sheets of varying sizes that can fit in a normal printer. Nevertheless, if you want to use the latter, you need to figure out its compatibility with your home printer.
Inkjet printers are the most popular and effective option when using heat transfer papers because of their compatibility. Additionally, an inkjet printer is much cheaper and smaller than other devices. Thus, you can remain within your budget for the project without worrying that it will take plenty of space on your workstation.
Laser printers have the advantage of creating high-quality images while maintaining a low cost for individual printouts. Still, these units are quite expensive to buy if your sole purpose is doing a DIY design project. Plus, laser printers suffer from compatibility issues with heat transfer papers.
c). Type and Color of the Fabric
A heat transfer paper can be made for either light or dark fabrics. Consequently, if your project involves working with brightly colored t-shirts, you need to find a product that is designed for that. You can still find multicolored heat transfer papers that can work with garments, regardless of their color.
Light-colored variations have a transparent polymer layer that ensures images retain their vibrancy and color when transferred onto the light fabric. If you use them on dark fabric, the colors will be dull as the darker shade will overcome the prints.
On the other hand, dark-colored transfer papers have an opaque polymer layer that blocks the underlying color from showing through the images. For these cases, cutting is necessary to ensure you do not transfer the empty spaces onto the fabric. You can use your hand or get a vinyl cutter for more precision.
d). Size and Shape of the Heat Transfer Papers
The size of the designs and images you want to use will determine the heat transfer paper you should buy. The width of most products ranges from 8.5 to 12 inches while the length varies from 12 to 15 inches, but some manufacturers have larger ones. In any case, it is essential to get heat transfer papers that can fit in the printer you have at home. Otherwise, you may need to cut it up whenever you need to start printing.
e). Durability
A significant advantage of using heat transfer paper is its reusability. Assuming your project did not require you to cut the paper into pieces, you can wash it and use it again. However, not every manufacturer creates products that have this feature. Thus, you should also confirm before you buy one.
The durability of a heat transfer paper depends on whether it produces vibrant colors, how it feels when you touch it, the elasticity and resistance to washing, fading and cracking. Unfortunately, a heat transfer vinyl is much more reliable when it comes to these qualities. Still, good-quality transfer papers can produce longer-lasting images.
Some products will not last long if you use a washing machine to clean the fabrics. The images may peel off, fade or start cracking after several washes. Hence, it would be best to focus on a few brands that guarantee the durability of your transfer designs.
Frequently Asked Questions (FAQs) on Iron-On Transfer Papers
1. What is the best iron-on transfer paper?
The best iron-on transfer paper is the Avery Printable Iron-On Transfer. The product is well known for the quality it offers while remaining affordable. You can get professional results when you use polyester, cotton and other fabric blends. As for durability, the Color Shield Formula used for the papers ensures the prints remain vibrant for longer.
2. Can you use a regular printer to print iron-on transfers?
Iron-on transfer paper typically works with inkjet printers and laser printers. You do not need to get extra equipment to work with the products. However, ensure you buy iron-on transfer sheets that are compatible with the printer you have at home.
3. Do iron-on transfers wash off?
If you are careful when handling your fabrics after printing, you can ensure the designs last longer. For starters, handwashing can cause peeling and cracking. It helps to turn the fabric inside-out then use a washing machine. Plus, you should not use hot water for the clothes as it may damage the designs.
4. How long does iron-on transfer last?
Typically, you can wash the fabric about 7 to 10 times before you start seeing signs of wear on the designs. However, if you get a heat press machine, you could increase the longevity of the images to about 15 washes. If you are interested in something that lasts much longer than that, a heat transfer vinyl will not disappoint you.