Disposing documents responsibly, both personal and business papers, is something we should all take very seriously. It's important to ensure our confidential documents do not land in the hands of unwanted persons, which is why it's extremely important to have a micro-cut shredder. The best micro-cut shredder typically gives you a greater security level, higher paper capacity and faster turnaround time.
Choosing your ideal paper shredder can be a daunting process, mostly from the overwhelming number of options you'll be confronted with. For this reason, we have compiled a comprehensive guide to help you find the perfect one. Here are the 5 best paper shredders you can consider:
1. Best Overall: AmazonBasics 6-Sheet Micro-Cut Paper Shredder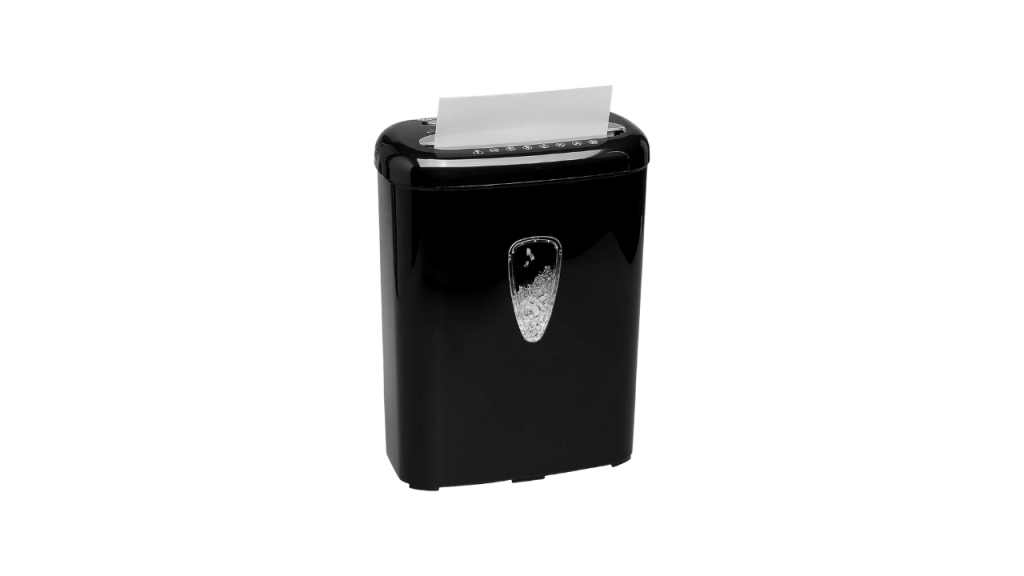 The best micro-cut shredder, whether for office or home use, is arguably the Amazon Basics. It an affordable and lightweight option that can cut six sheets at a time. This paper shredder features a thermal protection system that turns the machine off automatically before it overheats; this also protects the motor from heat damage.
It features 3 power modes – reverse, off and auto button. The auto mode is especially handy when you want the machine to operate automatically. Plus, it has an impressive runtime of 3 minutes, enough to get the usual jobs done. And it also comes with the auto shut-off feature for extra safety.
Its waste bin can hold up to 4.1 gallons of shredded documents. And at 68dB noise level, the AmazonBasics 6-Sheet Micro-Cut Paper Shredder is not too loud to bother you or anyone around the room. It's available in black and backed by a 1-year warranty.
Pros
Thermal protection
Reverse function
Easy-to-empty bin
Multiple modes
User-friendly
Cons
Less sheet capacity
Slow operation
2. Best Safety: Aurora AU650MA 6-Sheets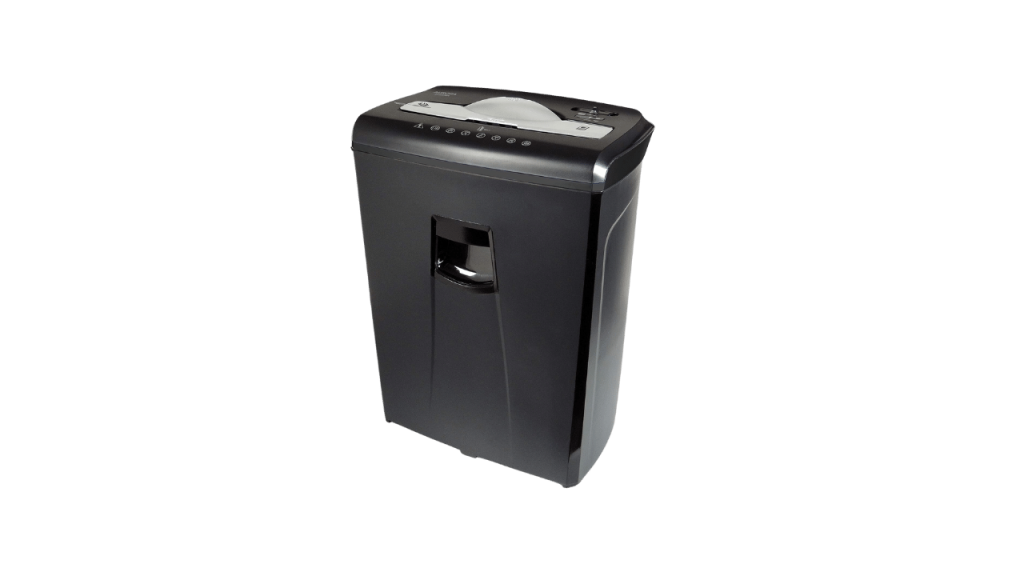 If you want a multipurpose micro-cut shredder that can shred CDs, paper clips, and credit cards on top of paper, then this is an excellent choice for you. It comes with a decent 6-sheet storage capacity, more than decent for its price. Furthermore, the wastebasket can hold up to 3.7 gallons of tiny particles.
The Aurora AU650MA comes with advanced safety features to prevent any injuries. Its shredding time is only 2 minutes, making it superb for people who won't use the unit regularly. The paper shredder also has thermal protection and an LED indicator option, including auto-start and auto-stop. More so, it's very easy to operate this machine.
This micro-cut shredder is available in black. It's backed by a 1-year warranty from the manufacturer. The AU650MA produces 60 dB of noise, making it one of the quieter paper shredders on the market.
Pros
Advanced safety feature
LED status indicators
p-4 security level
Easy to lift
Affordable
Cons
Low capacity wastebasket
Less running time
3. Best Run Time: Fellowes PowerShred 225Mi 16-Sheets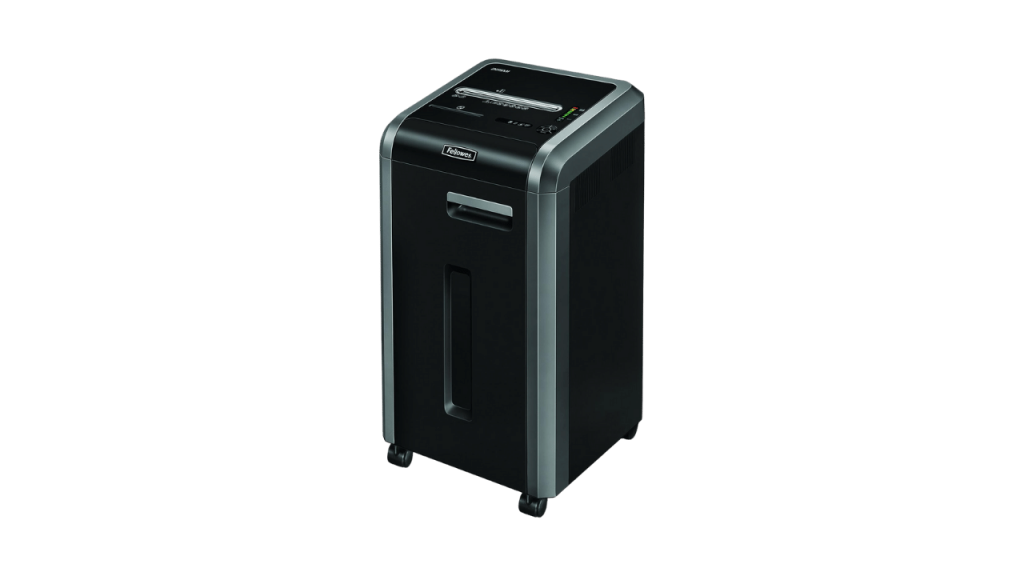 For people who want a sleeker design and quality performance, the Fellowes 225Mi is a perfect choice, coming in a stylish black body with 100% jam-proof capability. This micro-cut shredder offers a higher security tier, thanks to the P-5 system. Plus, this model doesn't have a runtime limit!
SafeSense technology is highly reliable at avoiding injury to your hands, including the auto shut-off. It also features energy-saving technology so at to consume less power. Just as noteworthy, its SilentShred technology helps to reduce the noise levels to a considerable 70 dB.
This micro-cut shredder comes with a 16-gallon removable wastebasket. It also features an LED indicator to show when the pull-out bin is full. The unit comes with a 7-year warranty on the cutter and a 2-year one on the machine.
Pros
SilentShred technology
Energy savings system
Continuous run time
100% jam proof
SafeSense Technology
Cons
Heavier than other shredders
Quite expensive
4. Best Heavy-Duty: Aurora AU820MA 8-Sheets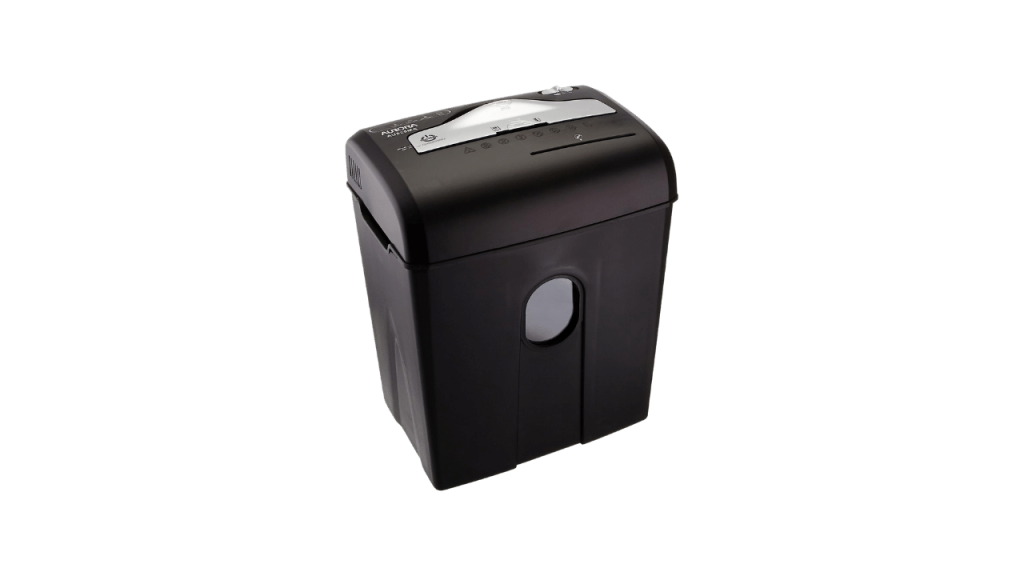 Aurora AU820MA is an excellent heavy-duty shredder, making it quite popular for its high security and quality performance. This machine is built for intensive tasks, ideal when you have piles and bulks of sensitive documents. Plus, it comes with a ShredSafe advanced technology to minimize the risk of accidents during long operations.
It features auto-shutdown technology to turn the machine off when it's not in use. This micro-cut shredder can cut up to eight sheets simultaneously. Its wastebasket takes up about 4.8 gallons of shredded papers. This shredding unit also sports a small LED to show the process status or any technical issues.
Even with a slightly less run time of 5 minutes, the AU820MA is certainly one of the best micro-cut paper shredders for heavy lifting. It comes with a 1-year warranty. But at 90 dB of noise level, we'll have to admit it can get somewhat loud.
Pros
Overheat protection
Maximum security
ShredSafe featureLED status
Autostart
5. Best for Home Use: Bonsaii 4S23 8-Sheets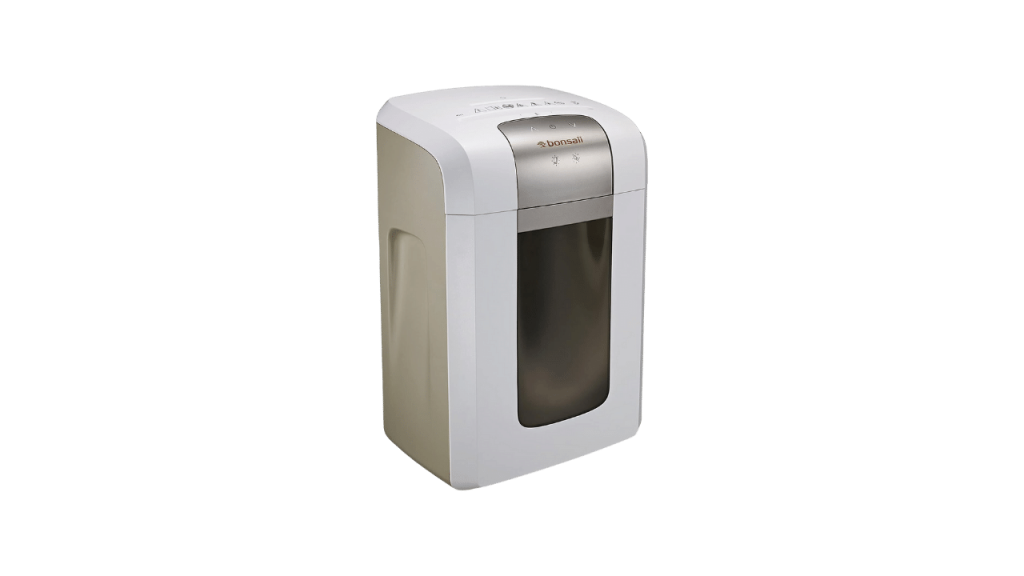 The Bonsaii 4S23 is the go-to product when you want to shred home-related stuff, such as papers, CDs, debit and credit cards. This excellent micro-cut shredder does a pretty neat job of cutting all these into very tiny particles. Furthermore, it features patented cutting technology for higher security, including stronger cutters to deliver better performance.
The paper shredder features an advanced cooling system to prevent overheating during prolonged continuous use, giving this machine a remarkable running time of 120 minutes. However, it's important to give the machine a 10-minute break between running times for smooth performance. Plus, you can always count the highly reliable shredding technology to do a cleaner, faster job.
Its pull-out wastebasket holds around 6 gallons, although you also get an additional 0.37-gallon bin. This micro-cut shredder produces only 58 dB of noise, pretty low even for home standards. Although it doesn't include the auto shut-off feature, it's still a great choice that's backed by a 3-year warranty.
Pros
Overload protection technology
Patented cutting technology
Advanced cooling system
Anti-jam function
Reliable
Cons
Bin can be hard to remove
Quite expensive
Factors to Consider in the Best Micro-Cut Shredder
1. Security Level
Generally, paper shredders come with around six security levels. The higher the security level, the more effective the shredder is at destroying the material. It's also important to get a high-security shredder to prevent potential thieves and frauds from rearranging the shredded material to obtain your information. Micro-cut paper shredders typically come with security level P-4, which is pretty considerable and capable.
2. Noise Level
Some paper shredders can be annoyingly noisy during operations -both to you and those around you, meaning you'll also have to consider the noise levels of your desired machine. It goes without saying you should opt for a paper shredder with as low noise levels as possible. That said, the vast majority of shredders featured on this guide have relatively quiet operations.
3. Sheet Capacity
This refers to the number of sheets a paper shredder can handle at one go. A higher sheet capacity means you can shred more paper simultaneously. Paper jams are probably the last thing you want to have to deal with. But before you look at sheet capacity, you should first consider your specific needs.
High sheet capacity shredders are more suited to regular heavy-duty use, whereas less sheet capacity suffices for less frequent use. It's worth keeping in mind shredders with higher sheet capacity tend to be more expensive than their counterparts.
4. Ease of Use
It definitely takes more effort to shred documents compared to just dumping them in the trash can. However, we all reckon that's not the safest and most responsible method of disposal. Therefore, if you're going to get a micro-cut shredder, choose one that's easy to operate, particularly if it's meant for office use.
5. Identify What It Can Shred
Most people are under the impression micro-cut shredders are used only for paper. There's an element of truth in this since several models can indeed handle paper only. But there are also other shredders designed for high capacity to handle materials such as credit cards and CDs.
6. Waste Basket
The wastebasket is an essential aspect to consider in a paper shredder. There are two common types of bins for micro-cut paper shredders:
Pull-out bins: are easy and straightforward to use and take out. These are ideal for large piles but also tend to be more expensive.
Lift-off bins: are notably cheaper and more suited to smaller piles. They can be somewhat more cumbersome to use.
While you're looking at the different kinds of wastebaskets, you'll also need to factor in bin capacity. If you intend to use your machine less frequently, maybe go for a small shredder and vice versa. Whatever the case may be, always choose the option that offers more space.
7. Shredder Speed
Despite most people not really focusing on shredding speed, it can be a critical factor in how efficient your micro-cut paper shredder is. Speed determines how long it takes to shred a whole sheet of paper, and it also varies depending on sheet size and sheet capacity. Nevertheless, the general rule of thumb is -the faster the shredding speed, the more work you can get done.
8. Continuous Run Time
More often than not, paper shredders don't come with exceedingly long runtimes. This is almost always fine since most people only use shredders for short durations. However, if you'll need to use the shredder for frequent and extended spans, you're better off going for a unit with a significantly longer runtime.
9. Warranty
The best micro-cut shredders from the top brands come backed up by decent warranties. It's always advisable to opt for a unit with a certified warranty so that you can use your shredder without worrying too much about damage and knowing you're covered in case it happens.
If you choose a paper shredder without a warranty, ensure you check, double-check, then triple-check its quality and performance.
10. Safety
If you're going to use a shredder in an environment with kids and pets, safety features should be paramount. The best paper shredders come with an auto shut-off feature, allowing the unit to shut down immediately it detects fingers. This can also extend to looking out for a narrow shredding slot to minimize such risks.
You can also look out for an overheating sensor. This allows the shredder to detect when it's operating beyond capacity and then shut down on its own to avoid overheating.
Frequently Asked Questions (FAQs) on Micro-Cut Paper Shredders
1. Which one is better: micro-cut or cross-cut paper shredder?
If security is your biggest concern, then you're much more secure using micro-cut shredders than cross-cut shredders. A cross-cut shredder cuts relatively bigger chunks of paper that could be easier to rearrange. However, they're also cheaper than micro-cut shredders, which is something you can consider.
2. After how long should I oil my paper shredder?
Oiling is the only way to keep your paper shredder running smoothly. Otherwise, paper dust can easily get stuck in the shredder leading to frequent paper jams. Experts recommend oiling your shredder after a few hours or cumulative shredding time to maintain its quality and performance.
3. How long does a micro-cut paper shredder last?
The best paper shredder should, as a standard, last up to ten years. If you maintain it properly, it should last much longer, although this also depends on usage. Avoid bulky documents and paper jams if you really want to extract the most lifespan out of your micro-cut paper shredder.