When you start shopping for the best mug press machines, this is when you realize that these heat press machines are not as straightforward as you may think, and the best for business may differ from the ones for casual use. The best mug press machine should be able to produce remarkable imprints on your mugs and sometimes on T-shirts or plates, and they make the process such a breeze.
If you would like to give the best mug press machines a try, we have rounded up the best mug heat press machines in the market with their pros and cons. The article also includes a detailed buying guide to help you make an informed decision.
1. Cricut Mug Press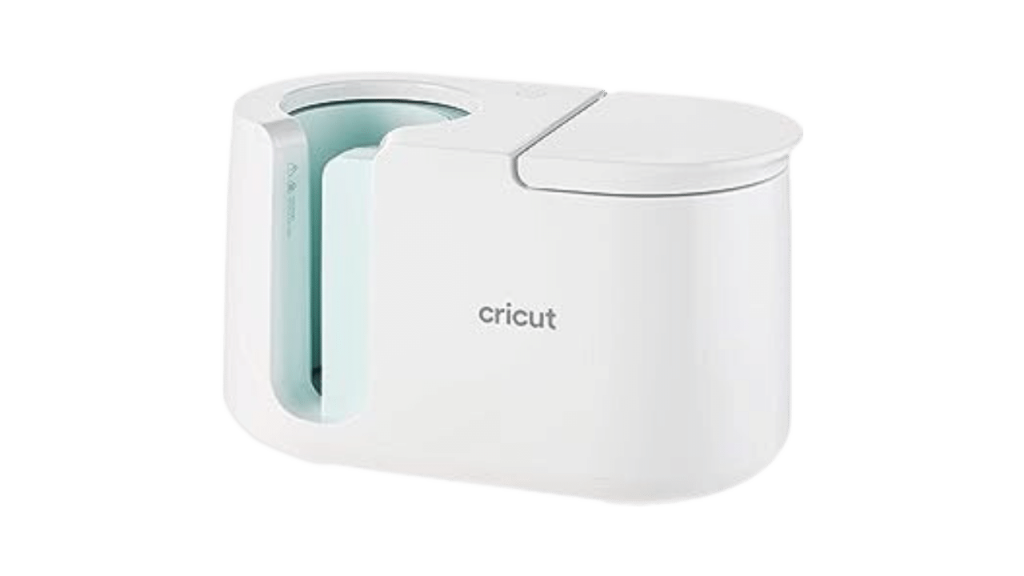 Cricut Mug Press is the best mug printing machine, very compact and highly recommended for crafters and DIYers because it does not need adjustment of settings. The Cricut mug printing machine only has one button and no other customization options, and since it has a foolproof system, it takes care of all the mug printing. To get your perfectly customized mugs, you don't have to adjust any heat or pressure settings for a consistent heat transfer.
Cricut mug cup heat press works by sublimation through a heat transfer, and it features a cavity on one side where you will place the blank coffee mug with your design choice, and in 6 minutes, your mug will be sublimated. Additionally, it automatically shuts down after 13 minutes of inactivity, and there is no room for human error since it's an automatic machine.
Pros
It uses a fast sublimation process
Easy to set up, use, and maintain
It features a heat-resistant enclosure that makes it simple for beginners to handle
Foolproof mechanism
Produces quality bright and professional mug printing
Cons
It only works with Cricut blanks or sublimation mug press compatible mugsIt cant work without infusible ink markers, pens, or sheets
The Cricut Design space, which is the designing program, has a monthly subscription fee
2. F2C Heat Press Machine Pro 6 in 1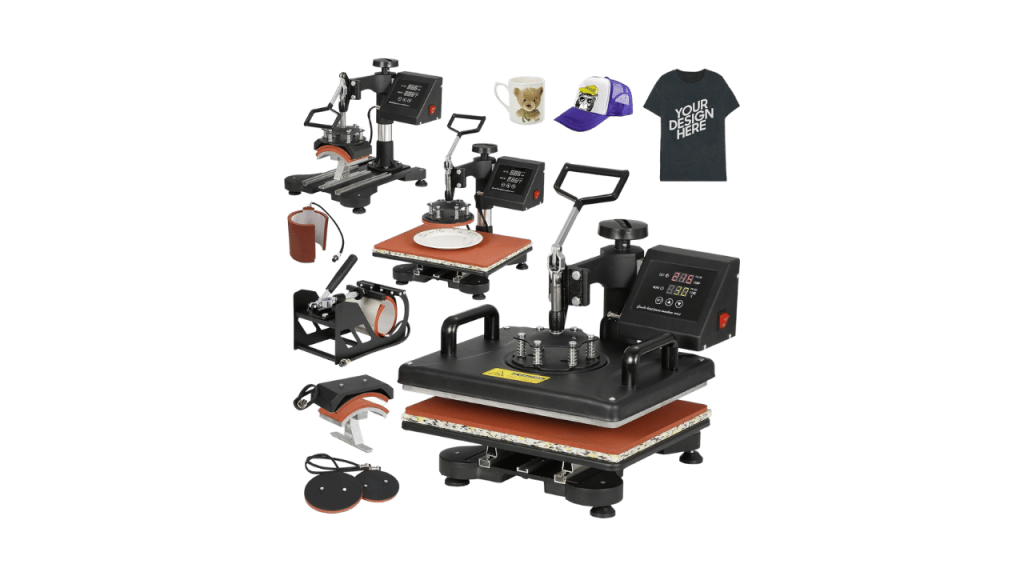 F2C Heat Press Machine is one of the best mug press machines used by professionals or businesses. It can be used to customize plenty of things from mugs to t-shirts and a lot more. The mug press machine features six presses in one piece of equipment and is constructed with a durable aluminum plate. The mug press machine is easily operated thanks to the 360-degree rotation swing-away design that makes switching from one printing function to another a breeze, and the swing-away design also sets your designs in place without hassle.
F2C is the best heat press machine for printing on mugs, t-shirts, caps, hats, plates, and even latte mugs because it has six presses in one. The six presses from the mug heat press include two plate presses, a t-shirt plate, two mug presses, and a cap/hat press.
Pros
The cup heat press features a swing-away design with a 360-degree rotation
Easy to operate
LED controls
It is a durable heat press unit as it has a thick aluminum plate
Versatile for several heat transfers
Six in one press
3. Smartxchoices Pro 5-in-1 Heat Press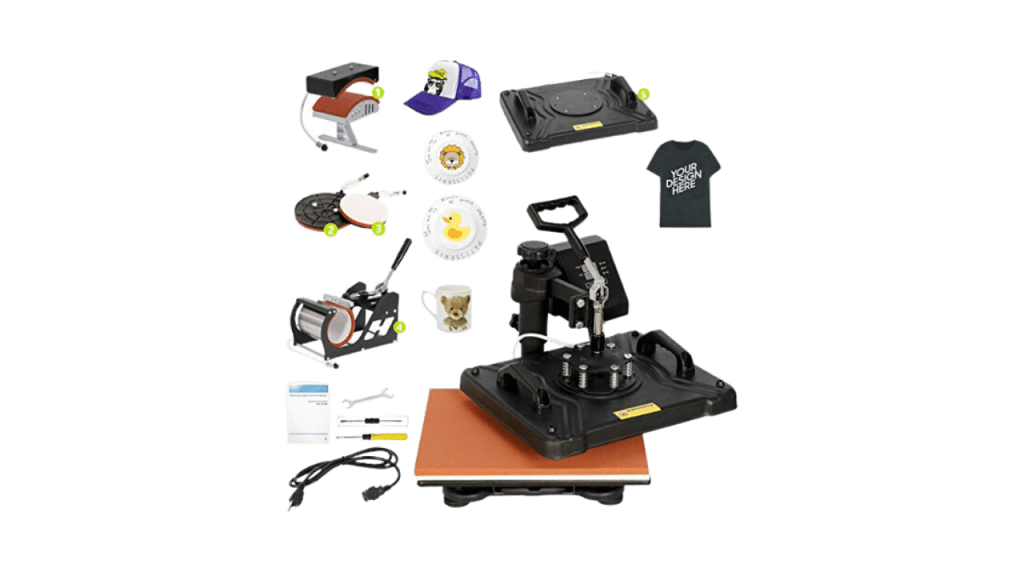 Smartxchoices Pro 5-in-1 is the best mug press machine for anyone who wants to create mugs, tiles, hats, or t-shirts, and its name is from the five included plates. The mug press will last you a long while since it's made from durable iron, and it also has a heat press platen covered with a thermal coating minimizing any risk of burns.
The mug heat press has four-foot pads on the bottom of the machine that increases stability and prevents any accidents. The mug press adjusts the pressure using a manual crank, but it does not have a way to measure PSI, and also, the mug heat press may be too large for some people with limited space.
Pros
Four-foot pads for additional stability
The mug press has increased safety thanks to a 360-degree swing-away design
Digital timer and temperature control
Even heat and pressure distribution
Cons
The mug heat press has only one mug attachment
4. Super Deal Pro 2-in-1 Mug/Cup Heat Transfer Machine
Super Deal Pro 2-in-1 is a manually operated mug heat press that allows a user to set their time and temperature of the mug press digitally, but the pressure and the mug press itself are not automatic. The mug heat press machine features a pressure adjustment knob that can be easily accessed from above, and the press also has a rubber-coated handle that protects you from heat and gives you a firm grip over the mug press lever. Thanks to a solid steel welded framework, this mug press will last you a long while and has a 240 seconds timer that is sufficient for most ceramic applications.
The Super Deal Pro mug heat press model has a high heat output and comes with two mug attachments for a standard mug, and the other is cone-shaped and is for a latte cup. It is the best mug press machine for anyone looking for a mug press that offers multiple heat press machines for other things like t-shirts. The mug heat press display can be set in either Celsius or Fahrenheit, but you can only heat press mugs just one mug at a time.
Pros
It comes with two mug attachments
The pressing cycles are recorded
The cup heat press operates smoothly
It is the best mug heat press for a high heat output
The mug heat press has a solid steel framework
Versatile as you can use the mug press for t-shirts and other apparels
Cons
The 240 seconds might not be adequate for all your mug heat pressing needs.
5. PlanetFlame Mug Heat Press Machine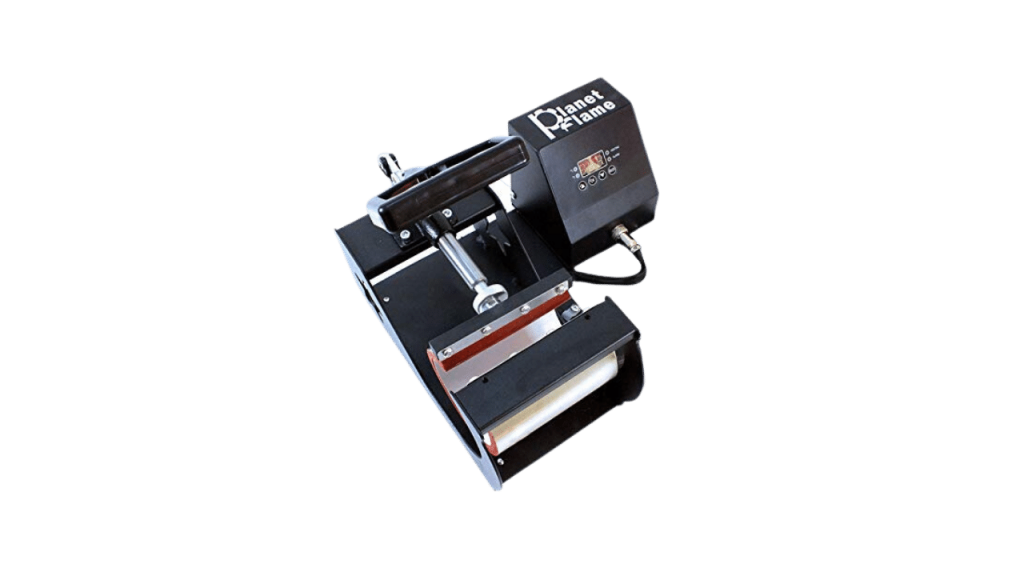 PlanetFlame mug press machine is an industrial quality machine that comes fully assembled and is quite easy to use, making it the best heat press for beginners. PlanetFlame mug printing machine is the best for an error-free heat press on your coffee mugs or cups, which can support 6– 11oz mug sizes.
The mug printer machine features a unique heat platen that ensures even heat distribution, and a user can set the temperature digitally with a temperature range of between 0 – 750⁰F. This model of PlanetFlame mug press comes with an individual safety control chip that ensures your safety when operating the mug heat press machine.
Pros
Simple to operate
Affordable mug press machine
According to most press machine reviews, its ideal for beginners
The mug heat press machine offers a good technical support
Includes an extensive manual with QR-Code of many videos
Suitable for professionals, small studios, and home use
Cons
The affordable heat press may take a while before it warms up.
What to Consider Before Purchasing the Best Mug Press Machines
Whether you are looking for the best mug heat press for your business or personal use, there are some factors you should consider checking before making your purchase to avoid ending up with a mug heat press machine that you won't be able to work with comfortably. Some of these factors include:
1. Size
The best mug press machine should be lightweight, compact, and manageable, especially if the mug press machine is for personal use. Large mug press machines can be difficult to handle and will take a lot of space; and therefore, you should check the size to avoid inconveniences in your home. Whether you are looking to use the mug heat press machine for personal use or planning to start a business from your home, you should purchase a heat press machine that will fit in one corner of your home or place of business without causing inconveniences.
2. Temperature and Time
You should check the mug cup heat press machine offers for both time and temperature settings before making your purchase to guarantee a long-lasting print on your mug. Mug printing needs high temperatures, and therefore, your choice of a heat press machine should have high temperature and pressure settings enough to have an effective transfer process. Most mug presses usually feature a wide temperature range and an average temperature of 400 degrees Fahrenheit, which is sufficient for most mug printing needs. Still, some specialized mug presses may feature higher temperatures.
It takes around four to five minutes to transfer an image to a mug for the time settings, but keep in mind that mug presses record their time in seconds, and you should do the math. The usual time range for a mug press is usually between 0 to 999 seconds, and this should be sufficient to play around with to get the best for your printing. However, mug presses that may work with other materials such as hats and shirts may have a longer or shorter pressing time than usual.
3. Adjustable vs. Automatic
A mug press machine usually comes in three types, the manually operated ones, the ones with automatic and manual features, and the fully automatic ones. It can be difficult to choose which mug printing machine is better between the three unless you know how reliable the readings are. Additionally, some mug heat press brands usually have error-free software, but sometimes users may prefer to have a more personal touch to their prints.
Using manual or adjustable mug presses can be difficult for beginners because you need to accurately set the temperature and time settings. Still, for the automatic machines, the temperature and time settings are controlled by the machine. This makes an automatic mug heat press machine more convenient and easy to use, especially for personal or business use, because you only need to find the designs.
4. Attachments
Some mug presses in the market can handle one mug size while others can accommodate different mug sizes, but most mug presses are limited in their use. To be safe, it's advisable to invest in a mug press machine that can be used on mugs with a large diameter on the top than the bottom. Notably, some mug press models come with a separate attachment that allows you to print on the large latte mugs.
In the least, make sure the best mug press machine you purchase allows you to use another attachment which you can purchase separately. Some additional attachments your mug press machine can come with include attachments to print on t-shirts, bowls, or even caps. Some of the best mug press machines also include accessories such as high-end cables and protective gloves.
5. Warranty
Most mug presses usually pack a one-year warranty, and while this period is enough for the cheap machines, it might be insufficient for the high-end multi-purpose mug presses. This is important because the more advanced heat press machines are, the more likely chances of things going wrong and the more expensive it might cost to repair or replace. Therefore if your choice of the best mug heat press machine comes with mechanics you are unsure about, try to ask for an extended warranty on the safe side because it's tricky to determine a durable mug press.
6. Digital Display
A digital display in a mug printer machine is usually helpful even when it's a small one, especially when setting the time and temperature settings. This is also beneficial even in an automatic machine where the mug printing can set the time and temperature options because the digital display will help you know the exact numbers. Additionally, some of the best press machines feature a touch screen, making it even easier to select the settings, but they come at a high cost.
7. Speed/ Capacity
Not all mug heat press machines are suitable for continuous or heavy-duty use for the mug printing business because some machines are only ideal for occasional use. However, if you are interested in starting a mug-pressing business, you should make sure you get a machine that can handle your needs effectively. You can opt for a mug heat press machine that can print two mugs at the same time, and even though they might have different settings, they are more ideal for businesses.
Standard mug presses can only accommodate one mug at a time, so for a large order, this will be time-consuming, so the heat presses that can produce multiple mugs are very handy. Notably, most heat presses cannot print two mugs at the same time, but the other mug presses that can are quite fast and will be the best for your mug printing business.
Frequently Asked Questions On the Best Mug Press Machine
1. What temperature should you use to heat press mugs?
You should place your coffee mugs in a heat press, and a pressing temperature of about 380-400F and then close the element around the mug. Press the coffee cups for around four to five minutes in a medium to firm pressure but avoid over pressing. If your image starts looking burnt brown or blurry because of overpressing, you should decrease the pressure-time by 15 to 3o seconds to perfectly heat transfer.
2. Can you sublimate on coffee mugs?
Heat transfer vinyl is more common in coffee mug designs, but some users also prefer sublimation. Sublimation heat press on ceramic mugs, unlike applying the adhesive vinyl, makes the coffee mugs microwave and dishwasher safe because there is no risk of peeling. However, unlike heat transfer, sublimation paper is not cheap because it uses highly advanced technology.