Businesses will continuously need to sell, return, and ship goods to their customers. Understandably, many companies will need the best shipping label printer to print shipping bar codes, price tags, label store merchandise, goods, or ship packages.
A reliable thermal shipping label printer is essential in keeping the business operations running. Finding the best label printer to suit your needs can be a little daunting, but here's a compiled list of the top-performing shipping label printers that are great for both individuals and small businesses alike.
Running a shop that sells physical products, getting them to the customer is the entire point of the business. Marketing, sourcing, and customer support are all important, but making a sale and delivering the goods is essential, and the best shipping label printer will definitely help with this.
The Best Shipping Label Printer That Printers Require for Small Businesses
1. Brother QL-800 High-Speed Professional Label Printer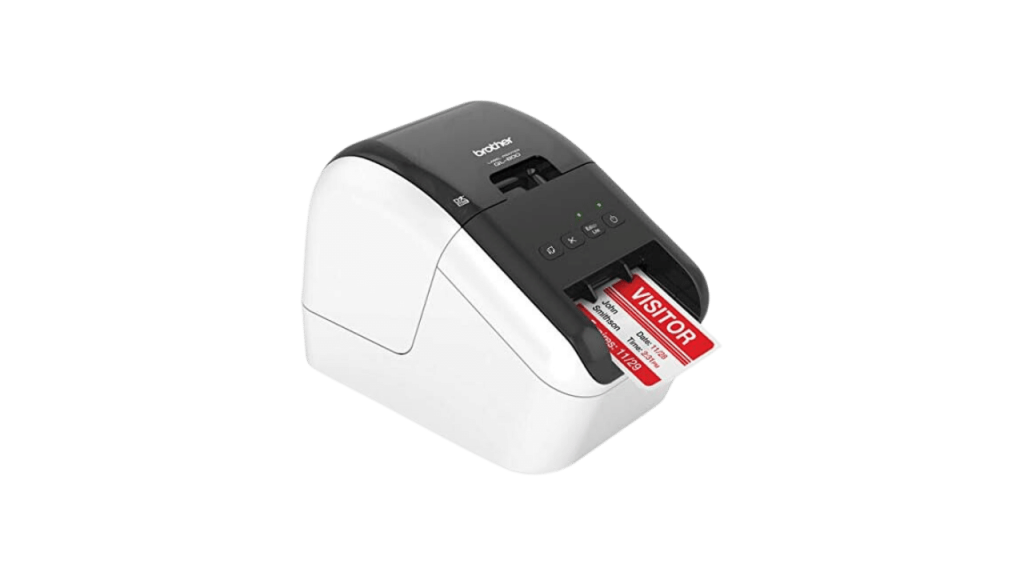 Brother QL-800 High-Speed Professional Label Printer comes top as one of the best thermal printers in the market. The Brother QL-800 printer enables the user to produce different label sizes of labels either from Mac, PC and Android mobile devices. It has a fast output (93 labels per minute), high-quality shipping label prints in two colours (red and black) options, a great array of shipping label types.
The Brother QL-800 is a decently fast thermal shipping label printer that churns out different sizes of good-quality labels ranging from small barcodes to address labels and sizes in between. It can print shipping labels up to about 0.5 inches wide x 1 inch long to 2.4 inches wide x 36 inches long.
You can connect via USB, while the auto-cutter allows printing of banners and signages up to 3 feet long. It should work perfectly for USPS labels for your eBay sales. It's not only fast and easy to use, but it also has a simple installation process and setup process. It is sold at an affordable price.
Pros
It is affordable
It is super-fast and gives high-quality printing shipping labels: up to 93 standard address labels with black text at 300dpi per minute
It has a high resolution of up to 300 x 600 dpi for a good print quality
It has convenient Brother Genuine DK drop-in rolls
It also works with Brother DK film tapes and continuous-length paper
It has fast and automatic cutter speeds
It can print product labels, signs and banners and up to 3 ft. long
It has a "Plug and Label" feature that requires no shipping software installation for Windows computers
It can print from Microsoft Excel, Word, and Outlook
It can create customised labels from the PC or Mac via the USB cable included
It comes with a 2-year limited warranty
It prints in two colours, black/red labels
Cons
The per-label media cost is relatively high
Print in red is limited to one shipping label type
2. ROLLO Label Printer – Commercial Grade Direct Thermal High-Speed Printer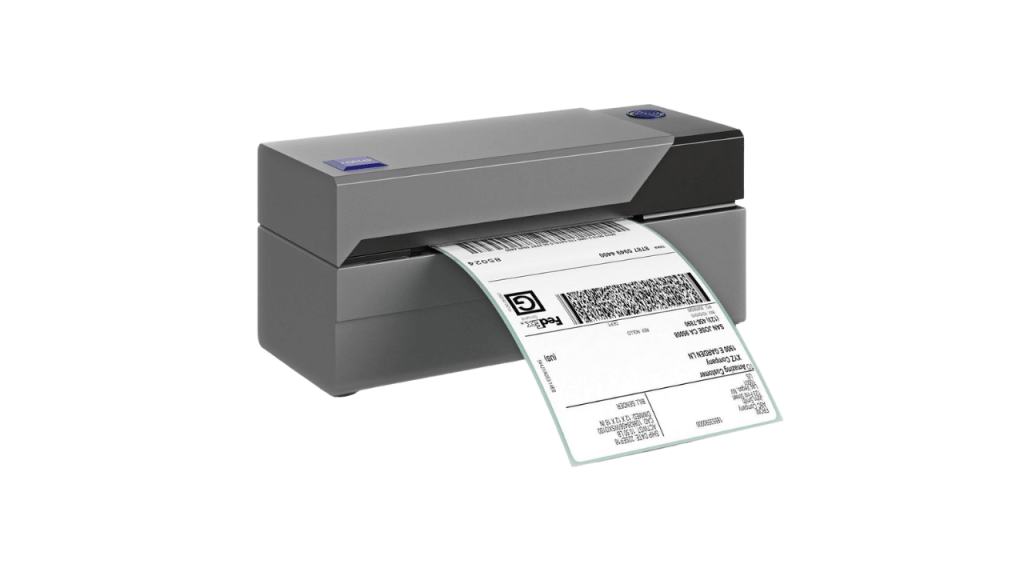 The ROLLO label printer is a commercial-grade direct thermal high-speed printer compatible with eBay, Etsy, Amazon shipping carriers, and barcode printers. The Rollo Label printer rates are high as the best thermal shipping label, a little label machine that is so simple, reliable and is great for an online business. This is a good label printer that is built to do one thing: print thermal labels fast without unnecessary complications.
The Rollo printer is rated as the best thermal printer for small business owners who need simple use and configure label makers. They come with support features that include phone and email support, although the primary support system seems to be the email and ticket system. It prints fast at a 150 mm/s speed, giving one 4×6 shipping labeller per second.
Like major high-end printers, the Rollo printer gives great quality direct thermal shipping labels that major shipping carriers such as USPS and FedEx couriers print and require. It is compatible with major shipping platforms, including Stamps.com, Etsy, Shippo, Shopify, Amazon and eBay.
The Rollo thermal shipping printer is a monochrome printer that works with any direct thermal label and is compatible with PCs and Macs. It prints labels 1.57- 4.1 inches wide and doesn't have any restrictions on length. However, it is built to work best on 4 x 6-inch labels to print out warehouse labels, ID, barcode printed labels, and bulk mailing labels. 
Pros
Rollo thermal printers have great customer reviews, are user friendly and rated among the best shipping label printers
It supports roll labels
It is compatible with many types of printed labels which include free UPS labels, saving you a lot in label costs
It is an affordable printer with great value compared to most printers
It is compatible with Mac computers and Windows computers
It has a high-speed printing rate
It is portable
Cons
It only connects via a USB connection
3. Arkscan 2054A Shipping Label Printer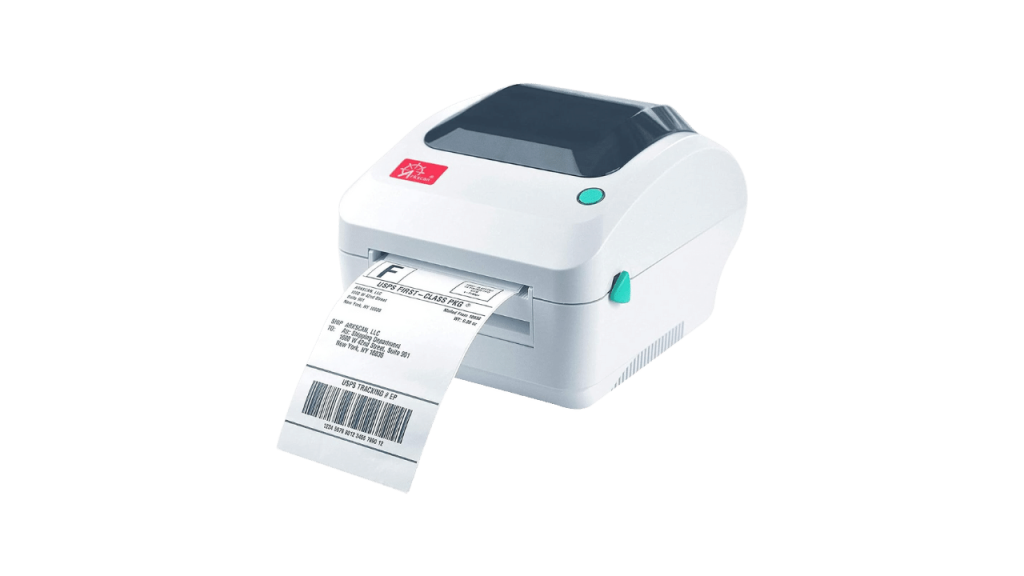 Compared to most thermal label printers, the Arkscan 2054A shipping label printer can print from your phone, tablet, desktop or laptop. It is a wireless thermal printer and one of the few thermal printers which can use a WiFi connection.
As you would expect, it works well with the majority of the carriers and platforms, but it does need some learning compared to other printers; however, with effort, it's an awesome shipping label printer best that is best suited for a small business or home-based shipper.
It also requires Brother brand labels which can be a little expensive. However, the labels will save you money over using ink cartridges.
This is a good label maker like the other label makers on this list. Despite its limitations, the Arkscan 2054a is a great label maker that deserves its place on the list, and you can't talk about the best label maker without including the Arkscan 2054a. It gives such high print quality and is a shipping label printer that is fast, reliable, and with a good track record.
Pros
It is a reliable thermal shipping label printer
It is compatible with most shipping platforms
It comes installed with a free software version of the BarTender Ultralite label design, which you can use to design labels
It is U.S. based with a live technical support
It offers remote access, which is great for an online business
Cons
It doesn't automatically detect label sizes, so you have to adjust the roll manually
4. DYMO 1755120 LabelWriter 4XL Thermal Label Printer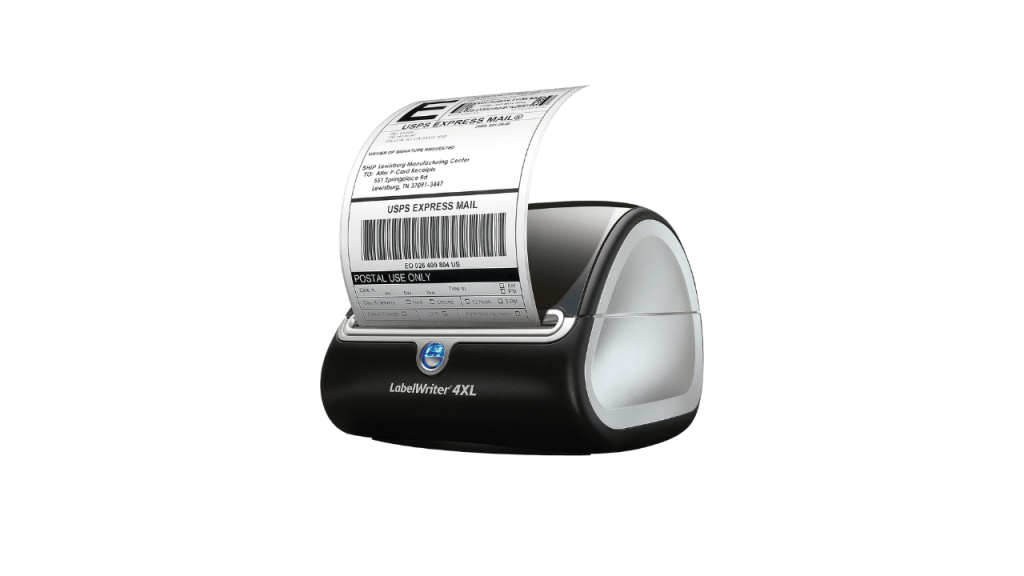 This thermal shipping label printer creates shipping labels that are black and grey up to 4 inches wide, highly customisable, with up to 60 different templates, and it comes with an option to import graphics and text. It also gives you the option to print out 53 standard 4-line address shipping labels or 129 high capacity 4-line address shipping labels per minute.
Like most thermal printers, DYMO thermal shipping label printers are compatible with popular online selling sites and shipping platforms. It can print shipping labels up to a maximum of 4 inches wide and be ideally used to print shipping labels, including warehouse print labels and large shipping labels. It also works great with name badges, file folders, standard shipping and mailing requirements.
Like many printers, it connects via USB. The Dymo 4XL Labelwriter direct thermal rates best as the best thermal label printer for large labels, specially designed for larger labels. The DYMO software easily allows you to download label templates and create unique print shipping labels design for your business.
This thermal printer features a decent printing speed and can print at decent speeds of 53 LPM at 300 DPI. The Dymo Labelwriter thermal printers are simple to install and are compatible with many third-party software vendors.
Pros
The Dymo Labelwriter thermal printers are simple to use
Using DYMO's software, this thermal label printer is a great postage label printer that can print large postage labels
The DYMO 4XL software offers design options and a lot of functions
It is easy to order thermal paper labels from DYMO
It gives great thermal direct for product labels which allows it to print wide warehouse labels
The Dymo Labelwriter 4XL is suitable for address labels
It doesn't need many configurations, and both Windows and Mac computers are effortlessly compatible
It is fast and can print shipping labels directly from popular online selling and shipping platforms
The included DYMO productivity software not only gives printing features for barcodes, graphics, etc., it can also print USPS-approved labels
It is compatible with Windows 7, versions after and Mac OS X v10.10 and versions after
Cons
It doesn't offer 24/7 phone supportIt has USB connectivity only
You need an internet connection for certain features to work in the DYMO productivity Software
The price of the DYMO exclusive labels is high
5. MUNBYN Commercial Grade Direct Thermal High-Speed Printer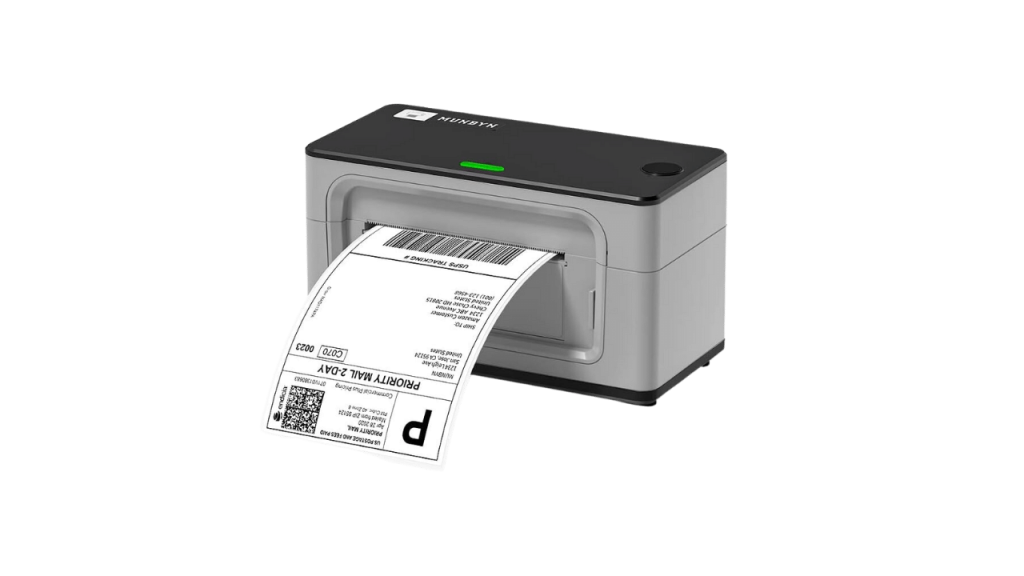 This thermal label printer is one of the best seller items on Amazon items that actually get the work done. The MUNBYN thermal label printer only works with a small USB and can print labels that are 4×6 inches. It also works great for printing mass mailing labels.
The MUNBYN printer rates as the best thermal label printer, especially for eBay; however, it can print freight labels from Amazon, Shopify, and most of the other e-commerce sites that are compatible with Windows and Mac computer systems.
It works excellently well for warehouse print labels and printing that requires continuous label printing. It also offers a label holder to hold large label rollers and print continuously without reloading the unit.
Pros
It is great for online stores that need to print labels
It is simple to set up, use and configure
It prints up to 72 labels/ minute virtually
It continuously works thanks to the label roller holder
It works with Mac and Windows operating computer systems
It can print different label dimensions and also adjust to smaller label rolls
It is most ideal for production businesses where single-size labels are continually printed in high volume
It is a great direct thermal printer that works well with merchandise printing labels and label rolls
Cons
It doesn't offer any wireless connectivity, but USB
It doesn't come with a productivity design software
The software drivers require special permissions in MAC operating system
Factors to Consider when Buying the Best Shipping Label Printer
A. Connectivity (WIFI, Ethernet, USB, Bluetooth, AirPrint)
Some thermal shipping label printers will only connect to the computers via USB cable, while others have wireless connectivity options such as WiFi or Bluetooth. Higher-end quality printers also have LAN connectivity with cloud printing features.
With a wireless thermal printer, you can send printing work remotely from any device in your network connected to your printer. Alternatively, while using an iPad or smartphone, you can send print jobs to your label printer. Shipping label printers with AirPrint are fully compatible with Apple computers.
B. Labels Type and Size
Some printers support multiple label dimensions while others can only print particular labels, while particular printers can handle any label size. Make sure to check if the printer is compatible with the label size you use. This means that only particular printers can be used with different designs, projects, and envelopes.
Consider the type of label you need before buying the thermal label printer. Pay close attention to the printers that require the use of special or proprietary labels. This limits you to the use of labels that the vendor only manufactures.
C. Print Speed, Quality, and Resolution
The printing speed will directly have an impact on your productivity. If you only need to print a few labels daily, then the printer's speed might not be as crucial, but if you need to print hundreds of labels, then the printing speed is quite essential.
Generally, the printers capable of printing high-quality shipping labels at high speed tend to be more expensive. Shipping label printers need powerful print heads to print shipping labels at a great speed, increasing the price.
Frequently Asked Questions on the Best Shipping Label Printer
1. What does a shipping label contain?
The return address
The destination address
The shipping date
The package weight
The shipping class
The barcode and tracking number
The miscellaneous section
2. Does the shipping label pay for shipping?
The shipping label is a printed address label with prepaid postage. This means that you don't have to pay at the post office again.