A lot of businesses spend a lot of cash hiring label-printing help to facilitate their shipping and delivery services. However, there is a more affordable way of doing this with the best thermal printer. With your own label printer, you can create many labels, receipts, and barcodes as you need without draining your resources.
This post covers the best label printers on the market and the factors that should guide your choice.
Let's begin!
1. ROLLO Label Printer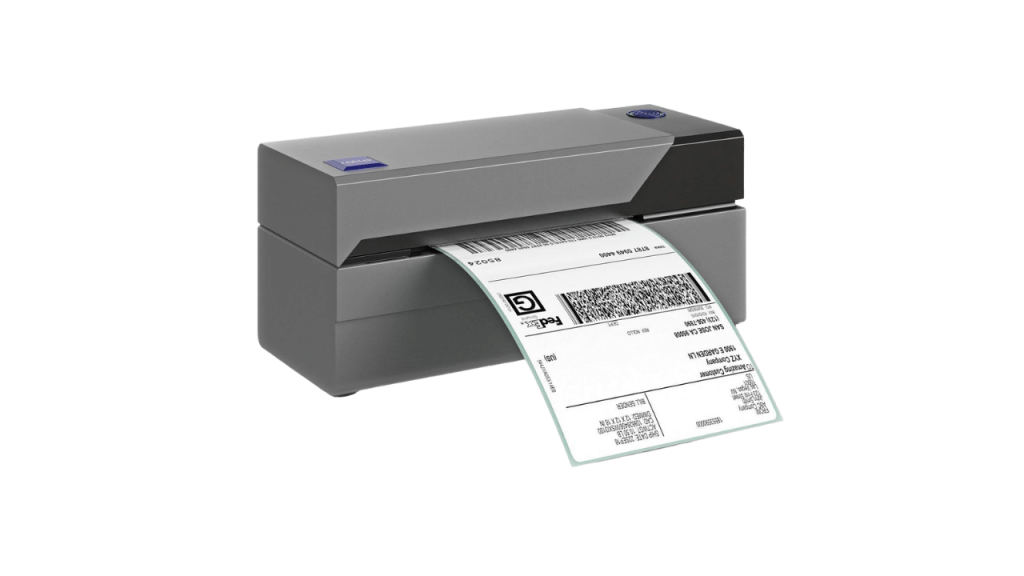 Starting off our review is this ROLLO printer, a commercial-grade, high-speed printer that offers a reliable and affordable way of printing various labels. The direct thermal technology will eliminate the need for ink refills which makes it a cost-effective option.
This unit is easy to use, taking only five minutes of setup. It can print labels quite fast and requires no maintenance, which is why it's among the most user-friendly thermal label printers you can buy. As a commercial-grade thermal label printer, it can work with all shipping couriers and major selling platforms.
This ROLLO printer has a fast printing speed allowing it to deliver one shipping label per second. So, it's a reliable option whether you are printing a few or innumerable labels. If you want to print labels fast, this unit is the way to go. It has a rugged, compact, and portable design, which can easily fit in your office without occupying too much space.
If any questions or concerns arise along the way, you can always contact the ROLLO customer service via email, phone, or your desktop. Additionally, you can use this printer to make shipping labels, warehouse labels, barcode labels, and ID labels.
Pros
High printing speed
Compact design
Easy to use
Versatile
Excellent print quality
Cons
The troubleshooting guides are not effective in resolving issues.
2. DYMO LabelWriter 4XL Thermal Label Printer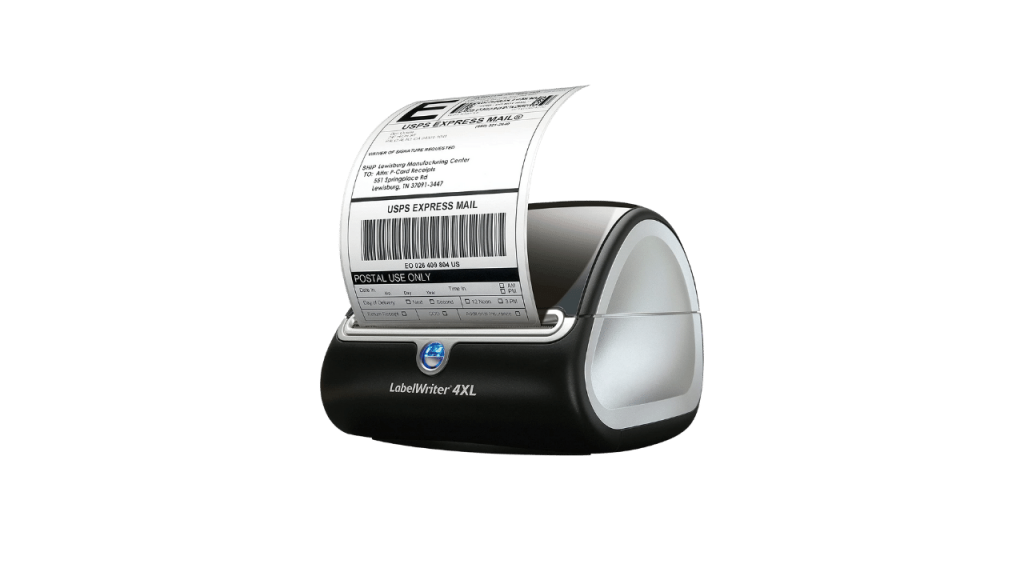 Next on our list of the best thermal label printers is the DYMO LabelWriter 4XL, a wide format unit compatible with various online selling platforms and shipping couriers. This multifunctional shipping label printer can produce large shipping labels and warehouse labels. Beyond that, it can style labels for file folders, standard mailing, name badges, and online postage.
Most people will argue that this is the best shipping label printer because it comes with more than 60 label templates. This means that you can customize the text and graphics of your labels without hassle, thanks to the DYMO software.
The high print speed this DYMO label printer has will give you to put to 129 high capacity labels in a minute. As a result, you can rely on this unit to print hundreds of labels within minimal time and at an affordable cost. Unfortunately, if you want the best results, you'll have to use the DYMO LabelWriter labels, which come in various sizes.
Pros
Suitable for larger labels
High speed of printing
Compatible with popular shipping platforms
It comes with more than 60 label templates
Cons
Doesn't work with non-DYMO label rolls
Additional costs for DYMO label rolls
3. Brother QL-810W Thermal Label Printer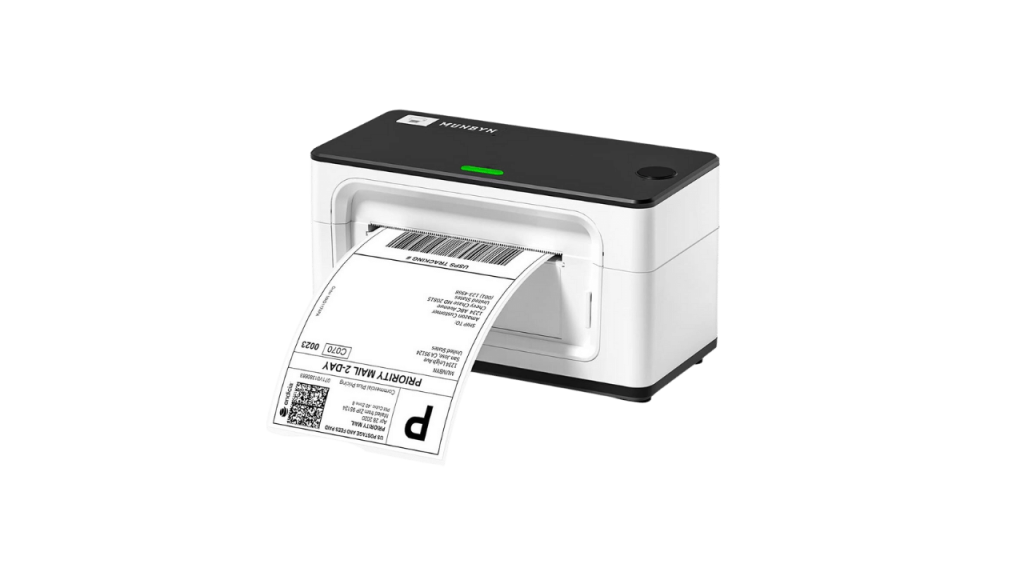 The Brother QL-810W is the third-best thermal printer on the market, featuring an ultra-fast print speed to produce 110 standard address labels within a mere minute. You can use it to print shipping labels, file folder labels, fanfold labels, and much more.
This wireless thermal printer has a print resolution of 300 dpi, which ensures high print quality. You can connect it with your mobile device to enjoy the perks of the wireless interface, allowing you to print labels without being physically close to this thermal shipping label printer.
If you need a portable printing solution, this Brother QL model is the answer since you can move it around if you purchase a lithium-ion battery. It has an operating system that is compatible with Windows and Mac computers which is quite convenient.
Pros
High print quality
Wireless capabilities
High-speed printing
Cons
Hard to install for some users
4. MUNBYN Thermal Printer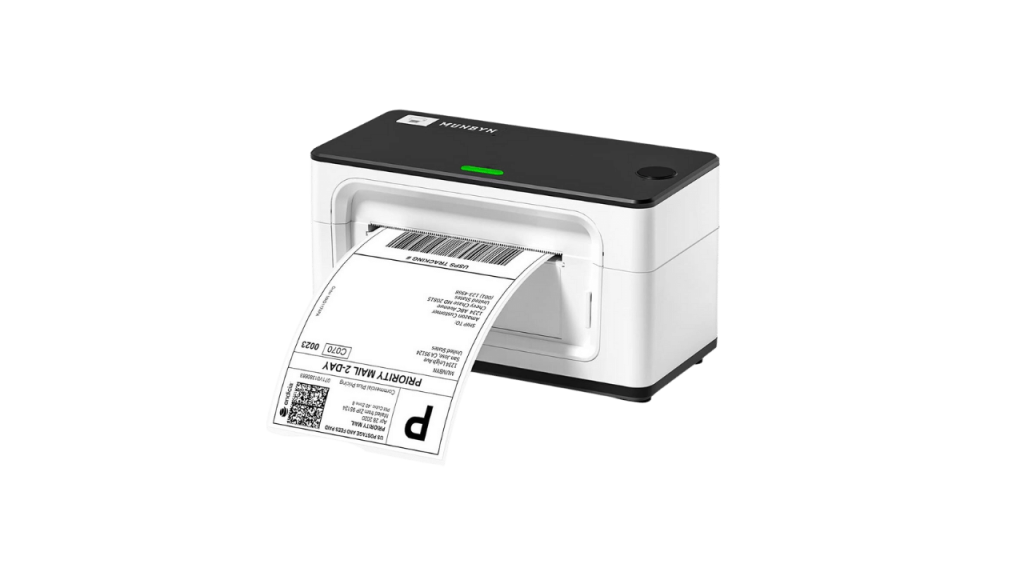 Next on our list of the best thermal shipping label printers is the MUNBYN direct thermal printer. This commercial-grade unit can print much faster than other printers, producing up to 700 labels at a time. It also features an automatic controller that stops the machine after running for five minutes straight to prevent overheating or other issues.
You won't have a hard time installing this label maker since it has a one-click installation process, making it a great option for people looking for a quick setup unit. You can say goodbye to paper jams with the MUNBYN Thermal Label Printer since it automatically identifies the characteristics and size of your labels to ensure a quick, smooth printing process.
Since this unit is compatible with all the major shipping and sales platforms, you can use it in a wide variety of scenarios. Additionally, you can use this versatile thermal printer for printing shipping labels, product labels, and tape labels according to your needs.
This direct thermal printer is a great choice for anyone with a small business since it can handle relatively large print jobs within minimal time.
Pros
Good print quality
Easy to install
Ideal for small businesses
Versatile unit
5. DYMO LabelWriter 450 Label Printer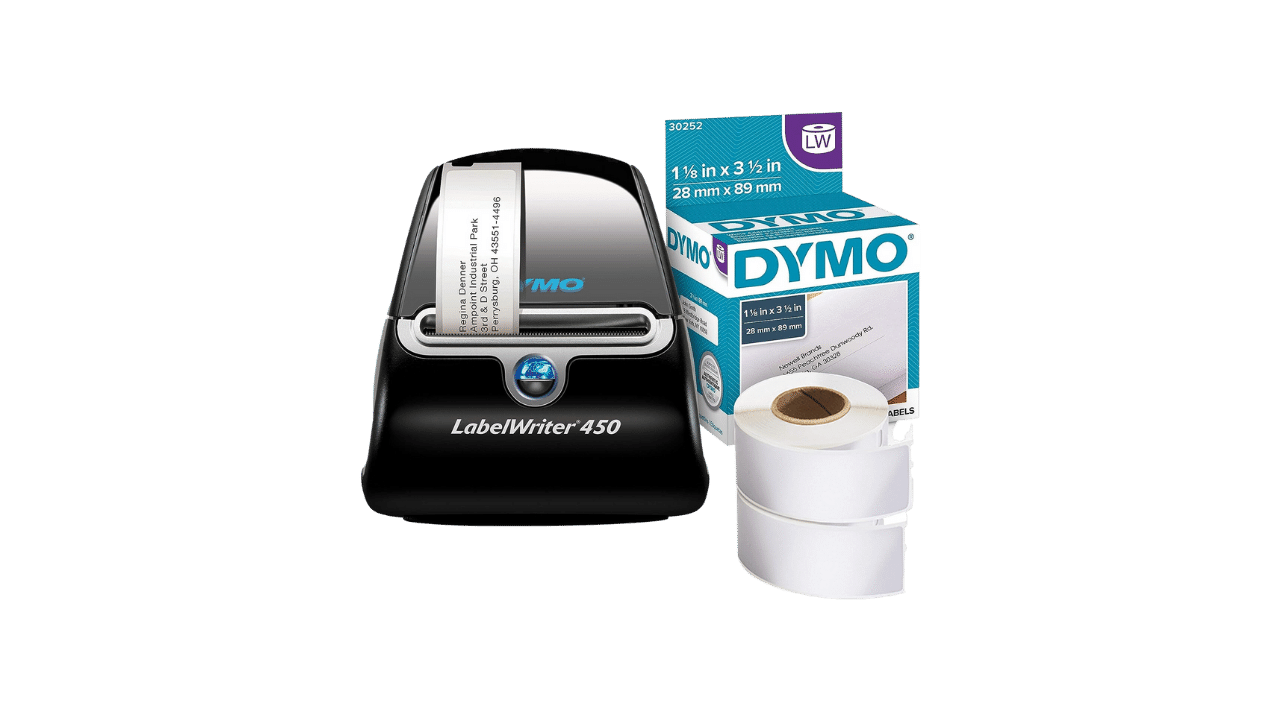 Lastly, we have the DYMO LabelWriter 450, a good label printer for meeting a wide range of label printing needs. It provides a cost-effective way of printing labels, so some people see it as the best thermal label printer on the market.
Since it's compatible with Windows and Mac computers, you can use it to print from Microsoft Word or Mac Address book programs without any hassle. If you want a way to cut costs of things like ink cartridges which you'd need with an inkjet or laser printer, the DYMO LabelWriter 450 is what you need.
You can use this unit to print product labels, shipping labels, and more, thanks to thermal printing technology. Unlike a regular printer, there won't be a need to feed the label sheets manually into the machine since this unit comes with its own printer rolls, which are easy to load.
The high printing speed of this thermal label printer will ensure you can complete large batches of labels without taking too much time. It can print 51 standard address labels within a minute to help you save time and energy.
Pros
High-resolution printing
Easy to operate
Great tech support
Cons
The blinking blue LED light can be distracting for some users
Factors to Consider When Choosing the Best Thermal Label Printers
1. Thermal Transfer or Direct Thermal
Thermal printers use one of two methods to print; Direct thermal or thermal transfer. The specific type you select will depend on the durability of the printing materials and the type of print media.
As the name suggests, these label printers use heat to execute the printing functions. They use thermal paper, which is heat sensitive which makes it darken as it moves under the print head. These printers don't need an ink ribbon which is why they print labels that can last quite long.
Unfortunately, thermally printed labels don't do well when exposed to direct sunlight or heat for long periods. You could prevent damage by a coating which will make them endure heat and abrasion more effectively. If you want short-term labels like fresh food or tickets, using direct thermal printers is the best course of action.
Thermal Transfer Printers
During label printing, thermal transfer units melt an ink ribbon onto the label rolls through the printhead. As a result, you can use these printers with various materials such as polyester and polypropylene, which can withstand harsh outdoor conditions.
You can use thermal transfer printing for the most long-lasting results since these prints can resist water, chemical, and abrasive damage. This makes them ideal for printing product labels, asset labels, and outdoor wristbands. It also offers color variation thanks to the ink ribbons.
2. Connectivity
Every shipping label printer has to receive data to print a particular design. This means that it'll have to receive print jobs and label designs from a computer. Even the best thermal printers need a reliable connection to take on various printing commands. Such connections can be made using;
Most thermal printers, including desktop and industrial versions, feature a USB option. It's arguably one of the fastest ways you can connect a thermal shipping printer with your computer. All you need to do is plug the printer in and install the software on your PC, and you'll be set to go.
Serial and Parallel Connections
Serial connections are available for special application and industrial-grade printers.
Another alternative method you can use is connecting your thermal shipping label printer to your network. You can use an ethernet cable or WiFi since most units allow for such a connection for added convenience.
3. Printing Speed
If you have a small business, you probably don't need to print a huge amount of barcodes, tickets, or labels every day. This means that you won't need a commercial-grade unit to meet your requirements. A standard thermal printer will do since it can still print a lot of labels within minimal time.
Large businesses like supermarkets and banks print hundreds if not thousands of receipts and labels, making industrial models more suitable for them. Either way, you want a printer with a high printing speed to minimize the amount of time and energy you spend.
4. Price
The price of the best thermal label printer for your business could vary between several dollars to a few hundred. The exact price will depend on the features, accessories, and support options available in the model you select.
The thermal label printers with multiple connectivity options and management software could be pricier than standard units. It's best to go with a printer that meets your needs in the most affordable and effective way.
Keep in mind that the primary reason for purchasing thermal printers is to cut the cost and time of printing.
5. Label Sizes
Most thermal printers can accommodate labels of different sizes. Such printers can provide a lot of flexibility and versatility since you'll be in a position to print a wide variety of labels. You don't want a model that will require you to constantly crop your labels. A more favorable unit will be one that can detect the size and style of your label and make the appropriate adjustments.
If you are printing large format labels, you should go for a unit specially designed for this. It'll be a way of hitting two birds with one stone since these models can print large media as well as standard-sized ones.
6. Ease of Installation
When looking for an ideal model to meet your label printing needs, you should consider the ease of setting up the printer. Some printers are easier to install than others since some will require you to download specific drivers or software while others will require an install CD.
The best shipping label printers have a plug-and-play design which is pretty convenient. The units in this post come with instruction guides which make it easier to set them up. You can also find various 'how-to videos that can take you through the steps of installing your thermal printer.
Frequently Asked Questions
1. What is the best thermal printer for shipping labels?
The ROLLO label printer is the best thermal printer for shipping labels, thanks to its compact design and high output capabilities.
2. What are the disadvantages of a thermal printer?
Some of the downsides to thermal printing include less vibrant colors, a tendency to fade, and damage from heat exposure.
3. Are thermal printers worth it?
Yes, thermal printers are a cost-effective way of producing multiple labels while cutting production costs.