Vinyl tapes are an essential part of vinyl craft projects as you can easily transfer your designs on different surfaces. With the best transfer tape for vinyl, you will not have it hard to transfer whatever design you have. If you are wondering what vinyl transfer tape is, it is a roll or sheet with a removable adhesive on a single side.
Vinyl tapes are made with either paper films or plastic and are available in different shapes and sizes, making them fit a variety of vinyl decals. You can find clear transfer tapes or opaque ones, and they all work well when transferring pieces of your work. Transfer tape is generally used to transfer adhesive vinyl and is not necessary for heat transfer.
By the time you finish reading this article, you will have a list of the best transfer tapes for vinyl to help you make your search less time-consuming. Let us get into detail; read on.
1. YRYM HT Clear Vinyl Transfer Paper Tape Roll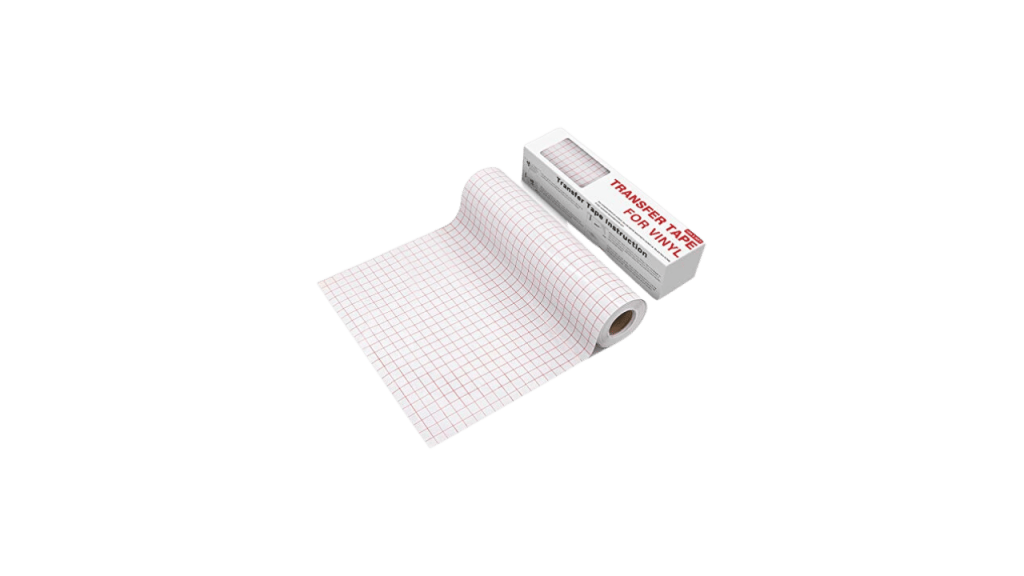 There are different types of transferring tapes, including those with grids and those without. YRYM is a clear transfer paper tape roll that has see-through red grid lines, which make measuring and cutting your vinyl paper hassle-free and without wasting. This is possible because you use only the required amount of tape, and because the grid lines are see-through, they will not block your work, not even the small details.
You wouldn't want your transfer paper to tear while you are working, and this transfer paper tape is tear-resistant to ensure your work runs smoothly. YRYM clear transfer tape is sticky enough to let you transfer your work effortlessly regardless of the project you are working on, and you can use it for your indoor or outdoor projects.
It is designed to work with different adhesive vinyl like Cricut, Provo Craft, Cameo, Silhouette, and Oracal. Although this transfer paper tape can work with a wide range of vinyl, it cannot work with glitter, HTV, or holographic vinyl. You can easily use this tape to transfer your work to smooth surfaces like ceramics, glass, walls, and windows.
Pros
It is compatible with different materials, including plastic, metal, paper, and glass
Easy to work with
It is reusable up to three times
YRYM transfer paper tape is fairly priced
It is a clear tape
It is sticky enough to make you easily transfer your work
Cons
Not suitable for transferring work on textured vinyl-like glitter vinyl
Not easy to use when applying decals to paper
2. Cricut Vinyl Transfer Tape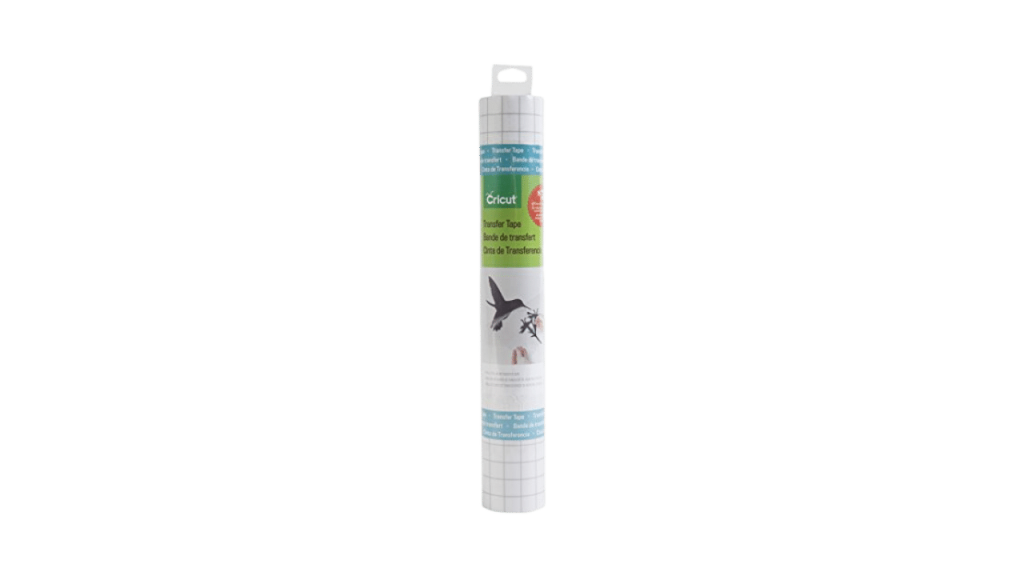 This Cricut vinyl transfer tape is white, which makes it very easy to use. If you need a transfer tape with grids but do not block any important details on your crafts, this tape will suffice because it has lightly printed grids that will assist in aligning your work well to avoid errors and waste the tape.
If your work involves using different textures, Cricut may be the best transfer tape for vinyl as it works well on different textures, including smooth, mattes, and glitter vinyl. This tape measures 12 by 48 inches, which is smaller than most transfer tapes, and another drawback is that it is generally more expensive.
However, if you want to work on bigger projects, there are other bigger sizes of this transfer tape, with the largest being about thirty feet long. For best results and proper transferring of your piece of work, apply enough pressure while working from the center outward. This ensures no air bubbles are trapped inside, which may interfere with your work.
Pros
It works well with all textures of vinyl, including glitter vinyl
It is a very clear tape, whch makes it easy to use
It is reusable; therefore, it can last longer
Cons
Cricut transfer tape is quite expensive as compared to other brands
It is sticky to use on some vinyl textures
3. Frisco Craft C-370 Transfer Tape for Vinyl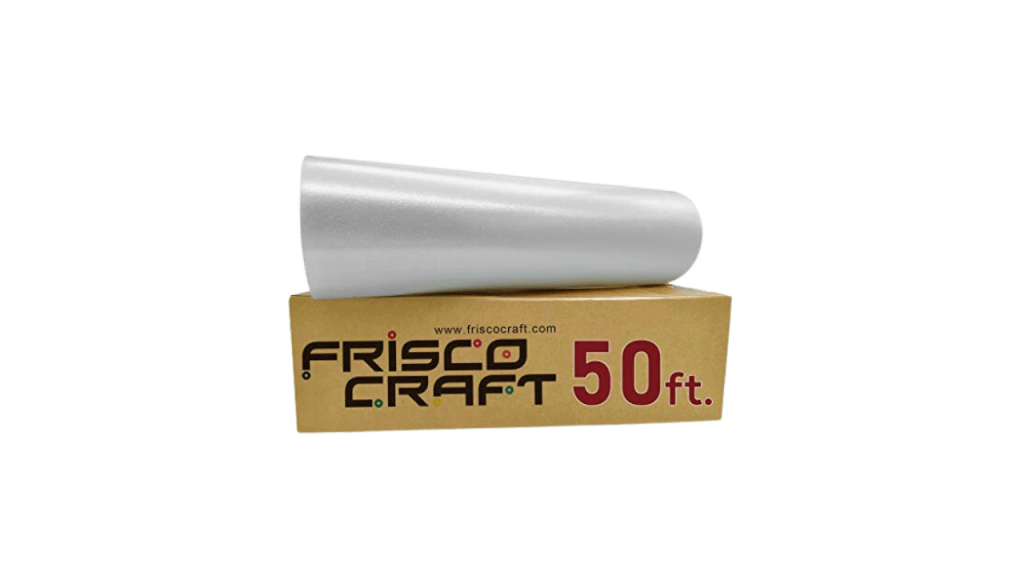 Frisco Craft transfer tape for vinyl measures 12″ by 50 feet, which is very long compared to other brands. Because of its long size, you can use Frisco Craft transfer tape for a long time, whether working on small personal projects or a big project. It is highly adhesive, ensuring you carry out your tasks effectively without leaving any residues that may spoil your work.
It is a clear transfer tape, and this feature makes it very easy to use as it ensures you have enough clarity when you are working, even with different vinyl colors. What you will love about this transfer tape is its versatility; it is suitable for use on any outdoor and indoor projects and works well with regular gloss or matte adhesive vinyl surfaces.
It is our nature always to want to safe, and with the price of this tape, you will get a larger roll of this transfer tape for less money, which means you will save a few dollars, and it is also reusable; doesn't it sound like a great deal? It also does not come with backing paper, which is a great feature for some people because waste is minimized. It can also be a big con for others because it means you have to be more careful when working with it.
Pros
It is sticky enough to transfer vinyl efficiently
It is reusable
Frisco Craft is suitable for use on different vinyl textures
It does not leave sticky residue on your work
It is affordable
Cons
It is not very easy to use
4. JANDJPACKAGING Medium Tack Transfer Tape for Vinyl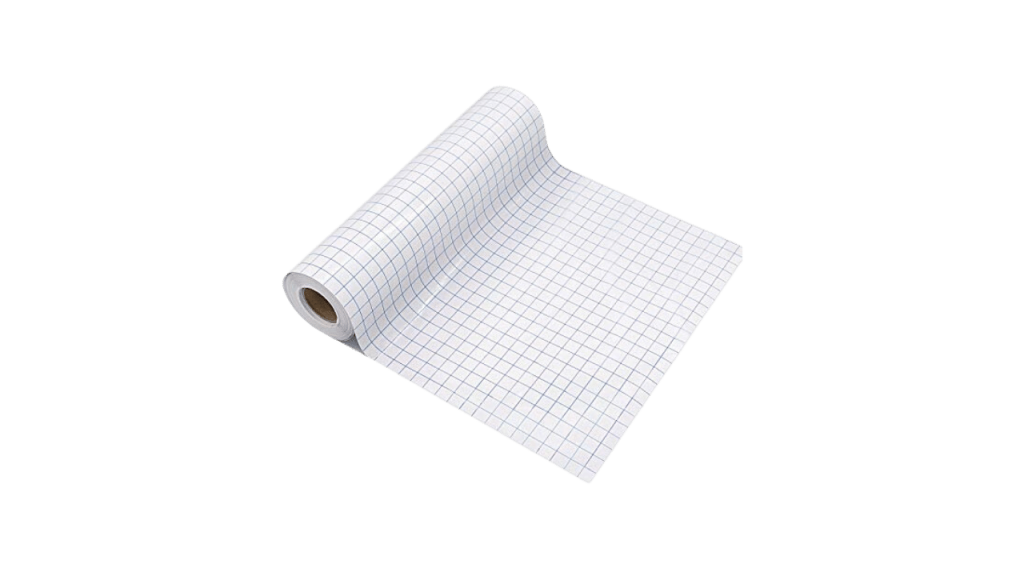 Jandjpackaging clear transfer tape is a 12″ by 50 feet tape, and its large size ensures that you use it for longer while working on your vinyl projects. It is marked with half-inch see-through blue grid lines, which is a great feature if your vinyl tasks involve measuring. The grid lines are clear blue to allow you to see even the smallest details of your crafts. The lines ensure you get accurate measurements and that you don't waste any transfer paper tape.
If you are working on your project, you want a tape that sticks enough to transfer your work while not very sticky to hold onto the work or patterns you want to transfer. Because of this medium tack feature, you can use it on any outdoor and indoor adhesive vinyl and easily transfers patterns on any smooth surfaces.
Pros
It is a clear tape
You get a large transfer roll at a low price
It is a medium tack transfer tape which makes it versatile
It is reusable; therefore, a little does go a long way
Cons
The blue paint stains toolsIt is not easy to work with
Does not work on glitter vinyl
5. Jh-Best Crafts 10 Feet Roll Transfer Paper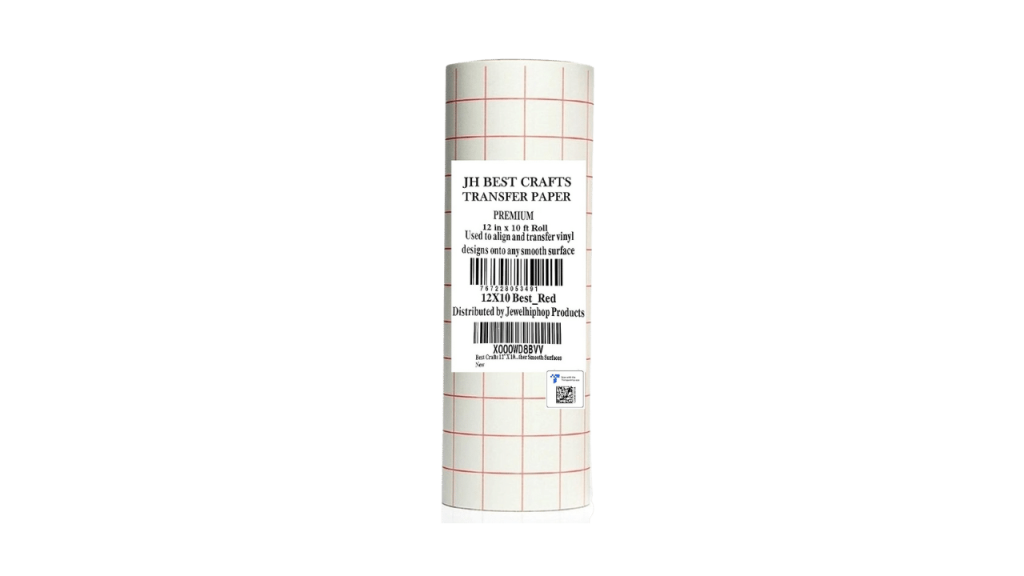 Jh-best crafts transfer paper is a suitable transfer paper for aligning and transferring vinyl on different smooth surfaces like windows, walls, ceramics, and glass. For perfect alignment during your crafting projects, it has red grid square backing. You can use it with different adhesive vinyl like Silhouette, Cricut Vinyl, Cameo, and Provo Craft for both indoor and outdoor vinyl crafts.
This transfer paper helps you save a few dollars as it has four extra feet that come as a bonus, which other brands that sell the same size of transfer papers do not offer. This means that you can use it for a little longer than you would if it did not have the four extra length.
You don't have to cut a new piece every time you want to transfer a pattern or any piece of work, as you can reuse this transfer paper up to three times. Because of this, a little will go a long way, and because it is not very clear, you may have a little trouble transferring small detail; however, that is not a great issue if you are transferring larger details.
Pros
It is reusable
It has a grid pattern that helps in precise positioning
Highly versatile as it works well with different vinyl textures and can transfer craftworks on different surfaces
Cons
It is not transparent, which may alter with work that involves small details
Factors to Consider When Buying the Best Transfer Tape for Vinyl
Different transfer tapes work with different vinyl types. Therefore, when working on a vinyl project, you will need the best transfer tape for vinyl that is compatible with the brand of vinyl that you are using. Other factors that you will need to consider before making a purchase include the following;
a). Versatility
A good transfer tape should be versatile to ensure you use it for various tasks and not just one. A versatile transfer tape is one that you can use for transferring vinyl to different surfaces, including smooth ones like walls, ceramic, glass, among others. It is also supposed to work with different vinyl types. This ensures that you use it for different purposes, so you don't buy a large roll of transfer tape that you will not use frequently. The only sure way to confirm the versatility of a tape is by trying it on different surfaces. However, you cannot buy all the transfer tapes in the store for testing, so other customer reviews and more research can help you.
b). Design
Vinyl transfer tapes are available in two different designs, which are plain and with grids. A plain transfer tape is transparent, and if it is a transfer paper, it is translucent. On the other hand, a gridded transfer tape has colored grid patterns, which in most cases are see-through. Transfer tapes with grids are important for alignment, while the plain ones are important when you cannot transfer your work without seeing it; this is because they let you see the vinyl decal through them.
c). Ease of Use
The best vinyl transfer tape is easy to use and does not take much of your time when transferring vinyl to your project surface. You may need to consider this a factor to ensure you don't spend much of your time doing one thing. Some transfer paper tapes are not easy to use, which may end up consuming a lot of your time.
d). Size of the Print
Large prints will need larger transfer tapes, and the smaller ones will need a smaller transfer tape. Therefore, if your craftworks involve many larger patterns, it is only wise to buy a larger tape to avoid replacing it frequently. On the other hand, if most of your vinyl crafts involve smaller patterns, a smaller transfer paper or transfer tape will do just fine, but a bigger one is still okay.
e). Type of Vinyl
Because different tapes work with different vinyl, it is important to keep in mind the type of vinyl you have as you plan to buy a transfer tape. You will need to work with a transfer paper and vinyl whose strengths are proportionate to ensure that you don't mess your work. If you have a thinner vinyl, the normal transfer paper tape will be okay. On the other hand, the strong grip tape is more suitable for textured surfaces like glitter vinyl.
Frequently Asked Questions About Best Transfer Tape for Vinyl
1. Do you need transfer tape for heat transfer vinyl?
A transfer tape is only used when transferring adhesive vinyl; for the heat transfer vinyl types, you will not need a tape that will not work.
2. Where is the best place to buy a transfer tape?
You can buy your transfer tape from;
a). Amazon- they have affordable tapes for the normal vinyl types, which range in different sizes.
b). Cricut.com- Cricut has some of the best transfer paper tapes for vinyl at a pocket-friendly price. They offer different types, including bulk transfer tape, strong grip tape, and the normal transfer tapes for adhesive vinyl.